Riding my bicycle out to Merrill Field in near-zero temperatures, fiddling with the preflight checklist while wearing thick gloves and landing on runways that are completely covered with snow and ice reminds me of when I learned to fly. Since it was only a year ago when I started my lessons, those memories are still very fresh, and although I don't think my excitement for aviation will every diminish, there will always be something special about flying airplanes in the winter. 
It's the little things that trigger those memories for me, like how well the plane climbs out in the cold dense air, wearing my headset over a hat and sporting the same jacket that I wore during each one of my lessons last year, watching all the ski-equipped Super Cubs take off and head towards the Chugach, or seeing the snow covered Tordillo Mountains so clearly on the other side of the Inlet as I take off from runway 25. 
However, during my second winter of flying, I find myself reliving those experiences in a slightly different light. I've come full circle now from student to pilot, and so all those elements that were brand new to me last year are now familiar. It actually feels like I've been here before when I make fresh touch and go tracks on snowy runways, or when I feel that chilly air inside the cockpit.
Being more experienced now, I also take more seriously the safety aspects of winter flying in Alaska, namely what survival gear I take in the plane with me. Alaska State law mandates a list of required gear that is to be carried by all airmen. Most of the necessary items are can be purchased at places like REI, Eagle Enterprises, or even Fred Meyer, but it's not enough to just check off a list of supplies. In a State where there are often great distances between airstrips and temperatures consistently hover in the 0 to -40 degree range during the long dark winters, what you'll need to survive and how you might use it effectively in the unlikely event that you find yourself out in the bush with a less than fully functioning airplane is something that every pilot should carefully consider.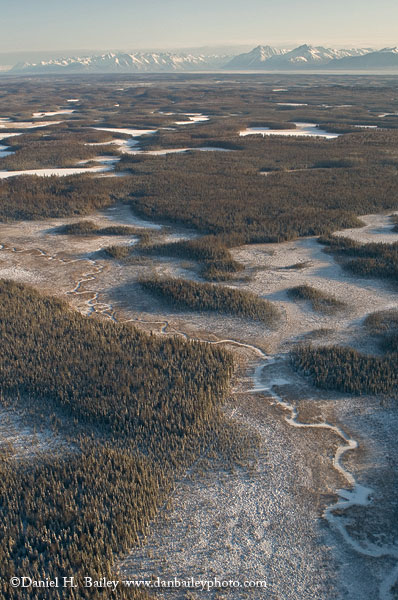 This past weekend I got in some more cross country hours in a nice older 172. I did a circle from Merrill to a very chilly Talkeetna, and then over to Skwentna, where I practiced some VOR navigation and soft field take offs and landings on the snow covered gravel strip. It was the perfect opportunity to test the tips that I'd learned during my recent flight with a CFI, and keeping in mind the things that he had shown me, I definitely saw improvements in my technique.
The early winter landscapes are beautiful from above, the air is so clear and the snow is beginning to accumulate everywhere. At this point, all of the lakes are frozen and except where it's been really windy, most of them are completely covered. On the return trip, I enjoyed some great views of the backside of Mt. Susitna and of the ice flows that are starting to choke up in the mouth of the Big Su.
I landed at the Lake Hood Strip for my first time, and even though I had made sure to study the airspace regulations in my Alaska Supplement, I'll admit that I didn't fly the approach perfectly. During my transition across the channel from Pt. MacKenzie, I strayed a little to far east, then over compensated, which put me to the west of the ballfield, and came in a higher than the specified 600′ Lake Hood Pattern altitude. Oh well, I'll do better next time. I did manage a smooth landing, though, despite a slight crosswind. I'll take that as success.
This past Saturday, I got to sit right seat in a Beaver and steer it around for about a half hour. I felt like a little kid riding in my dad's truck, it's so much bigger than a 172. I hadn't moved the seat all the way forward, and so it was a stretch to get my feet all the way on the rudder pedals. For being as big as it is, though, it's a surprisingly docile aircraft once in the air. It steers very easily when you get it trimmed correctly, and when you put it into a bank, it stays banked until you bring it back out again. And of course, there is the sound of that big radial, oh that radial! Flying the Beaver for real is a ways down the road for me, but it's definitely something do dream about while I'm out enjoying my second winter as an Alaskan pilot.