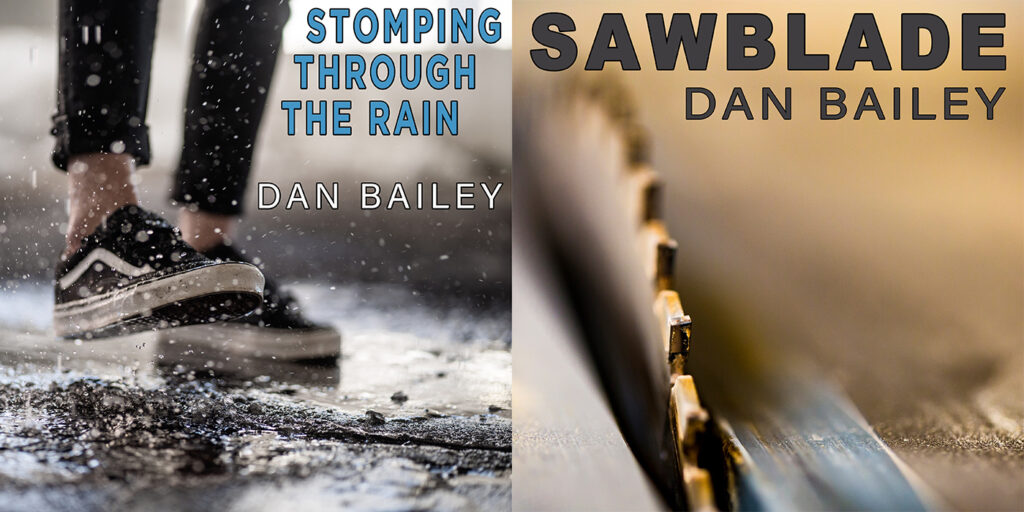 Today is new music day, and I'm excited to announce a pair of new releases; Stomping Through the Rain and Sawblade. Well, technically, they're both older songs, but they've been newly remastered and are now up on all the music sites.
You can find both songs on my Bandcamp Page, and all of the popular streaming services.
Stomping Through the Rain
This is my super fun power pop love song that I wrote and recorded back in 2007. It's always been one of my favorites; I love the feel, the energy, the songwriting, the guitar solo, the vocal hook.
However, I was never 100% happy with the drum sound, the snare drum in particular. However, due to the way I recorded the drums, it would have been kind of a chore to isolate the snare after it was already mixed in order to adjust the EQ.
So, I left it alone for all these years… until this year.
About a month ago, I decided to give it a try. After all, it was the second fall winter of Covid, and our travel plans had been canceled. Plus I was still rehabbing my shoulder, So, I figured, what else was there to do?
After a long session of cutting and slicing on the master drum track, I used Logic Pro's "Replace Drum Track" command to turn the original audio into MIDI track. Then I used that sound to trigger a new snare drum sample and mixed that in with the old snare sound.
Then, I did some additional mixing to update the sound of the entire track and remastered the song for release in 2022.
I love the new sound, so give it a listen, stick it on your playlists and let me know what you think! You can find it on Spotify, Apple Music, YouTube Music, Pandora, Amazon Music and all the other streaming services, or you can purchase the track here.
Sawblade
Sawblade is perhaps one of the coolest pieces of music I've ever made. I wrote and recorded this song sometime during 2001-2002. It was featured on my album Seven Years, which I released one year ago, and now it's been remastered for release as a single.
This heavy industrial-style guitar song was heavily influenced by Jeff Beck's "You Had it Coming Album," which was one of my favorite records of the that decade.
It's got a lot of hypnotic energy, and an amazing feel, so it's an awesome soundtrack for any kind of lively activity or mood. You can stream it on Spotify, Apple Music, Pandora, YouTube Music, Amazon Music and all the other music services. Or you can purchase the track here.