It's been just over 5 months since I released my new album, Up Higher, and since then…
Well… Summer happened here in Alaska, and I kind put away the guitar for awhile. I tend to not play as much music during that time of year, when the days are long and I can spend hours outside riding my mountain bike or flying my little yellow Cessna.
However, with the onset of cooler, wetter temperatures and the shorter days of Fall, and the impending onslaught of Winter marching closely behind, I'm feeling more motivate to start playing, writing and getting back to making music again.
Fortunately, this increasing motivation has coincided with IK Multimedia's amazing 25th Anniversary Group Buy. Celebrating their own 25th year in business, just as I am also doing right now with my photography business, they're offering musicians and music makers what they call a once-in-a-generation chance to get up to 25 products for the price of 1.
The group buy started at the beginning of September, and it's now been extended through the end of October, which gives you three more weeks to buy one of their products and get an enormous number of products for free! (Right now, they're up to 21 free products.)
IK has a broad selection of excellent audio software titles that include guitar and bass amp simulations, which allow you to get incredible, classic sounds through your computer; ideal if you like to rock out without disturbing the neighbors/spouse/family, or if you like to record your guitar into a program like GarageBand or Cubasis.
I'm a huge fan of their Fender Collection, that was the first IK product I ever bought, but they have a wide selection of other famous amps, pedals, cabinets and effects as well. And they have MIDI keyboards and interfaces that allow you plug your guitar or bass right into your computer.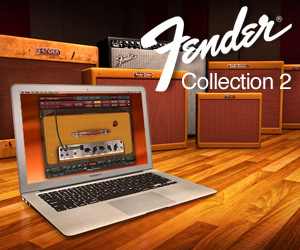 Their T-Racks Processor line gives you a host of professional processing gear emulations, which you can use for mixing and mastering your songs, or experimenting with different sounds and effects.
Perhaps their best all-in-one is MixBox, which gives you over 70 different processors that live inside a self-contained package. Using MixBox with program like GarageBand suddenly opens up recording possibilities in a huge way.
They also have a range of Virtual Instruments, which emulate classic gear and allow you to get killer sounds through your own MIDI keyboard. Play real Hammond B3 organ sounds, or get classic synth sounds with Syntronik, Bass and Drum sounds, and even a classic Mellotron sounds with their newest instrument, SampleTron.
Basically if you like to do music on your computer, there's no reason why yo shouldn't take advantage of this amazing Group Buy offer. Even if you don't need 25 different processors, I'm pretty sure you'll find at least a handful of their products that will inspire and motivate you to write some new songs and unlock bounds of creativity.
Music is an important element in our lives, and IK Multimedia gives you the tools to unleash your inner artist. I've been using their gear and software for 10 years now, and I don't regret a single purchase I've ever made with them.