We just completed another circuit around the sun, which means I'm another year older, wiser, more rambunctious, and even more dedicated toward making time for the important things in life, like playing music.
Although I didn't post very often here on my music blog during 2022, (I tend to be much more active on my Instagram channel), 2022 was a pretty eventful year for me in the music realm. I released a handful of new songs, played a few gigs, and, of course, added a number of items to the ever-growing musical arsenal of gear that I collect from my local music stores.
In chronological order, here are my music highlights from the past year.
1. Singing Lessons
At the end of 2021, I signed up for an online singing course with vocal coach Chris Liepe. I had taken Chris's short, 3-part Free Your Voice training series, and was so pleased with the results, I decided to try his full-length course.
Over the next few months, I went through the lessons and practiced a lot… often in my car, and was blown away by how much his training actually worked.
Although I have decent relative pitch and can sing rock and roll well enough to get by, my baritone-register voice never had much range. Through Chris's innovative lessons, I actually discovered the techniques to expand my projection and my range and progressed far more than I would have imagined.
After just a few months, I fell I truly discovered my voice with a new level of confidence. And I really enjoyed Chris's positive, easy-going teaching style. He reminds me a lot of me and how I teach photography.
2. Singing Lessons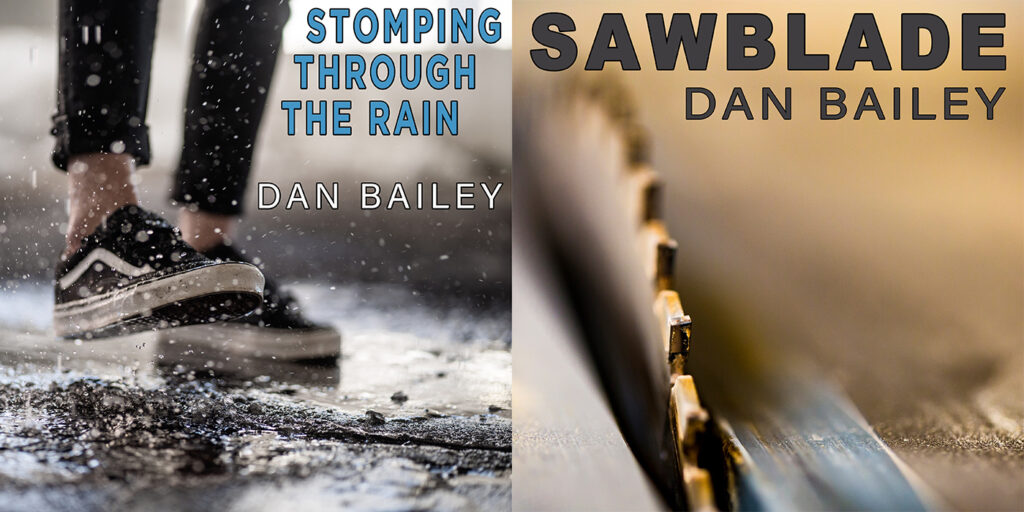 Also in January, I released remastered version of two of my favorite songs, Stomping Through the Rain and Sawblade. "Stomping" is a fun power pop song I wrote and first recorded back in 2007. I love the song, but was never quite happy with the drums, so I finally got around to remixing and remastering the song to my liking.
You can find it on Spotify, Apple Music, YouTube Music, Pandora, Amazon Music and all the other streaming services, or you can purchase the track here.
Sawblade is a Jeff Beck influenced guitar instrumental I wrote sometime during 2001-2002. It was featured on my album Seven Years, which I released one year ago, and now it's been remastered for release as a single.
It's got tons of hypnotic energy, so it makes for an awesome soundtrack for any kind of cool action video. You can stream it on Spotify, Apple Music, Pandora, YouTube Music, Amazon Music and all the other music services. Or you can purchase the track here.
3. Live Gig at the Anchorage Trek Store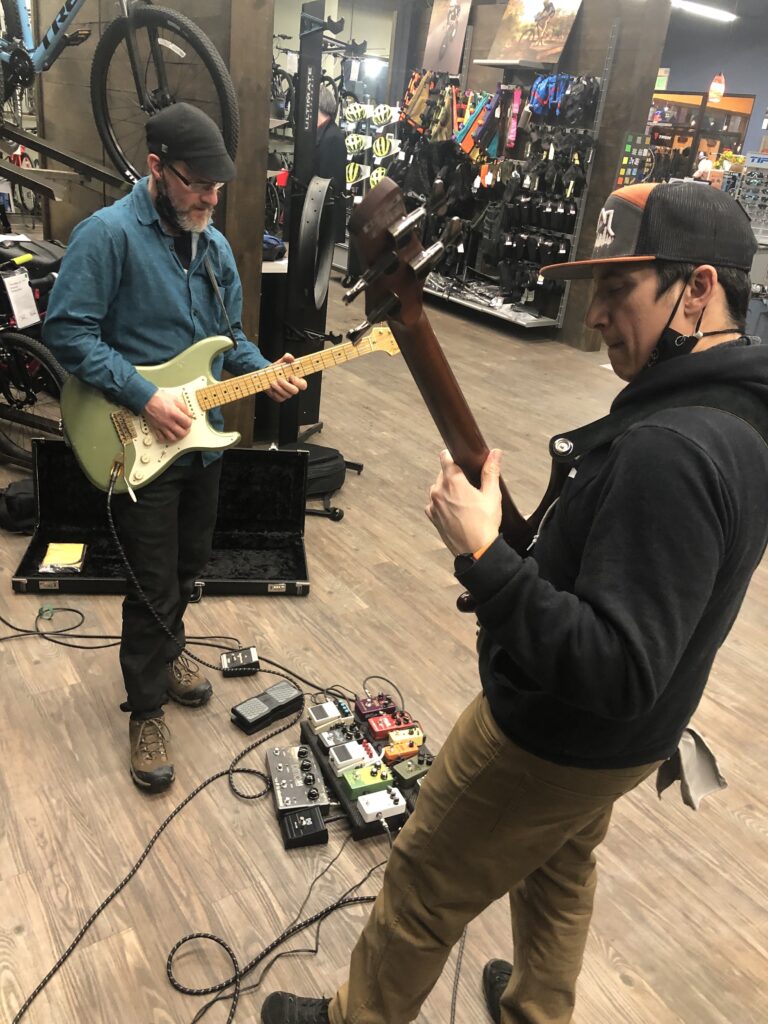 On First Friday in February 2022, I played my first live gig of the year, the Bike Art Show at the Anchorage Trek Store. More of a jam than a real gig, bass player Dan Sipin and I had fun providing background noise together during what was the first open gathering for quite a number of friends and fellow cyclists.
Coming out of the tail end of the pandemic, it was the first time I'd played music outside my home in a long time, and it felt really good.
5. Visiting the Moog Headquarters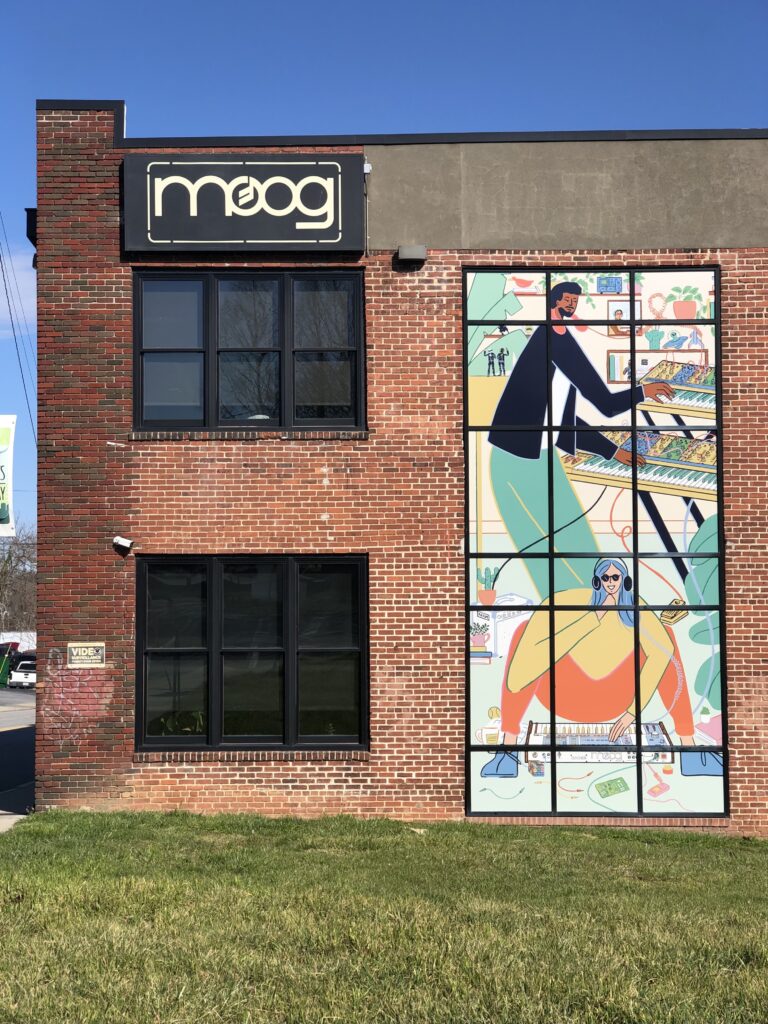 In late March of 2022, I found myself in Asheville, North Carolina for a few days. It was an unexpected stop on our trip, so I made the most of it by getting together with one of my roommates from Berklee College of Music, (I hand't seen him since graduation in December, 1991).
I also paid a visit to the Moog factory and store, which is located right downtown. Unfortunately, the factory floor was still closed to tours because of Covid, but I was able to get a fun info tour and play around with some of the instruments in the showroom.
This was a really cool visit for me, because I had just bought a real Moog synthesizer a couple weeks before.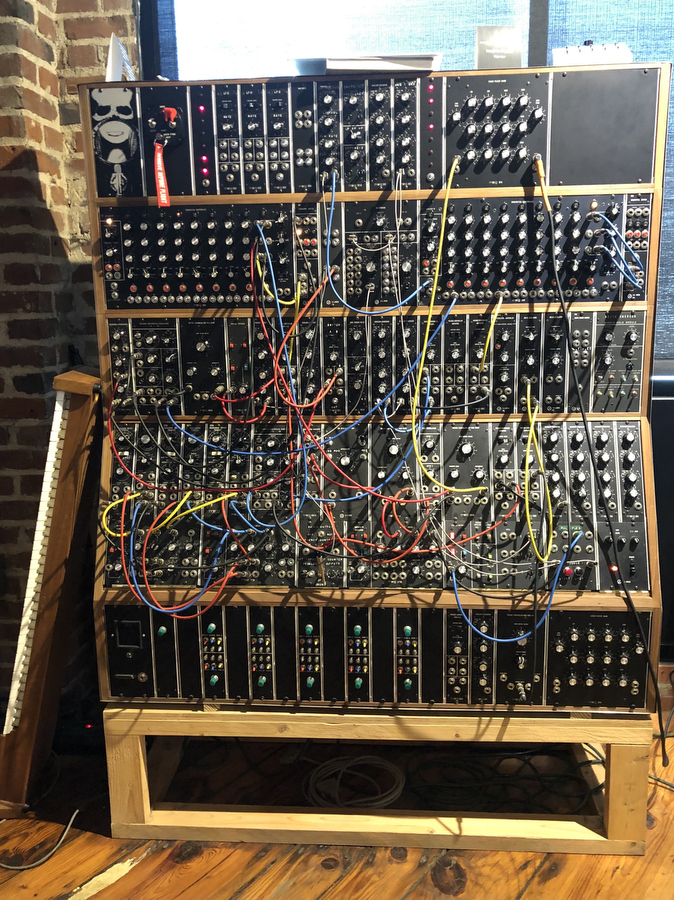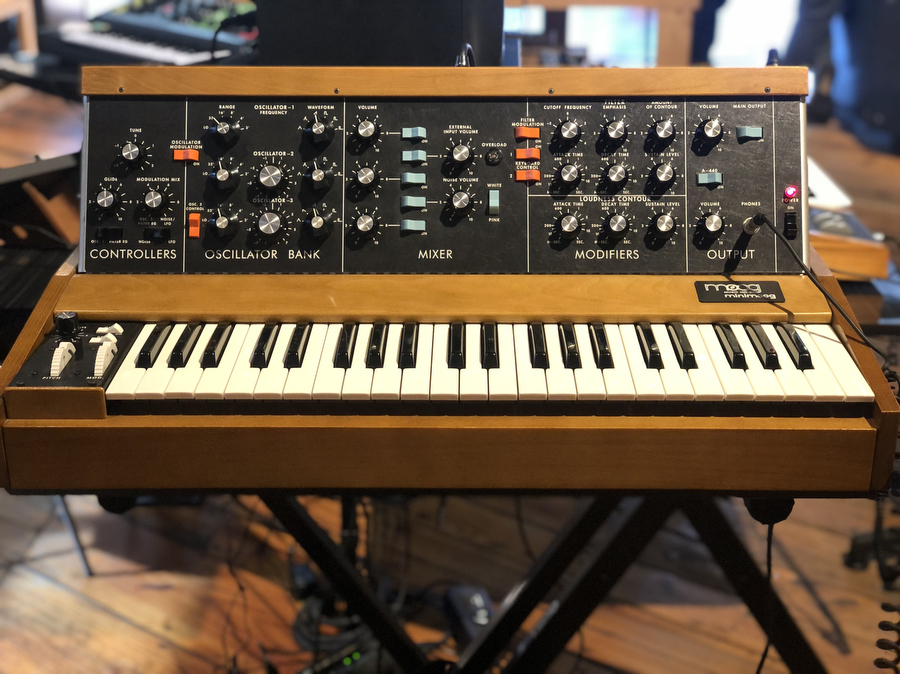 4. Interstellar Love Song
In the winter of 2022, I started working on a brand new song, which I eventually released in April. My synth-heavy track Interstellar Love Song represented what I feel was my best songwriting, production and singing to date. Think Boston meets Pink Floyd.
All of that stuff I learned from Chris's singing course paid off, especially in the final all-out vocal belt after the last chorus.
I loved how this song turned out, from the super-fun space themed, pop culture lyrics, to the synthy intro, to the ripping guitar solo and the ultra-catchy chorus. Go ahead, I dare you not to try and sing along!
5. Playing Live with Zen Trembles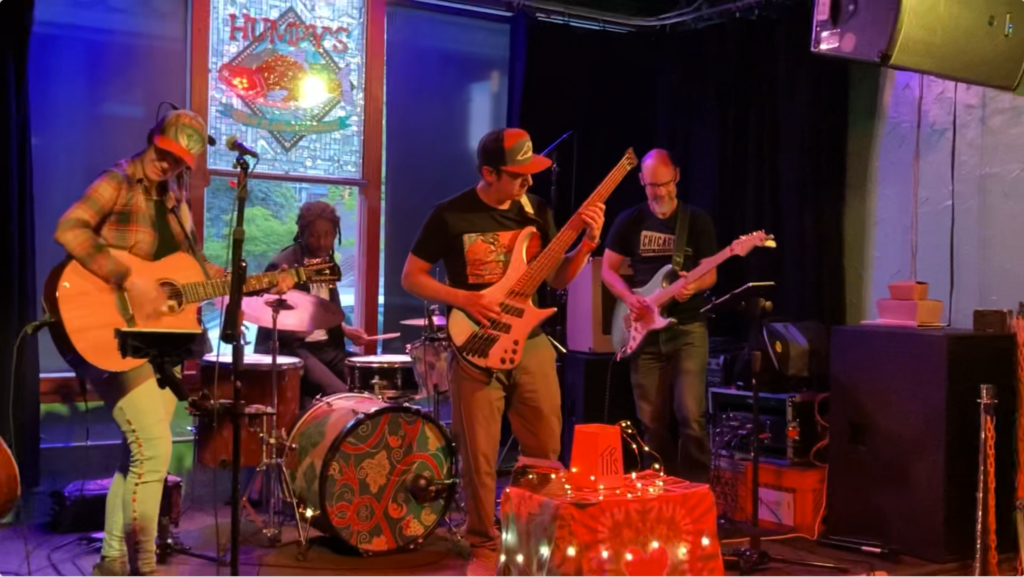 On June 11, I sat in and played the entire gig with local band Zen Trembles at Humpy's Alaska Ale House in Downtown Anchorage. I was already friends with Dan Simpin, the bass player, who I had played with at the Trek Store, and that's when I got to meet Becky Kotter, the leader of the band, and Nate Smith, the drummer.
I had such a fun time playing with these guys, and even jumping in cold without rehearsing, I was able to mesh right in with their style. This was actually the first of three times I played with them during the year.
6. Some Fun Guitar Instgrammming!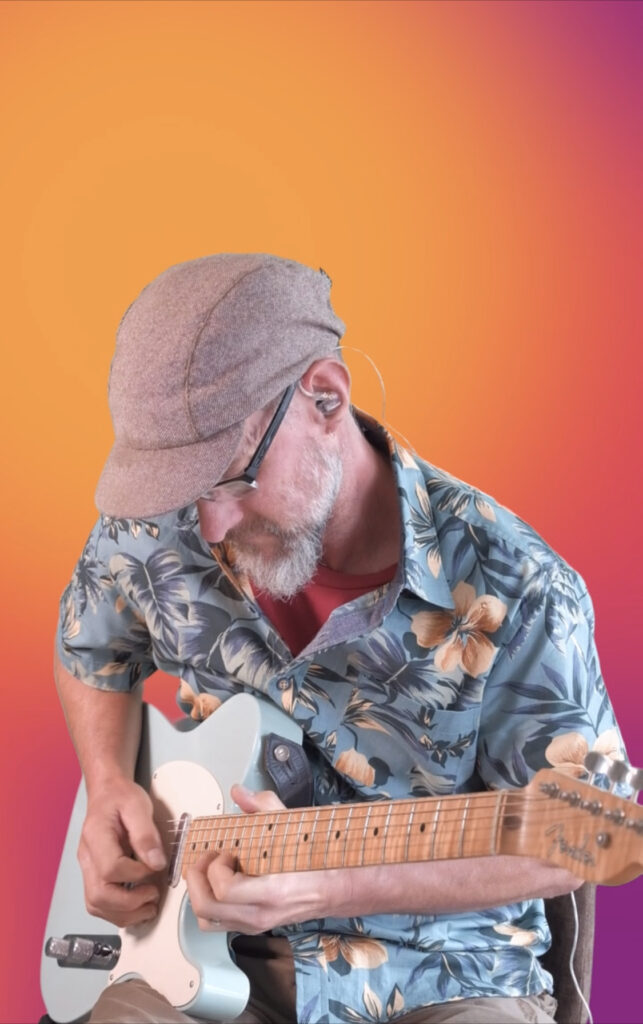 A few times during the summer, mostly when it was raining outside, I set up my green screen and made some short "guitar jam" videos that I threw up on my Instagram channel.
It's always fun to make these kinds of "live at home" videos, even though I don't always find the time to do them.
7. New Song – Cosmic Safari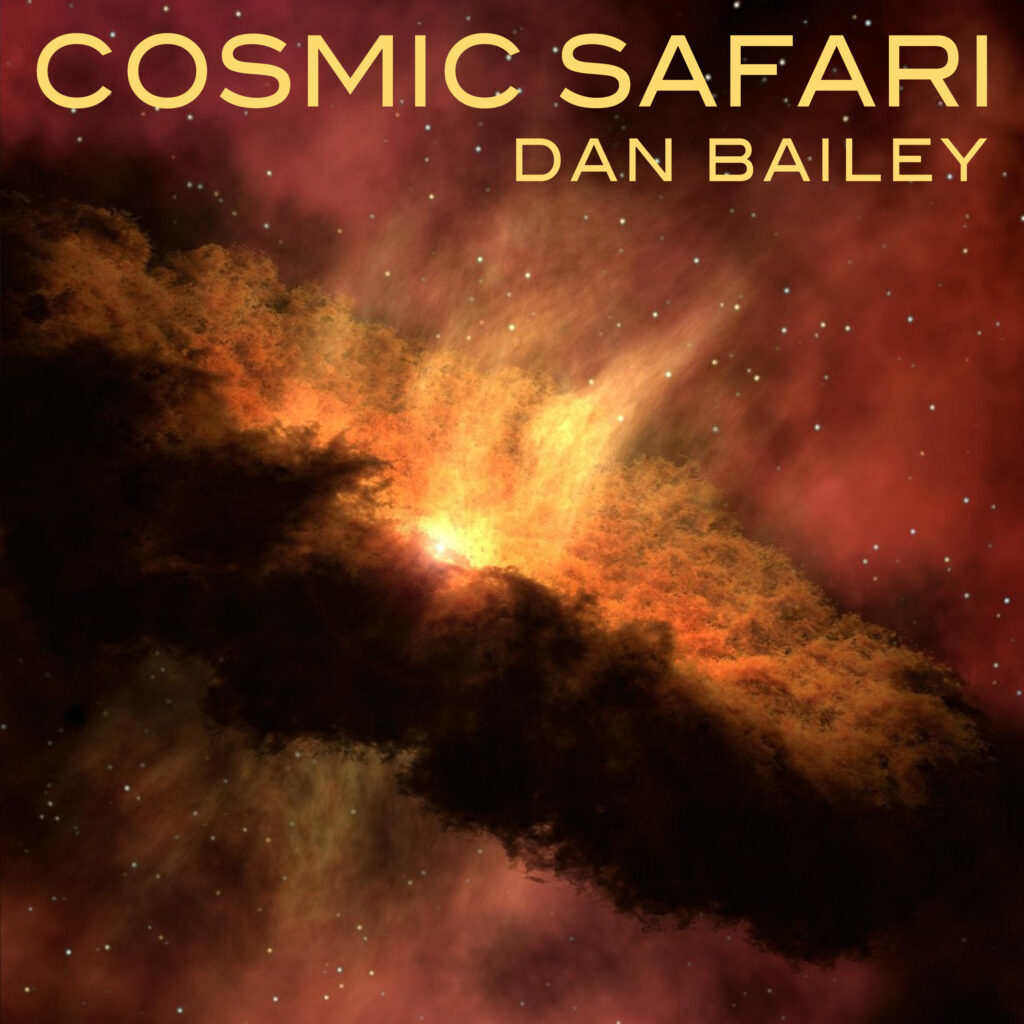 Also, during one of those late summer rainy weeks we had in late July, I sat down and started a new song, and on August 16, I released Cosmic Safari.
It's a fun, spacey instrumental guitar track, kind of in the style of Joe Satriani, who has long been one of my idols. You can listen to the song and on your favorite music service. You can also listen or purchase the song at my Bandcamp Page or check out the super fun music video that I made!
8. Joe Satiani Live in Seattle!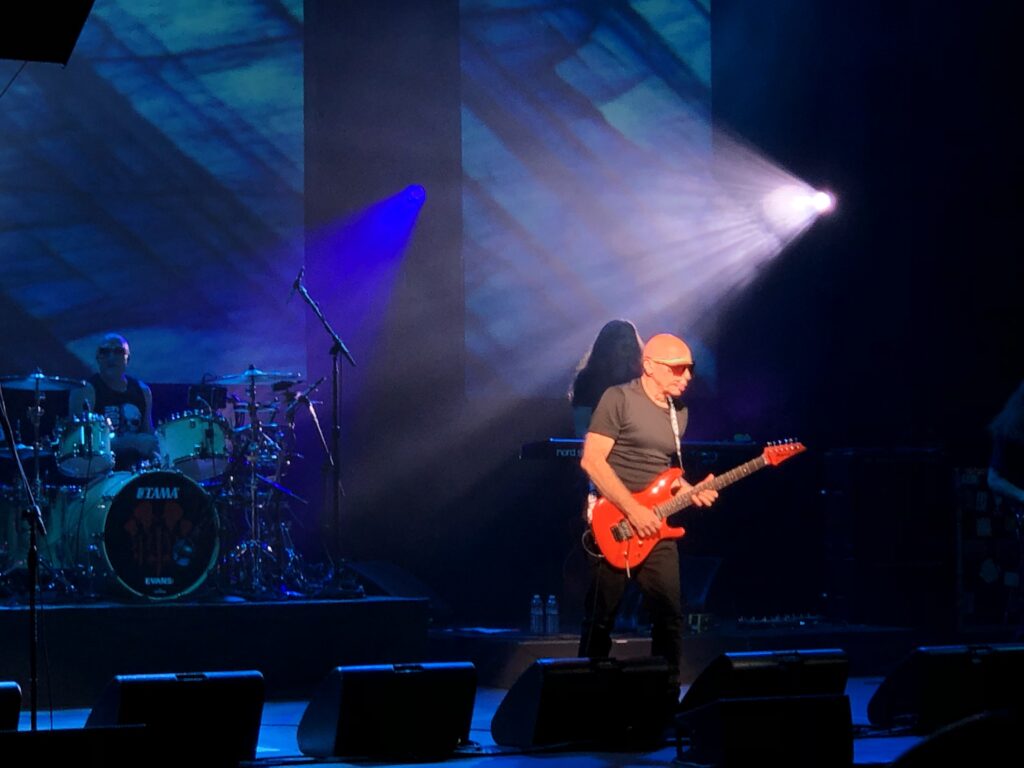 Speaking of Joe Satriani, on September 28, I flew down to Seattle for one day to catch him live in concert at the Moore Theater.
Joe was on tour this past fall to support his new album, The Elephants of Mars, and since I had never seen him live in the 30+ years that I've been a fan, I figured it was worth the trip. Spoiler alert: It was definitely worth the trip.
Fun fact: Joe's bass player, Bryan Beller, was also a student at Berklee College of Music when I was there.
Before the show, I went to one of my favorite vintage guitar stores, Emerald City Guitars, an awesome little shop in Pioneer Square. They always have such an eclectic collection of instruments and amplifiers.
During my trip, I played a number of really cool guitars, including a 123-year old Martin 0-21 from 1896. I still can't believe I didn't just end up taking that one home with me.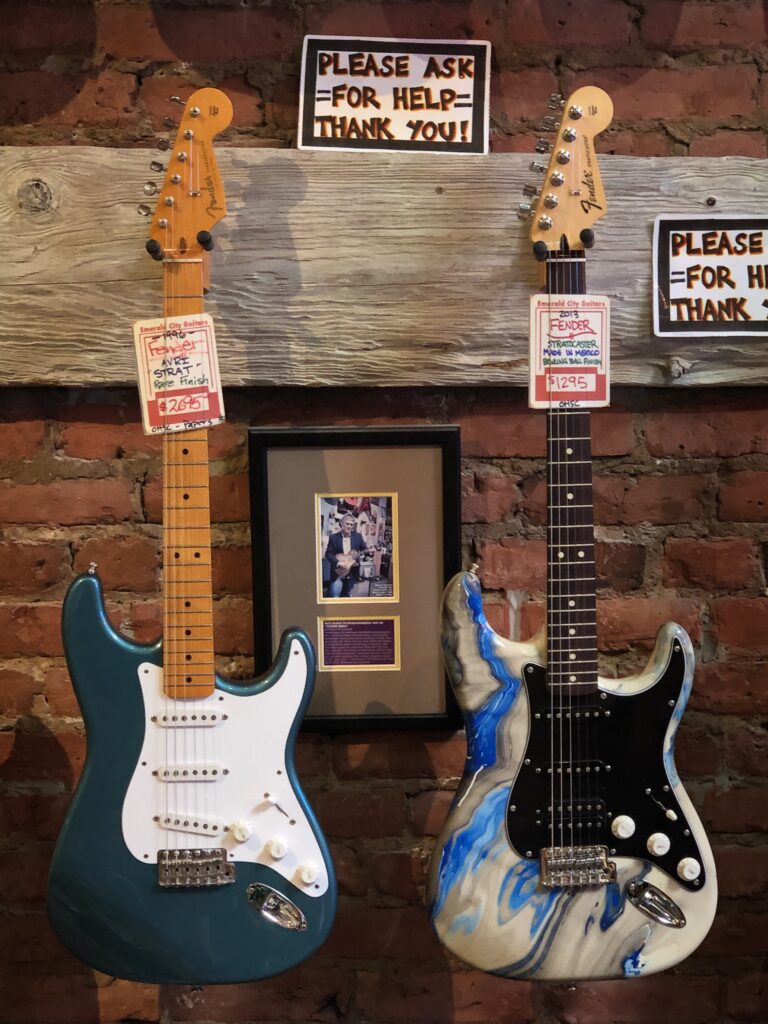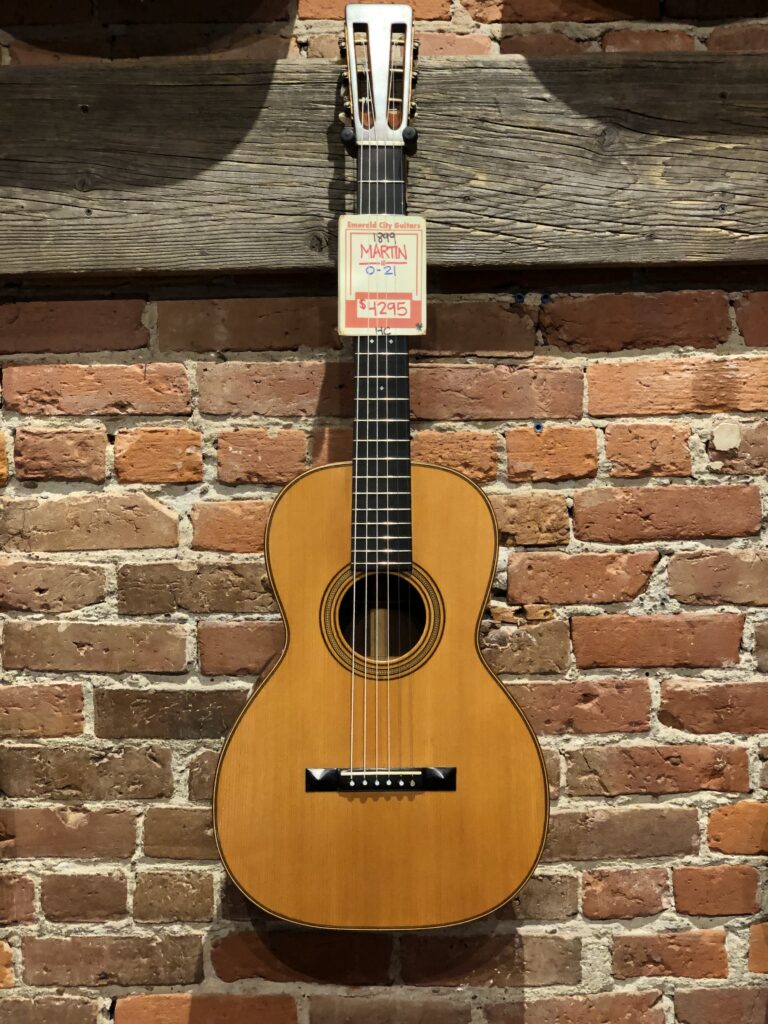 9. Two More Gigs with Zen Trembles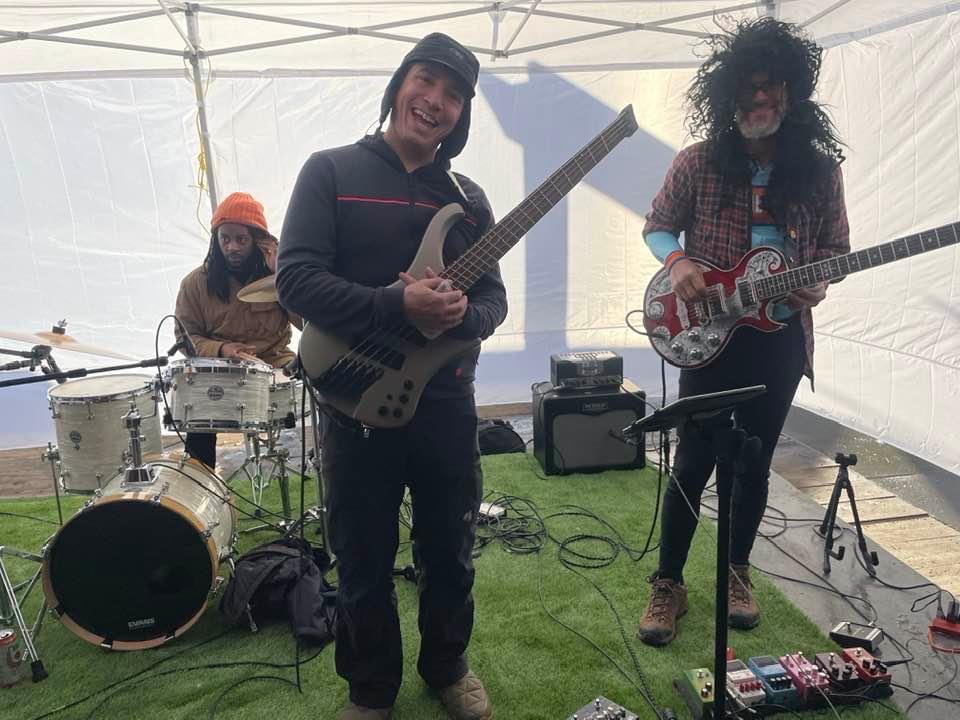 During the fall, I played two more gigs with Zen Trembles. The first one was the Anchorage Cyclocross end-of-season party. That's the photo above. I remember it being really cold in the tent, and I was already cold and pretty tired from racing and cheering all-day in the near-freezing temps. I ended up getting sick after the show.
The second gig was for the October beer release party at Odd Man Rush brewing in Eagle River. That was a rally fun gig, although I only played a few songs with them during their middle cover set.
10. Fender Aerodyne Stratocaster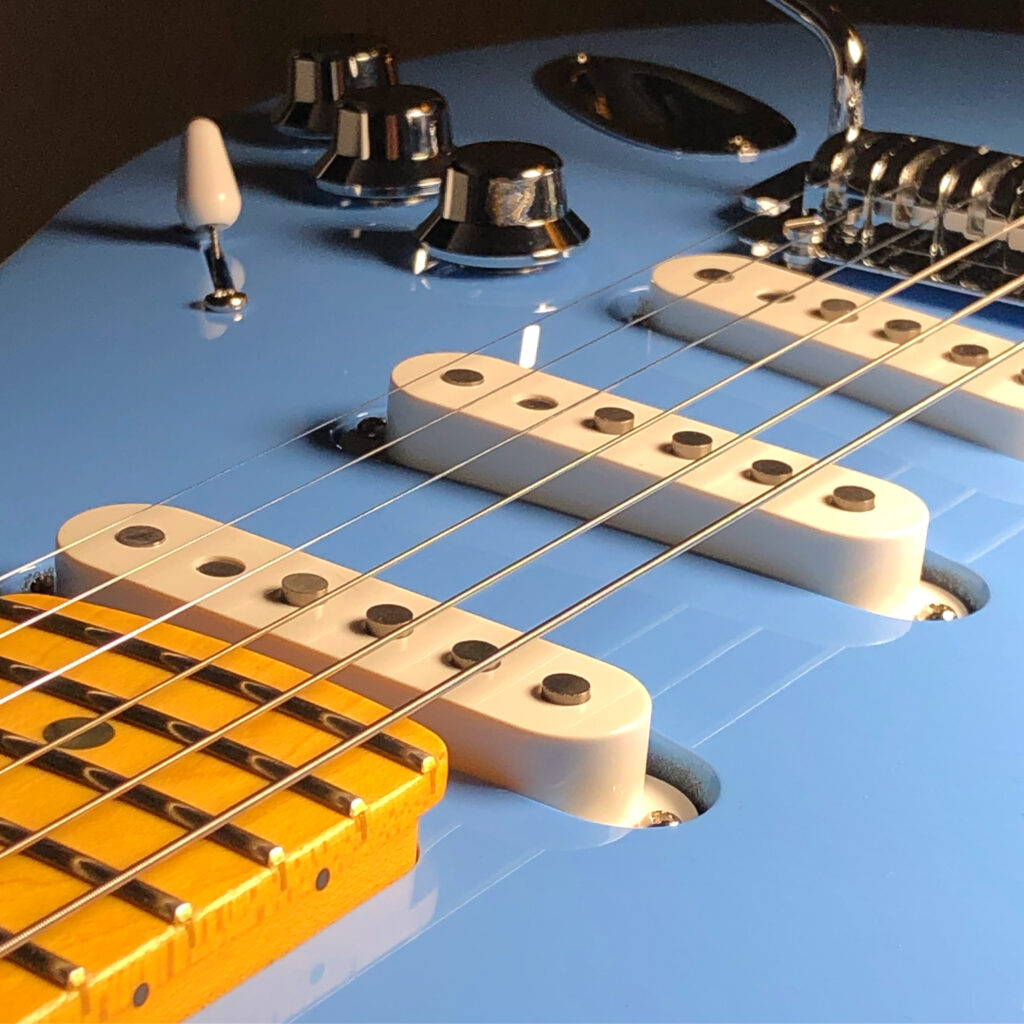 In late October, I got an email from Sweetwater Sound announcing Fender's new, limited release Aerodyne Stratocasters. I was immediately lured by the California Blue models with the golden maple necks.
I held off for a couple weeks, just to make sure it wasn't a total impulse purchase before finally succumbing and ordering one for myself and adding yet another electric guitar to my collection.
Fender's Aerodyne series are models that are made by the Fender Japan factory for overseas release only. However, they bring them over for limited runs in the USA every few years, and the current Aerodyne Strats feature some gorgeous appointments, like carved top, bound basswood bodies, chrome knobs and hardware, 12″ radius fretboards and Babicz Z-Series tremolo bridges.
All I saw was blue, though.
The look of these Aerodynes brought me back to the stylish look of 80's guitars, and with the flatter necks, they lend themselves well for fast rock playing. How could I resist?
Short story… I didn't, and now I have a pretty new blue Fender.
Happy new year, thanks for reading and for supporting my music efforts!