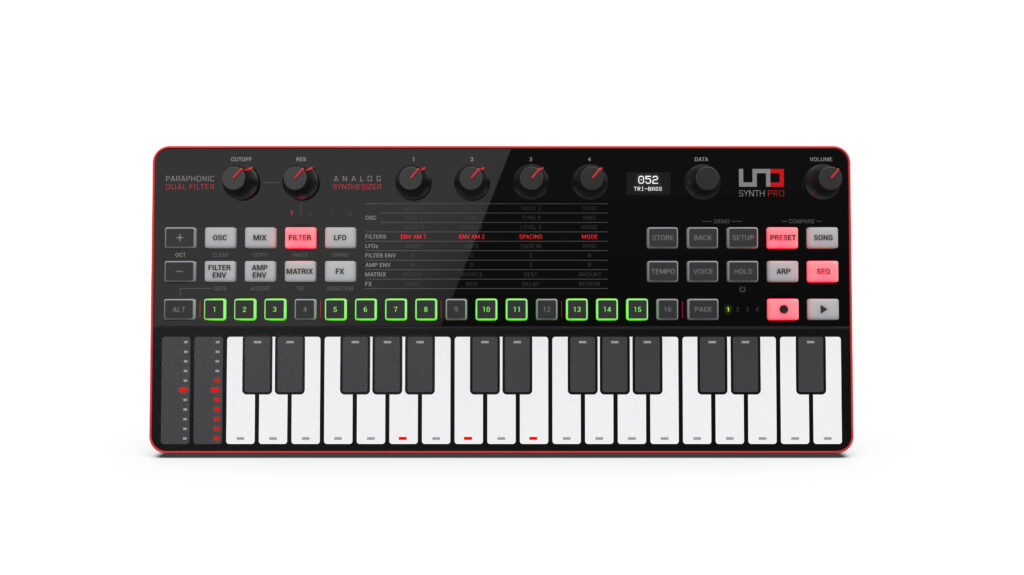 Even though I'm primarily a guitar player, I'm a child of the 70s and 80s, which means that I grew with plenty of synthesizer sounds in my young, impressionable ears.
From progressive bands like Pink Floyd, Yes, The Who, E.L.P., and Rush, too pop artists, like The Cars, Gary Numan, and his awesome song "Are Friends Electric," to Van Halen's "Jump" and the total onslaught of so many other bands of of that era that explored wild, new space age tonalities and ambiences with their keyboards, I've always loved synth sounds.
Ironically, the song "Can't Look Past Ourselves," the lead off track on my primarily guitar-oriented album, "Up Higher", is built around a synth riff that's based on a Roland Juno sound, using IK Multimedia s synth software, Syntronik.
The modern synthesizer, a rather mysterious instrument, the first one was constructed in late 50s from a monstrous array of 750 vacuum tubes, a USAF oscilliscope and a punched paper tape reader.
Later refined into much smaller and more accessible format by American engineer Robert Moog, the modern synthesizer is capable of creating a diverse palette of sounds; everything from buzzy laser-like saws, to glassy, bell-like chimes, plucky percussive snaps, rich, chorus chordal pads, bleeps, and blip, and pretty much everything in between.
Synths were always elusive to me when I was younger, but with the advent of software based "soft synths," it became possible to recreate and record these kinds of sounds right on my computer. I have a number of soft synths in my arsenal, but as with anything, it's far more enjoyable to do it in real life with your hands and fingers, than it is on the computer.
Combined with the latest generation of affordable hardware synths on the market this days, I finally decided to buy my first real synth this past fall; you know, a real instrument, with real knobs I can twiddle, instead of using the mouse for everything.
After doing some research, and relying on my own very positive history with IK Multimedia products, I decided to purchase the Uno Synth Pro desktop version. It also comers in a 37-key full size model.
This Italian made instrument, (both version share the exact same synth engine) is a true analog synthesizer, complete with 3-oscillators a built-in 64 setup sequencer and arpeggiator, studio-grade effects, and a dual-filter design that allows for a wide variety of both classic and modern style sounds.
It's not a total "knob per function" synth, but its thoughtful ergonomics, designed with 8 knobs an a combination of mode buttons, allow you to create and modify your sounds with minimal amount of menu diving. What diving there is that needs to be done is pretty shallow, and very easy to back out of.
With 2 full ADSR envelopes, a 2 LFOs, a 16-slot modulation matrix and a full FX section, the Uno Synth Pro gives you a wide range of possibilities for shaping your sounds. With all the dual filter modes, you have a total of 24 possible filter combinations. This means you can recreate the sounds of many classic synths, as well as create our own new sounds.
You can go from sharp, buzzy stabs, to lush pads, to wobbly organ sounds, to those cool growling, sweeping Tom Sawyer sounds that seem to descend from space itself, to thumping acid-like bass sounds, richly timbered beds, harmonious beds, searing Moog-style leads and everything in between.
The sound quality from the fully editable patches, or from the straight raw configuration sounds very rich and full. IK spared no expense in the actual analog engine, which as built by another Italian company called Sound Machines.
Add in the built-in arpeggiator or the 16-button, 4-page step sequencer, and your options for creating interesting sonic palettes opens up quite easily.
The on-board audio effects themselves were designed by IK and have been ported directly from their other professional audio plugins, like MixBox and Amplitube 5. They include high quality delays, reverbs, and modulation effects, like chorus, phaser and flanger.
The Uno Synth Pro has a variety of connection options, including stereo headphone out, two 1/4″ balanced line out jacks, so you can run the synth into a mixer or audio interface and MIDI in/out, which allows you to play it from another keyboard controller.
The little touchpad keys on the Uno do work, and they're actually quite responsive, but to be able to plug this in and control the sounds from a high quality keyed elevates it to the next level.
Sure, the full size version with the high quality, weighted FATAR keyed is going to be much more enjoyable to play, but given the fact that the sound module of the two models is identical, the desktop version has the huge advantage of portability. All you need is a pair of good headphones (or a couple of patch cords) and a USB power brick and you can take your music anywhere.
There are a handful of great video reviews out there that highlight the UNO Synth Pro's full feature set; I've posted one below, as well as a short clip of me playing the UNO along with another synth sound that's being run though my regular keyboard.
I'm having a lot of fun discovering what the UNO can do, and I love the way it sounds. If you're looking for a small, portable synth to scratch that certain sonic itch, this is a great one to consider.
There is actually an increasing range of budget synths out there right now, but for its 3-oscillator design, great sounding effects and built-in sequencer, combined with a limited, but still functioning keyboard, the desktop model of the UNO really does offer a lot for the price.
Check out the UNO Synth Pro here.
Read Music Radar's review of the UNO Synth Pro.