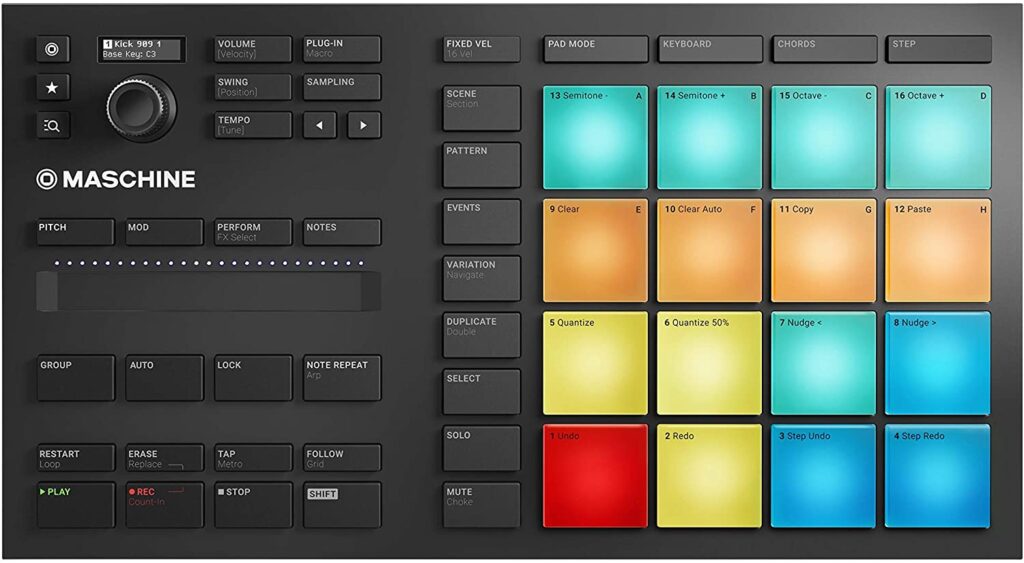 Last fall, near the beginning of my season-long, PT inspired, music gear buying binge, I made an "out of character" purchase that ended up being one of my favorite and most-used creative tools of the year.
It was the MASCHINE Mikro MK3, by Native Instruments.
I've used a few Native Instruments plugins over the years, so I was familiar with the sound quality of their software. And I knew a little bit about their Maschine line of controllers, but up until now, they just didn't seem like something that would fit my "rock and roll, guitar-centric style."
However going into the often-dreary, increasingly shorter, wetter and colder Alaska fall season with a bum shoulder and plenty of time on my hands, I suddenly became more curious about this cool little device. And, since they're not very expensive, I decided to try one out, knowing that Guitar Center had a 30-day return policy.
Well, I didn't end up returning it, and in fact, I quickly became enamored with this ingenious little creative machine. (See what I did there?)
So, What Exactly is MASCHINE?
The Native Instruments MASCHINE hardware controllers are basically 16-pad drum machines that let you tap out beats with the included software sounds.
Oh, but wait… that's only the beginning.
MASCHINE is a fully integrated hardware/software system that includes a sampler, arranger and mixer, and a full library of different instrument sounds that you can play, perform and record by using the 16 pads and other controls on the device.
Being the smallest and most affordable version, at only $269, MASCHINE Mikro offers an incredibly compact and flexible way to make beats, sketch out rhythm and melodic ideas, lay down tracks, and mix it all together with studio-qualty sounds and effects.
You need a computer to do all of this, (MASCHINE+ is fully standalone), but with a just laptop and the little Mikro controller, you have an incredibly amount of flexibility and portability for creating just about any kind of music at your desk, in the studio, or anywhere you want to go.
Native's MASCHINE series have long been the favorite tools of DJ's, beat makers, and electronic music creators, but with their growing library of sounds, samples and virtual instruments, you can produce whatever kind of music you wish, whether it's hip hop, rock, soul, techno, ambient, EDM, cinematic, world, etc…
The base software that comes with Maschine Mikro, called KOMPLETE START, includes 2,000 studio-quality sounds, samples, loops and effects; everything from acoustic and electronic drums, to guitars, bass, piano, organs, numerous synthesizers, both vintage and modern, and a selection of world instruments.
That's more than enough to get you started, and if that's all you ever got, you could stay busy for a very long time.
However, you can always upgrade your library to any one of the other KOMPLETE bundles and add thousands of additional sounds and virtual instruments. (Native Instruments often has sales throughout the year.)
How Does MASCHINE Work?
Whether you use Maschine Mikro all by itself, or within you DAW (Logic Ableton Live, or Cubase), everything is done through the dedicated MASCHINE software. (You can also use MASCHINE in MIDI mode, as a standalone MIDI interface that will control just any kind of instrument, plugin or effect that receives CC messages.)
It may take a slight learning curve to get the hang of how this software works, but as you can see above, it's very easy to get started. You can see another super-easy Quickstart tutorial here.
Basically, after loading a sound, you can play that sound, sample or loop by tapping any of the 16 color-coded, velocity sensitive pads. With drum and rhythm sounds, you simply use it like a drum machine and tap out beats.
Things get even more fun when you load a melodic instrument, like a piano, synth, bass or guitar sound. You can play these types of sounds melodically, again, using the 16 pads in "keyboard mode," or you can play entire chords using "chord mode," or treat it like a 64-step sequencer and record your own sequences.
There's even an arpeggiator, which allows you to easily create complex rhythmic patterns using any type of instrument.
You can set up each sound to conform to any key or scale you wish, change the tempo of your loops and patterns, add effects to any of the sounds, and even "play" certain effects in real time by using MASCHINE's touch strip.
The MASCHINE ecosystem uses a hierarchy of GROUPS, PATTERNS and SCENES.
You can layer up to 16 different sounds together in a GROUP, and create multiple groups, which can have entirely different sets of layered sounds.
Once you've got the sounds you like, you can then record these groups as PATTERNS, in any length you wish. It's very easy to add to or edit your patterns, and fix any mistakes that you've made.
You can also record and switch between multiple patterns during playback, which allows for more musical variation, so that everything doesn't always sound the same.
SCENES are made up unique collections of instrument groups and patterns. Think of scenes like different parts of a song, like an intro, a verse, or a chorus.
Once you've got everything recorded the way you like, you can then "play" it all in real time, using the pads to control when different patterns variations or scenes start and stop. Or you can go the Arrange window, lay them out however you like, and export that particular arrangement as a finished song, or as individual parts that you can then import into your other recording software, send to a friend, etc…
I will admit that it takes a little bit of time to get used to how the MASCHINE ecosystem works. Even being an experienced Logic Pro user, there was still a bit of a learning curve for me.
However, there are a number of great tutorials on the Native Instruments site, and on YouTube, and with a little practice, you'll get the hang of it pretty quickly, at least the basics.
Why I Love MASCHINE Mikro
I'm primarily a guitar player who dabbles in keyboards, so my first impression of MASCHINE Mikro was that it would be an easy way to tap out rhythms and build simple backing tracks that I could use for practice, jamming or sketching out song ideas.
It does all of that really well, but I quickly discovered that MASCHINE actually expanded my world of musical creativity in ways I wouldn't have imagined.
For one thing, it's different. I'm used to navigating 6 strings, and to some extent, the keys of a piano. Using the 16 pads to play a variety of musical sounds allows me to come up with musical ideas, rhythms, chord patterns or sequences that would not normally be intuitive, or easy for me to play on the guitar or on a traditional keyboard.
I liken it to using a different lens, maybe a focal length that I'm not very familiar with. It gets me out of my regular creative box and allows me the whimsy to try new things.
In addition, MASCHINE Mikro is a small, and for most functions, it's a self-contained device. Even though you have to use it with the software, you can do most things on it, from auditioning and choosing sounds, to recording patterns, changing sound parameters, adding effects, and playing through your arrangements without having to use your computer mouse and look at the screen.
Nearly all of the important functions are accessible by using the buttons and encoder knob on the device. That's an important concern, because even though the computer is a vital component in home-music making, spending more time looking at the screen can actually be detrimental to the true process of making music.
The less time I can look at my screen and the more time I can focus on my instruments, the more I'll stay in my "creativity mindset," which is very different than "computer mindset."
From that standpoint, MASCHINE Mikro is indeed an instrument, even if it's controlling the computer. You're still "playing" it, and once you find a sound or put together a group of sounds that's pleasing to your ears, it's very easy to get lost in the groove of making music, whether you're sketching out ideas or just being creative in the moment.
And, since it's so small, it lives right on my desk. All I have to do is open the software, wait for the controller to boot up, and in less than a minute, I can be browsing sounds and taping away beats, melodies or interesting chord progression or rhythmic sequences.
One thing to note, MASCHINE works seamlessly with Native Instruments's Komplete Kontrol keyboards, like the small and totally affordable M32, or the higher end models, like the pro-quality S49 smart controller, which has dual LCD screens and a sweet, Fatar keybed.
Adding a device like this only adds to the functionality and usability of the whole creation process within the MASCHINE system.
How I use MASCHINE Mikro
In the nine months that I've owned MASCHINE Mikro, I've used it for a variety of tasks. As I said above, sometimes it's just browsing cool sounds and coming up with fun ideas I can use to indulge my ears and musical brain in the moment.
As I also mentioned, it's also a very good tool for creating backing tracks for practicing and jamming, which can often lead to the spark of a new song idea.
I've even run my guitar into it and sampled short sections of my playing that I can cut and slice for interesting effect.
And since, I have one of the Native Instruments Komplete Kontrol keyboards, I'm able to cruise back and forth between pads and keys with incredible efficiency.
Song Demos
I've also used MASCHINE to sketch out entire song ideas and lay down demos. Maybe I've got a cool lick or chord progressions; I can quickly boot up and record the different parts of my song idea as a different scene, then build each part up with simple drum and bass parts.
Then I'll export the full audio of my song arrangement and save it to my "Music Demos" folder in Dropbox. Later on, when I'm away from home, often during long walks or bike rides, I can pull up the demo and listen on my headphones, which might inspire me to think of lyrics or additional parts I could use for the song.
That's exactly how I started my latest song Interstellar Love Song. I recorded the basic synth riff from my keyboard into MASCHINE, added some drums, and exported it as a demo. During one of my 35-minute walks to PT last fall, I put it on repeat and listened over and over again, humming melodies and singing words to myself, until the basic idea for the chorus came to me: the "You and I and you and I…" part.
Once I had that basic framework and idea, I was able to start working on the verse ideas and flesh out the chorus. In the end, I'm really happy with out the final song came out, and it all started as a MASCHINE demo.
Cinematic Pieces & Film Scores
Last fall, I also began a personal project of creating original mini film scores to short videos that I created with my Fujifilm cameras.
I did many of them all, or in part, using MASCHINE Mikro, and found it to be an incredibly intuitive and inspiring platform for composing music for film in the moment. Especially, with the wide selection of cinematic-style sounds and instruments you can incorporate; everything from space-age synths, to big hits and a variety of orchestral samples.
I would start by finding a sound that matched the basic mood I was going for in the video, then record some quick looks and build on that with a few different groups of instruments.
Some of the scores were done in Logic, using MASCHINE as a plugin, while a few were created and exported entirely within the MASCHINE ecosystem, like the three Instagram Reels below.
Final Thoughts
As someone who's primarily been a longtime rock and blues guitar player, I wasn't sure that a device that like this would be suitable for my style. Plus, as a heavy Logic Pro user, I was skeptical of having to learn a whole new software that's quite different from the traditional DAW setup.
That said, I am attracted to a wide variety of musical genres, and on a creative level, I enjoy learning and trying new things as I continually push myself in new directions.
With MASCHINE, I've found myself exploring musical styles, and more modern sounds and combinations that I probably wouldn't have thought of before, and it's been a very enjoyable process.
I love how small and unobtrusive the little MASCHINE Mikro unit is, and combined with the very powerful software, it's an incredibly capable device. On its own, MASCHINE Mikro has enough features to complete everything from very simple, to very complex musical productions, in whatever style of music or arrangement you're inspired to create.
MASCHINE Mikro has certainly inspired me to expand my own creativity, and I've had a lot of fun with it during the past few months. It's absolutely exceeded my expectations, and for only $269… or rather the $229 I paid for it on sale, I've gotten my money's worth many times over.
If you're looking to add a fun, capable tool that can inspire your musical journey in different ways, I highly recommend considering MASCHINE Mikro, espeically with their current summer software deals.
If you already have one, let me know what you think, or how you use it.