These are the main accessories that I use in my outdoor and adventure photography.
Giottos MH-1302 Ball Head
The Giottos MH 1302-665 Ball Head is the current head that I'm using with my tripods.
It's nicely machined and feels really sturdy in my hands. And even though I usually like the simplicity of the single ball head, I love the precise, rock solid adjustments of the triple knob design that the Giottos head uses. It feels very professional.
The MH 1302-665 head has the Arca-compatible quick release plate and a bubble level. Giottos also has the MH 1302-210C, which is basically the ball head without the quick release plate. It's lighter, more compact and would work great with a lighter DSLR.
View the Giottos 1302 QR Ball Head at B&H Photo and Amazon
Manfrotto 190X PROB 3 Section Aluminum Pro Tripod
Remember the old Bogen 3001 tripod? I've got a couple of them. However, when Manfrotto split from Bogen, the 3001 was replaced by the 190X ProB Aluminum Tripod.
This new version is even better than the 3001. It has a unique center column design that allows you to extend it all the way up and swing it to a horizontal position. It also has a bubble level.
The Manfrotto 190X ProB is a rock solid support for only about $120. If one of my 3001's ever die, I'll definitely be replacing it with one of these.
View the Manfrotto 190X ProB Tripod at B&H Photo and Amazon
Manfrotto Nano Stand
My favorite stand is the Manfrotto 5001B Nano Stand. It's about as light as you can get and still have adequate support and height for general purpose, light and fast shooting. (Min/max height is 19"/74")
The Nano Stand is definitely compact enough for carrying outside, and in fact, David Hobby has a tip over at his Strobist site about how to rig a carrying strap onto a Nano Stand so that you can just sling it over your shoulder.
Manfrotto Super Clamp
The Manfrotto Super Clamp is the workhorse clamp of the photo industry.
I use them to attach cameras and lighting accessories to doors, stands, poles, signs, trees, bike frames, car bumpers, airplane wing struts, and just about anything else I think of. Sometimes I even clamp them to each other just to see what happens.
Manfrotto 175F Justin Clamp
If you do any kind of off camera flash or lighting work, I'd highly recommend that you get at least one Manfrotto Justin Clamp. It allows you to slide a speedlight onto the hot shoe, clamp it to a post, a tripod, a light stand or a windowsill and use the mini ball head to point the head and the TTL sensor wherever you need.
Often times it's even faster to just clamp a flash onto a stand instead of putting it on the little plastic stand and then screwing it onto the top of the stand. Invaluable little tools these things are. I use Justin Clamps all the time, and in fact, if I'm leaving the house with even just a single flash, I'll often take along one of these.
View the Manfrotto Justin Clamp at B&H Photo and Amazon
Manfrotto 244N Variable Friction Magic Arm
The Manfrotto 244N Variable Friction Magic Arm is one of those handy MacGyver tools that will come in handy when you really need it.
I use the 244N Arm to clamp cameras, flashes and diffusers to things, even bikes and cars. Haven't tried it on my airplane yet.
If you intend to use it to mount a camera, you'll want the model that comes with the removable camera bracket.
 View the 244 Magic Friction Arm with Camera Bracket at B&H Photo and Amazon
Camera Bags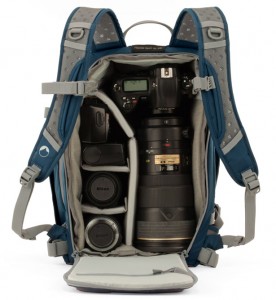 Memory Cards, Card Reader and Cases
Support this site: If you're in the market for new gear, please consider visiting and purchasing gear through these links. This help cover the costs, effort and time that it takes to run this site and produce these reviews and articles. As always, thanks for reading!