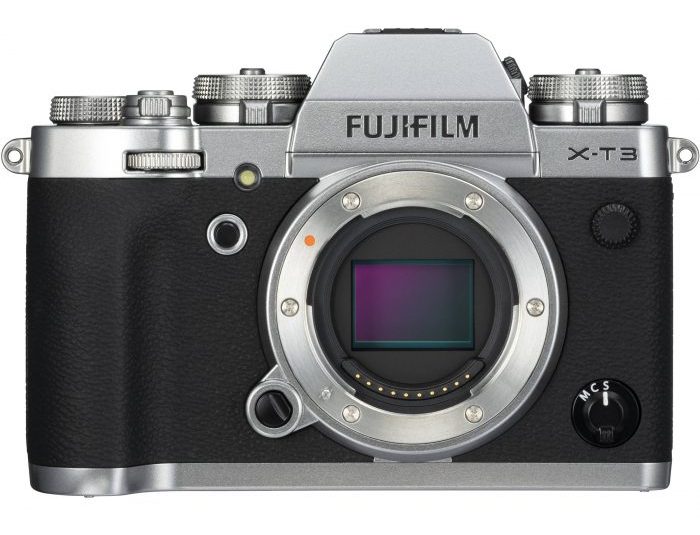 Fujifilm X-T3
My main camera body these days is the Fujifilm X-T3. Although I shot with DSLR and SLR cameras for over 20 years, I've transitioned entirely to mirrorless for all of my photography, because it offers me the high performance and excellent image quality that I demand in a lightweight, compact camera body.
The X-T3 not only represents the continued advancement of the X Series, it represents the evolution of mirrorless camera technology as a whole. It's currently the best mirrorless camera on the market, and will outperform any DSRL in the same price range, and in most areas, it will easily compete with DSLRs that cost 2-3 times as much.
In addition, since mirrorless cameras offer some significant advantages over DSLRs, like full time LCD exposure preview and hybrid phase/contrast detect autofocus that works in both EVF and LiveView mode, the X-T3 will let you do things you can't do on any DSLR/
With a predictive AF system that tracks moving subjects at up to 11 frames per second (up to 30 fps in electronic shutter mode), full weather sealing and an all-metal chassis, the X-T3 not only keeps up with my fast moving shooting style of adventure photography, it stands up to the abuse that it's likely going to see when I'm working in extreme environments.
The X-T3 has the new Back Side Illumination 26.1MP X-Trans sensor and an updated, quad-core image processor, which combine to produce exceptionally sharp photographs. With its innovative non-bayer filter matrix design, the X-Trans sensor doesn't require an optical low pass filter, which leads to increased resolution and sharpness that will rival any full frame camera.
It also has amazing performance in low light. The X-T3's updated image processor does an incredible job, even at very high ISO settings, even up to 12,800. Combined with the built-in film simulations and a highly capable image processor, the X-T3 creates beautiful looking JPEGS and detail-rich RAW files that look incredible.
Also, the X-T3 has an incredible, bright, high resolution EVF. As a longtime DSLR user, I like the intrinsic feel of looking through a viewfinder, but this one is so good that when I put the camera to my eye, I often forget that I'm really just looking at a little TV screen. 
Mechanically, it feels great in my hands, and all the manual controls let me make lightning quick changes on the fly, which is essential when working in fast breaking situations. The camera is built with some extremely usable, creative and well thought out features, and it delivers unbelievable quality imagery. 
With the X-T3, I feel that I've come full circle with my gear. I'm back to a lightweight, yet highly functional setup that lets me fully explore my creative photography style with virtually no limitation. I've thrown just about everything I could at the X-T2 and I can say that I'm confident shooting just about any kind of subject with it in any kind of situation.
Read my full review of the X-T3 here.
This video outlines many of the reasons I switched to mirrorless and the X Series.
Support this site: If you're in the market for new gear, please consider visiting and purchasing gear through these links. This help cover the costs, effort and time that it takes to run this site and produce these reviews and articles. As always, thanks for reading!
Follow @Danbaileyphoto