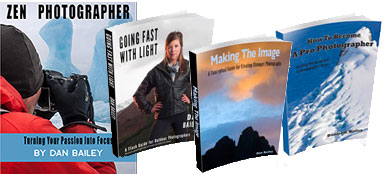 Four books at a special price:
Learn off-camera flash methods and equipment that work, proven compositional techniques and approaches that will give you more powerful imagery, solid tips on how to start making money with your camera and rock solid ideas on how to keep the passion and focus alive whether you're an aspiring pro or a life long enthusiast.
These four books provide you with info that's guaranteed to keep you busy and inspired for a long time. They're filled with professional insight that I've gained from years of being a working photographer in a very tough industry, and they'll make a difference in your photography. I promise.
The 4-eBook bundle includes the following titles: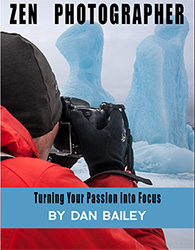 My latest release, ZEN PHOTOGRAPHER is a collection of essays, photographs and insight that have been pulled from my 22 years as a photographer, 17 of those I've spent as a working pro in a very tough industry. My goal with this book is to help you turn your passion for photography into a dedicated focus and reduce some of the bumps along your own journey.
Consider ZEN PHOTOGRAPHER a well-rounded education from someone who dove in head first many years ago, fought his way to the surface and is still swimming in an ocean of very big waves.
There's something for everyone in this book, regardless of style, ability, gear or pro/amateur status, because it's not about hardcore technical information that's specifically targeted to one level or another. It's about ideas, concepts, approach, methods and general attitudes towards photography and the craft of image making, whether for fun or profit.
Get ZEN PHOTOGRAPHER for the special price of only $12.95
Click here to read more about ZEN PHOTOGRAPHER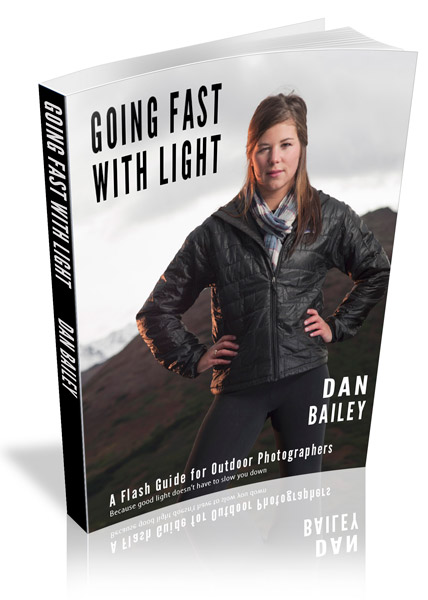 Two realities that outdoor photographers often face are that the best light is often the most challenging light to work with, and that the most compelling subjects are not always lit by the best light. Having some control over the light can make all the difference.
Going Fast With Light is an 83-page manual that will show you how to use off-camera flash lighting techniques in your active outdoor photography styles. It's helped many outdoor photographers get a better handle on how to create much more powerful and dynamic images by using the right gear, and adding the right amount of light in the right place.
You'll learn different lighting schemes using a single flash or multiple flashes, which methods work best for triggering off camera remote flashes and see a number of lightweight lighting rights that you can adapt and use in your own work, depending on your style. You'll see how to effectively use colored light without having it look too obvious and learn how to take your photography to the next level of creativity, style and professionalism.
Whether you shoot action, adventure, sports, travel, portraits or kids playing in the backyard, this book will change your photography. With nearly 100 images and over 20,000 words of text, this practical manual contains a tremendous amount of information and ideas that is sure to inspire your creativity and advance your skills and confidence with off-camera flash.
Going Fast With Light, Because good light doesn't have to slow you down.
Click here to read more about this title and see sample pages.
$14.95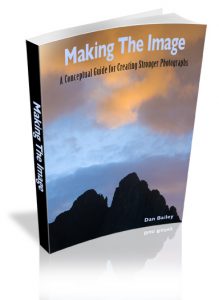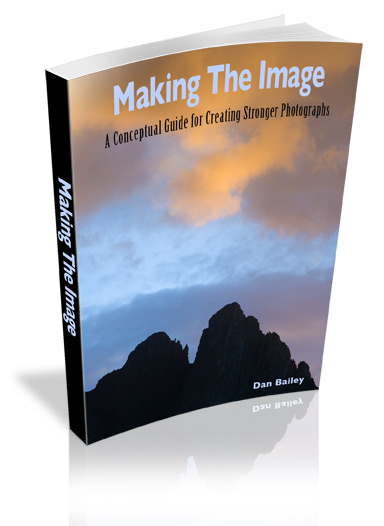 As photographers, the process of capturing light and moment drives us with powerful creativity and personal fulfillment. However, in the end, it's the strength of your images that matters if you want them to have an impact on your audience.
Making The Image is a 50 page eBook that will guide you towards making more powerful photographs. By exploring how the human visual system responds to the world, it breaks down imagery into individual concepts, such as light, color, balance and viewpoint.
Making the Image lays out a clear and concise approach to more effective composition. Since the concepts are universal, the techniques outlined in the book are sure to inspire you create photos that will capture both you and your viewer, no matter what style or subject matter you shoot.
This book contains ideas that I've been thinking about and utilizing in my imagery for over a decade, and I'm really excited to finally have them all down in one place. I consider it the defining guide on my own photographic style, as it accurately represents how I see and compose my imagery.
Making the Image. Get it today. Your photography deserves the inspiration.
Click here to read more about this title and see sample pages.
50 Pages
$11.95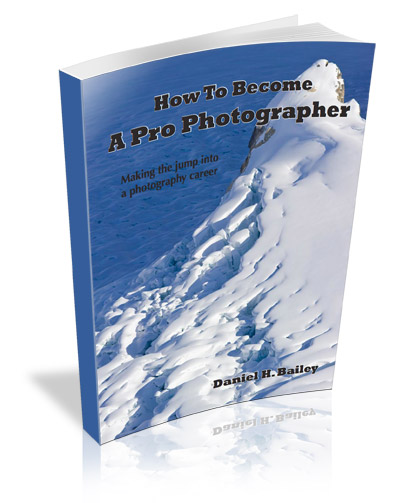 The photo industry looks a whole lot different today than when I first started out fifteen years ago. The emergence of microstock and digital photography, combined with the shift in the global economy and the internet revolution have turned things upside down and drastically changed the business model of photography.
This in-depth eBook is for anyone who is considering a full or part time career in photography. Illustrated with stunning imagery and packed with industry resources, links and valuable information that I've gained during my experience working as a full time pro for a decade and a half, it will tell you what you need to know in order to get started making money as a photographer.
Click here to read more about this title and see sample pages.
27 pages
$9.95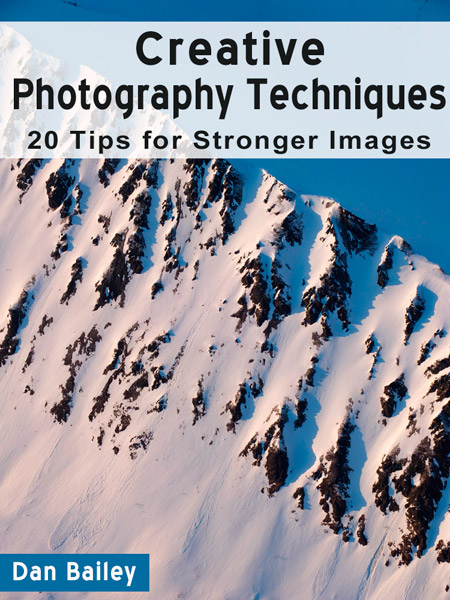 This is a collection of 20 simple tips that will help you break out of that creative rut and throw some new excitement into your photography. They're designed to get you thinking actively about your image making process, because making powerful photographs should never be a passive activity.
These 20 tips are all short, concise and easy to remember, and they clearly outline necessary elements that are needed to produce a great image. They're not meant to be hard set rules, they're meant as ideas to help inspire you to begin experimenting with your own photography.
Each technique is illustrated with three image examples that let you see how it can be applied to a subject. Topics covered include light, color, composition, vantage points, using different lenses and many more.
No matter if you're shooting landscapes, nature, people, action, sports, adventure, cityscapes, street scenes, your kid's soccer game, or faraway landmarks in exotic locations around the world, these techniques will help you create more dramatic imagery and improve your outdoor and nature photography.
Even if you already know all of these techniques, reviewing them again and seeing how they apply with someone else's imagery might give you new insight on how to apply a specific technique to your own subject matter.
$4.99
Click here to purchase Creative Photography Techniques – 20 Tips for Stronger Images
Written for LIGHTSTALKING.COM:
Behind The Action is all method. It lays out the exact step-by-step process for 12 specific adventure and outdoor type images. Essentially, I take the reader along with me on a number of shoots and let them look over my shoulder as I scout the location, gauge the light, choose my equipment, come up with an approach, execute the final image and reflect on how it all went down. I even show you a number of outtakes so that you can follow along and see how the final shot eventually came about.
In short, Behind The Action is the closest thing you'll ever get to actually being there on the shoot with me and watching me work. Honestly, I can't think of a better way to teach you how to become a better photographer aside from bringing you on as an assistant. Even if you have a solid understanding of photography and equipment, this book will show you the nuts and bolts of how to put it all together when you're out there on location and the dust is flying, the light is changing and your scene is quickly unfolding.
What You'll Learn
For each of the 12 images that's featured inside the book, I detail the following:
Concept: The basic idea behind the shoot & what I was hoping to achieve in a final shot.
Gear: An exact inventory of what gear was taken along with me and what gear was used.
Light: My assessment of the light and the challenges that each scene presented.
Approach: My own unique ideas on how I planned to tackle the shoot.
Execution: What ACTUALLY happened after all the planning.
Final Thoughts: Reflections on what went right and what went wrong.
Post Processing: Exact notations of how I adjusted the image in the digital darkroom.
Quick Tips: Thoughts and advice on how to get these kinds of results for yourself.
$16.95