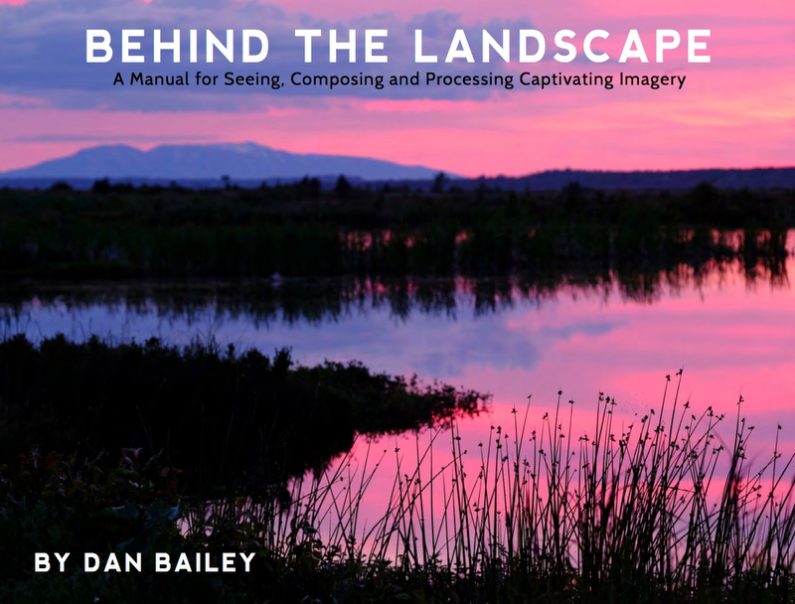 "BEHIND THE LANDSCAPE"
A Manual for Seeing, Composing and Processing Captivating Imagery
In this comprehensive eBook, I take you behind-the-scenes during the creation of sixteen of my favorite landscape
 images I've made in the past five years.
For each example, I walk you through the entire process. I let you look over my shoulder as I outline the exact gear I had with me, the specific concept I had in mind, my creative approach, potential problems I faced, and how I solved them.
I describe my compositional techniques, my lens choice, how I used the light, specific exposure information and any other details that went into the process of bringing the image to life. I also highlight the types of challenges that you might face when shooting a similar style of imagery, and I show you how to overcome them so that you can walk away with a great photograph.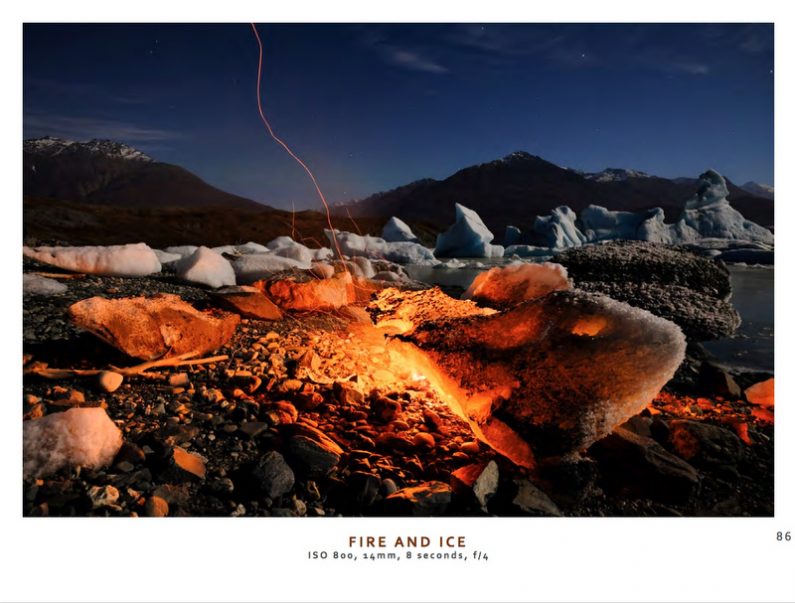 A Step-By-Step Recipe Book for Successful Landscapes
In this book, I'm not just trying to show off my imagery, my goal is to teach you how to create stunning photos on your own. With this in mind, I've formatted this book around what I feel are the essential steps required for any successful photo shoot:
SCENE
GEAR
LIGHT
APPROACH
EXECUTION
ANALYSIS
FINAL THOUGHTS
TAKEAWAYS
For every single image, I walk you through my own creative and technical process as I work through each of these steps. I evaluate each scene, describe the camera gear I had with me, analyze the color, quality and direction of the light, and tell you my specific approach for how I plan to capture each scene. Then I describe in detail my exact method of execution for turning my creative ideas into a successful image.
At the end of each example, I give you my final analysis for the image and describe the specific elements that I feel give the shot exceptional visual power. In addition, I share my final thoughts, reflecting on the personal, creative or introspective journey that led to the image.
Finally, I leave you with three takeaways. These are specific tips, techniques, compositional methods and ideas that directly contributed to the success of the image. The idea is that you can identify the methods that worked worked, so that you can apply to your own photography.
AND PROCESSING TOO.
Although most of the final images in the book are straight JPEGs, a few of them have been processed to give them maximum impact. For those photos, I describe the look I was going form and walk you through the steps I took in the processing stage. I also discuss the specific aspects about the scene or the image that inspired me to edit the photo in a specific way.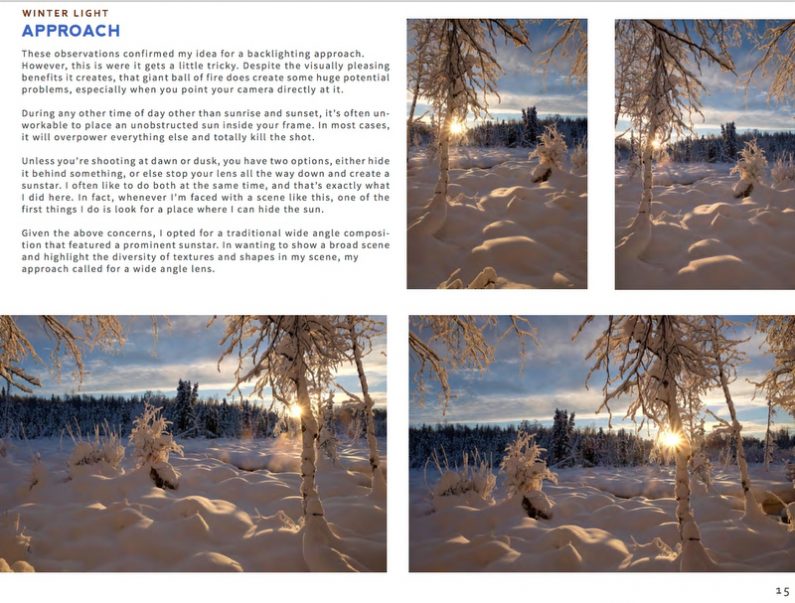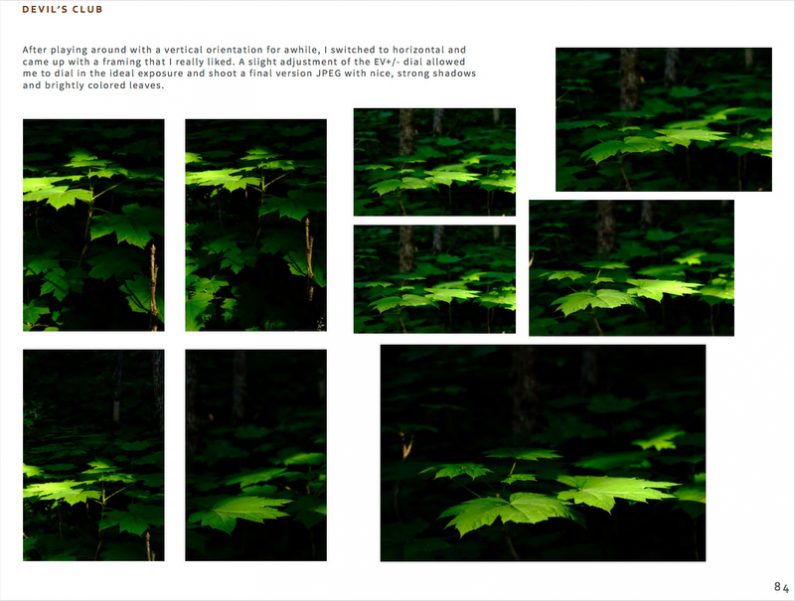 I Even Show You The Outtakes!
I even show you the outtakes that led up to the one final select of the series to illustrate that creating a great image is rarely a one-off activity. I feel this is one of the most valuable aspects of the entire book. Even if you didn't read a single word, you could just look at the pictures and get a feel for how each shot developed in the scene.
With a horizontal format and 105 full-page spreads, BEHIND THE LANDSCAPE is packed full of practical photography tips and creative insight from a 20+ year professional photographer and instructor. And of course, it's filled with stunning imagery!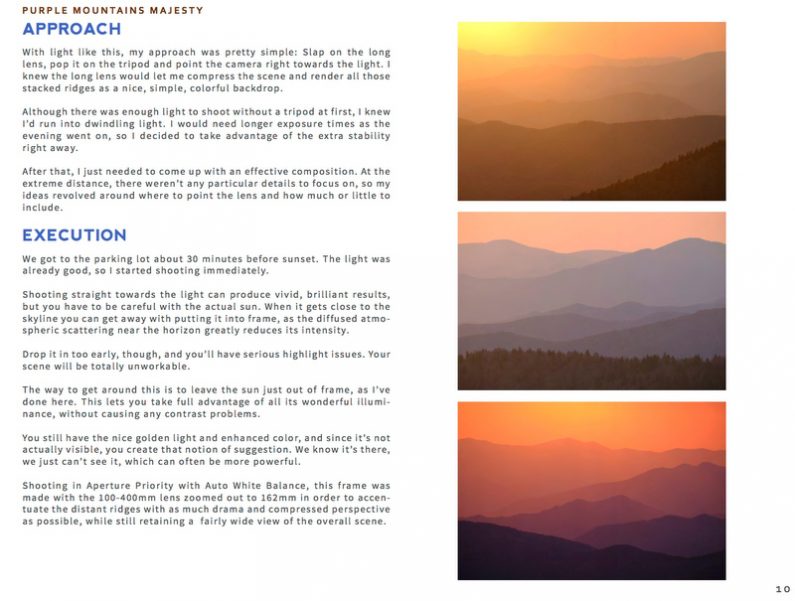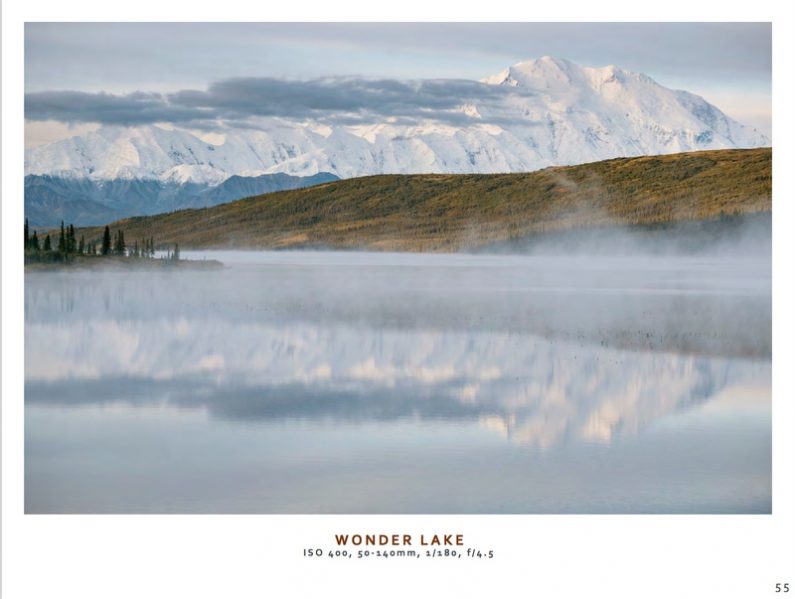 Years of Professional Insight at Your Disposal
Reading BEHIND THE LANDSCAPE is like taking a virtual photography workshop with me. You get to look over my shoulder as I work through each scene and explain exactly how I solve specific problems with regards to light and framing. You'll be right there with me as I search for the right lens, focal length and vantage point and explore a variety of creative techniques that lead to the specific image I had in my mind.
I believe that in order to best learn a technical and artistic craft such as photography, you should study not only the creations of artists that you admire, but their methods as well. I've spent countless hours reading photography books during my 27 years as a photographer. I still do.
Looking back, I recognize that the books which had the biggest impact on me were not those with the most stunning pictures. They were the manuals that clearly described the specific creative ideas and technical approach that each photographer employed to get his or her particular brand of imagery.
With BEHIND THE LANDSCAPE, I've tried to carry on that tradition and write a book that shows you the fundamental process of making compelling photographs. I want to provide you with the same kind of instructional motivation I gained from my own learning process.
As a special treat, I've included a special bonus image. Rather than being another how-to chapter, it's more of an adventure tale where I take you along with me on one of my aerial photography missions. You get to imagine what it's like to be sitting next to me in the right seat of my little Cessna as we chase magical light around the sky and capture one of my favorite aerials!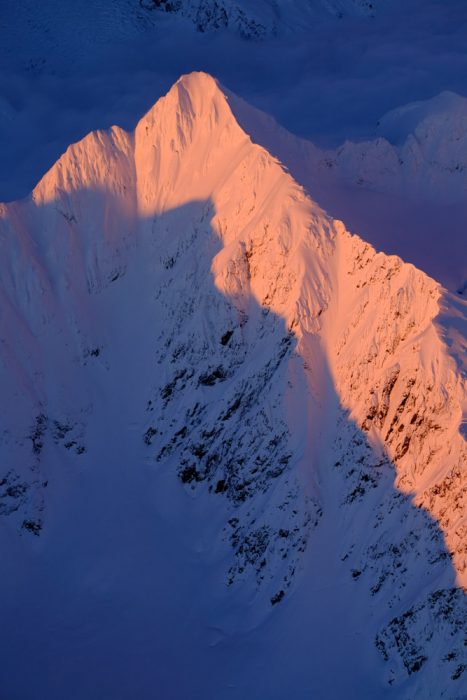 Full of Real-World Tips. Full of Inspiration.
Not only does BEHIND THE LANDSCAPE teach you the essential steps towards creating stronger images, it provides real-world inspiration that will motivate you to get out and try these techniques on your own. Most of the photos in the book were shot in locations that are accessible to anyone with a basic level of fitness, and none of them required any special camera gear aside from what would be considered a normal outdoor photography kit. This means you can use these tips with your own subjects.
---
Practical advice packaged in enthusiasm and accessibility. I loved the advice to zero in on the most important point of a photo. This made a huge impact on me. Sounds so simple but is actually profound and so useful.
---
I have read you new book "Behind the Landscape." I could not "put it down" meaning that I kept at it because each photo you presented/analyzed was interesting and informative. I am trying to develop an eye for composition (both the scene and the light).
Thank you! The examples you present and the suggestions are very helpful. Purple Mountains, McKinley River and Wonder Lake are fascinating.
---
Well written in easy to read and understand style. Good practical information. You explain technical information well and it is fun to read the information and look at the photos you share. Your enthusiasm is appealing as well.
Highly recommended. 
---
The book's approach was excellent for me as a enthusiastic amateur photographer eager to learn how to improve my landscape images. Multiple shots from the same location with very direct and meaningful text about the location and shooting strategy is exactly what I was hoping for. I am inspired to go create!
---
You have done it again! Another triumph.
Your generosity to share, the clarity of thought and concise explanation thereof is brilliant. Perhaps I should also mention the beautiful photos and the talent necessary to produce them.
Thank you, Dan.
I loved Behind the Landscape!
---
Much like Dan's images, this book can be enjoyed on a variety of levels. Dan shows a series of landscapes and takes us behind the scenes to see how he created them.
Now you could just simply follow suite and create similar images - but where would be the fun in that? Instead I saw the book more as a jumping off point for further exploration in landscape photography. This is a book that will make you *think* about your photography and that is never a bad thing. One to read, think about, and read again. Highly recommended!
---
Dan is a wonderful teacher who sincerely enjoys helping others. He uses a direct but kind approach and caters his lessons to your skill level. His lessons and inspirational words help keep me motivated... his experience and guidance is applicable to all who seek to improve their work.
---
Your stuff on the web is really inspiring. You have this great ability to make things easy to understand. I see you as a Giver, and it is very inspiring to have the possibility to learn the best tips and tricks from an outstanding photographer. Keep up the good work!
---
First your photos are great. Second your tips and teachings are easy to understand, follow and put into practice. Your books and blog always seem to have some tip that I did not think of.
---
I already ordered your Behind the Landscape. Love it!