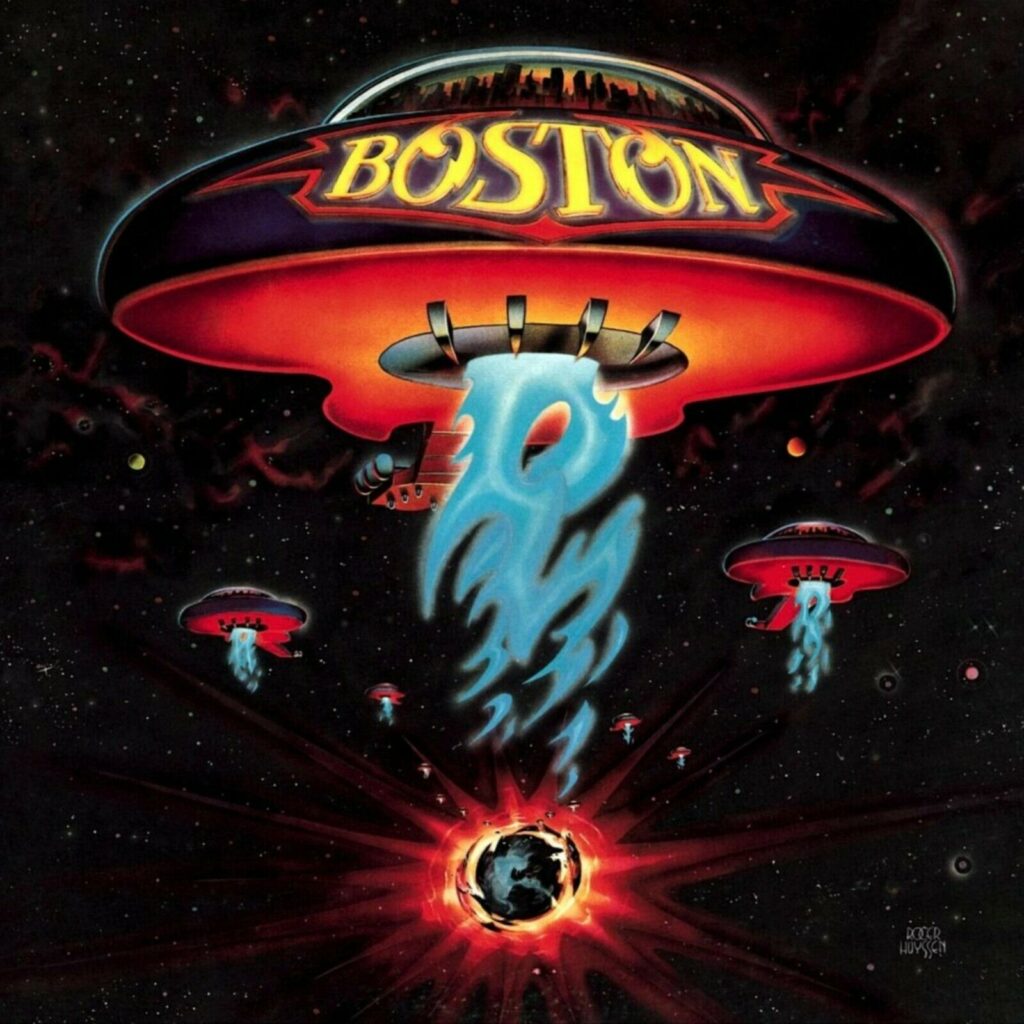 I've been a diehard rock and roll fan ever since I was a kid. And even before rock and roll, I had music in my blood from a very young age.
My neighbor from almost 50 years ago in Colorado, recently emailed me and reminded me about the imaginary trunk of imaginary musical instruments I carried with me everywhere, even on my tricycle. I'd ride down the gravel driveway to their house, right into their kitchen, and offer to play imaginary songs for them on my imaginary trumpet. They still remember that.
As early as 7 years old, when we lived in New Jersey, I remember being very much into some of my parents records, namely the Chicago IX Greatest Hits album, which led off with that classic, 25 or 6 to 4, and the Jesus Christ Superstar album, which featured Deep Purple vocalist Ian Gillan belting it out as Jesus in his amazing rock and roll voice.
During that time, (around 1974-1975), I had a little transistor radio that I'd listen to at bedtime before I went to sleep. I could get WABC out of New York City, which played Top 40 songs, like Sean Cassidy's version of Da Doo Ron Ron. I probably heard that a hundred times during my youth.
However, things got a whole lot more exciting when I discovered WPLJ, which was NYC's "Album Rock" station. The played the hard rock of the day: Led Zeppelin, Pink Floyd, Deep Purple, Queen, Kansas, Cheap Trick, etc…
I recognized some of the music, especially Led Zeppelin, from uncle Jason's awesome record collection, but overall, WPLJ was my first introduction to hard rock. Imagine my surprise when I heard Jesus singing Smoke On The Water. I'd lie in bed, being indoctrinated with the decedent sounds of distorted guitars as I drifted off to sleep every night.
My parents separated when I was in 2nd grade, and my dad eventually moved into a house with these two guys, an outdoorsy scientist named Dave, and a musician named Barry. Barry had thick, shoulder length, perfectly coifed blonde hair and he played guitar, (he had a really nice acoustic that lived in a fancy hardshell case.) He also had a foul mouthed son named Malcolm, who was a couple years older than me. Malcolm taught me a lot of dirty words.
Anyway, Barry and Malcolm were into this band called Boston, and they also liked some guys called Fleetwood Mac. I don't remember actually listening to much Fleetwood Mac as a kid, but Boston… now that was music that grabbed my attention. Probably because I had heard them on WPLJ and because their music was full of wonderfully thick, electric guitars.
My First Album
Perhaps the most significant and momentous occasion in my young life occurred when my dad took me to a record store one day. I was in third grade at the time. He offered to buy me a cassette tape, and so naturally, I chose the Boston album. This was 1975, and it had had just come out. That one moment defined my life for years, because I played that tape endlessly for the next 8 years, until 10th grade, when that tiny, 1/4 inch wide strip magnetic ferric oxide coated plastic film finally wore out.
Out of all the music I've ever heard in my life, nothing is burned into my psyche quite like that first Boston Album. To me, that incredible, totally historic, industry changing, genre-defining record that genius Polaroid engineer Tom Sholtz put together in his basement recording studio fully defines my foundation for a lifelong appreciation for rock and roll.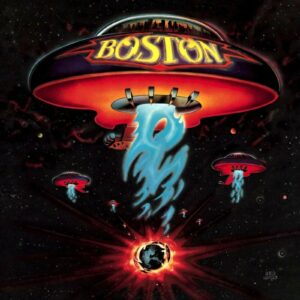 Everything about that record is perfect, and nearly every single part of it was played, engineered and produced by Tom, except of course, for the superb vocals that were sung by Brad Delp.
From the fade-in guitar intro to More Than a Feeling, which was apparently played on a $100 Yamaha, to the powerful acoustic into to Peace of Mind, to the blistering Hammond organ and guitar solos of Foreplay/Long Time, the entire first side is a work of art.
And then we flip it over and kick off Side Two with Rock and Roll Band, a classic rock biopic anthem of a band struggling to make it big. From there, the album never lets up until the end, although it does drop down a notch with Hitch A Ride, before revving back up for a powerful finish.
That first Boston album will always hold a special and revered place in my heart, simply because it was the first record I ever owned, and because it's just so perfect. It will always have sway over me, and in fact, during the entire COVID pandemic, it's been the one and only thing that made me let down my guard and compromise my own social distance restrictions. Fortunately, the test came back negative.
The Spirit of Radio
By the time 5th grade rolled around, I was full obsessed with rock and roll music. Living with my now single mom and sister in Kansas City, the AOR ration station KYYS, known more prominently as KY•102, became a regular fixture in my life.
I listened to Dick and Jay in the morning before I went to school, and turned it back on as soon as I got home from school. I even became a member of the "KY102 Rock and Roll Army," which was dedicated to the mission of stamping out disco. Every afternoon at 5:30pm, "General" Max Floyd would play a disco record, and then, about halfway through the song, he'd cut if off and "destroy" it with some oddball ritual.
The one I remember most was when he cast a hex on Ethel Merman's disco version of There's No Business Like Show Business. Invoking the dark powers of witchcraft and William Shakespeare, Max Floyd played the sounds of a cauldron and recited that famous poem from Macbeth over Ethel's disco abomination.
"Double, double, toil and trouble, fire burn, and cauldron bubble. Fillet of a fenny snake, in the cauldron boil and bake. Eye of newt and toe of frog, wool of bat and tongue of dog, adder's fork and blind-worm's sting, lizard's leg and owlet's wing…"
Then, in a miraculous explosion of fire and magic, it was all over, and in the fading reverberations of cheesy sound effects, the unmistakable drum into and vocal yowls of Mick Jagger took over as the needle dropped so fittingly on Sympathy For The Devil.
During 5-7th grade, KY•102 opened the floodgates and introduced me to everything. All that stuff that gets placed on todays "Classic Rock" radio stations, I heard as new releases during those most impressionable years of my emerging youth.
This was 1978-1981, so we're talking Van Halen, Cheap Trick, Rush, AC/DC, Supertramp, The Cars, Tom Petty and the Heartbreakers, Loverboy, Pat Benatar, the Police, ZZ Top, the Knack, Bad Company, as well as all the awesome bands from the 60s and 70s, like The Rolling Stones, The Who, Led Zeppelin, Jimi Hendrix, and of course Boston.
My little Sony boom box was always at the ready, and I made countless mix tapes off the radio. If I missed the into to a song, I would wait a measure or two and hit the record button perfectly in time with the rhythm. I even pretended I was a DJ and made tapes of me introducing songs and doing stupid, witty banter with whatever family member would indulge me.
By the end of 1979, my growing record collection of about 10 albums included Pink Floyd The Wall and Dark Side of the Moon, Bad Company Desolation Angles, ZZ Top Degüello, Zed Zeppelin Physical Graffiti and Cheap Trick Dream Police. The lyrics "We don't need no education…" certainly had appeal for a rebellious 5th grader.
Rock and roll was firmly rooted in my soul and it provided the foundation for later on when I finally picked the guitar about five or six years later.
Sadly, none of those radio stations survived gracefully through the passage of time and cultural shifts. WABC now blares conservative talk radio, WPLJ is a non-commercial Christian station, and KYYS got sold and flipped to "Adult Contemporary" as FM 102.1 "The Zone" on September 19, 1997. The change happened so fast that all the DJs were let go with only a hour's notice before the format change.
That was a sad day for Kansas City rock and roll fans, who can now relive the glory days at the official KY•102 Fan Club page on Facebook and buy KY•102 branded T-shirts and hats. KYYS was eventually revived further down the dial as a classic rock station that featured many of the classic KY•102 DJs. However this incarnation couldn't compete with the existing classic rock station, and it eventually flipped a few more times, ironically ending upas Kansas City's #1 Adult Contemporary station, "The Point."
Still Alive And Well
It still amazes me to think about how strongly the power of rock and roll grabbed hold of me during those years of my youth. From the age of second grade, it took a firm hold on me and has never let go. Nor do I ever expect it to.
Music is, and continues to be such a driving force in my life. Aside from listing to it, I'm forever fascinated by the rich history of rock and roll, hearing how it's made, and the stories, instruments, and recording sessions behind the songs. I love talking about rock and roll, reading books and articles about rock and roll, listening to it, watching YouTube videos about it… In many ways, I'd say that rock and roll is all that really matters.
I'm generally amazed, but not at all surprised at how rock and roll has influenced so much of lives, and of modern society as whole, and I feel fortunate to have been born at just the right time to have been a spectator during one of its most important eras.