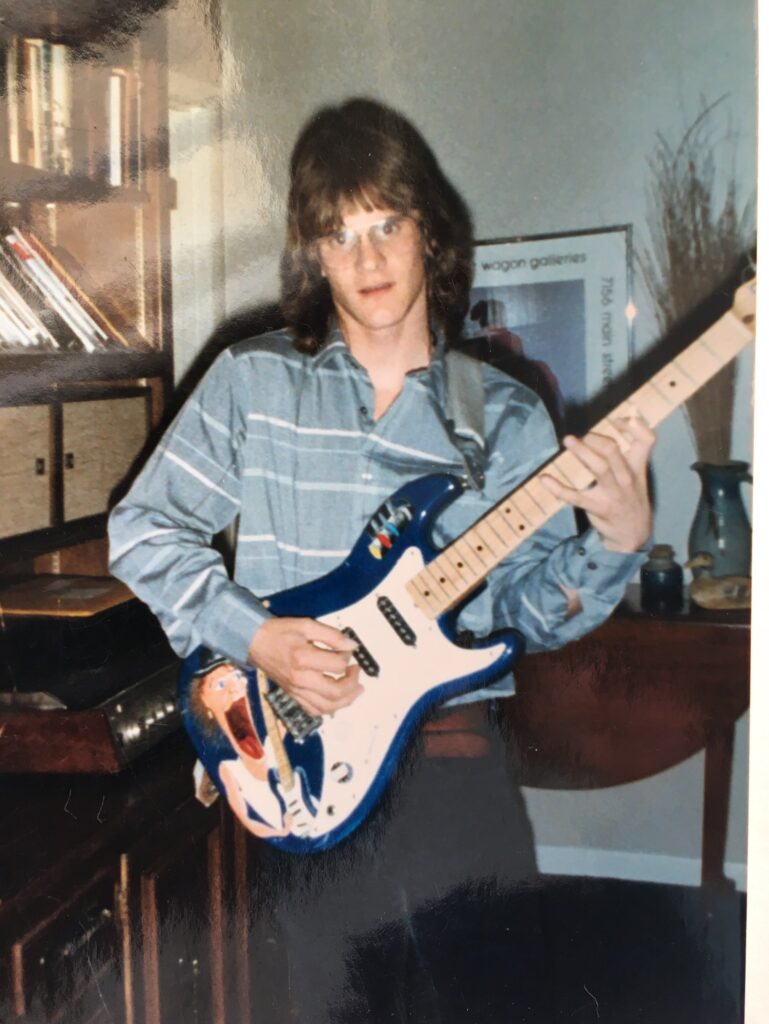 By the time I was 16 years old, the whole guitar thing had stuck pretty firmly, and I was eager to delve into the world of rock and roll as an actual participant. Inspired by guys like Jimmy Page, Ritche Blackmore, Jimi Hendrix and Eddie Van Halen, I was more than ready to jump in and contribute my own loud noises to the world.
I'd plinked around a bit here and there on electric guitars, occasionally playing G, C and D chords in awe on friends' guitars and being overwhelmed by my reverence of these magical, iconic instruments in the process. Eventually, I decided that my time had come.
During the summer of 1984, I spent many lazy afternoons on our front porch on Oxford Road in Lawrence, Kansas, practicing on a borrowed acoustic, regularly checking the newspaper want ads for guitars and visiting pawn shops. At one point, I spotted a used Stratocaster shaped model at a store that immediately caught my attention.
It wasn't a real Stratocaster. It wasn't even a real Fender. This was easily discerned by the fact that the identifying Fender logo on the headstock was created by those utilitarian black on gold adhesive vinyl letters you might see on a mailbox or a low-budget craft project.
However, I didn't know the difference, or I didn't care. What was important was the $75 price tag, which put my entry into the world of rock and roll firmly within reach.
With the dream ignited, I immediately went home, grabbed the lawnmower and pushed it around the neighborhood. I knocked on doors begging for work: $10 bucks a lawn, and by the end of the weekend, I'd mowed my way to owning my first electric guitar.
Honestly, I hardly remember anything about that guitar. I didn't have it very long. A few weeks later, I started up at Lawrence High School, where I began to meet other like minded rock and rollers.
My 1984 Squier Bullet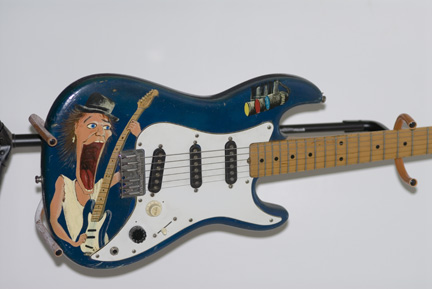 For whatever reason, that cheap Fender copy just didn't cut it. Either that, or I quickly outgrew it. At any rate, I was barely into the first few weeks into my junior year when I decided to upgrade.
On September 11, 1984 (I still remember the date, because I always kept the receipt in the case), I bought my first "real" electric guitar, a 1984 Squier Bullet, for $169.
---
In 1881, Jerome Bonaparte Squier, an English immigrant who originally settled in Michigan, moved to Boston and began building and preparing violins with his son, Victor Caroll (V.C.) Squier. Their work was exceptional, and to this day, Squier violins are often referred to as the "American Stradivarius."
Around 1900, The Squier company began producing violin strings. The business grew quickly, and it wasn't long before Squier was making strings for other instruments as well, including guitars, with production topping 1,000 units per day.
In the 1950s, the V. C. Squier company began supplying electric guitar strings to Leo Fender's new company, and in 1965, Fender acquired V. C. Squier, right before Leo sold Fender to CBS. By the mid 70s, the Squier name was retired, and all strings were produced under the Fender name.
The Squier name was resurrected in 1982, as a brand of lower priced Fender guitars, in a move to compete with the increasing number of cheap Japanese made "Fender" copies that were flooding the market. Working with Japanese maker FujiGen Gakki, originally Fuji Stringed Instrument Manufacturing Co., Ltd., Fender introduced the Japanese made "Bullet" models in 1983. (A line of Korean made "Bullet's were made in 1981-1983.)
Featuring a non-contoured Strat-style body, a Telecaster-style neck and two pickup configurations, the Squier Bullet was an affordable entry into the official Fender line. Eschewing the more expensive Peavey "T-Series" models that were prevalent at the time, I was easily seduced by the Bullet.
I bought a sunburst model with three pickups at Pulliam's Music House in Lawrence, Kansas, and it looked exactly like the one pictured above.
I played my little Bullet night and day through my tiny, 20 watt, 10″ speaker Peavey Audition 20. Surprisingly loud for its small size, its "Pull Sat" (saturation) knob gave me loads of 80's style squealing distortion that facilitated the practicing of endless Eddie Van Halen licks. Surly annoying for everyone else, to me, it was the sound that dreams were made of.
---
Hot Rodding the Bullet
As I did with my BMX bikes as a kid, upgrading parts and swapping out the stock components on my Schwinn Scrambler for much cooler ones, it wasn't long before I decided to upgrade my Squier Bullet. Also, I wanted to make mine look different from the identical sunburst Squier Bullet that Joe Kearns, one of my classmates had.
First thing I did was replace the white plastic OEM pickups with a set of Seymour Duncan Quarter Pounders. Wound hot, these gave me much more high output growl, bite, punch and added sparkle, and made the guitar look even cooler, or at least unique.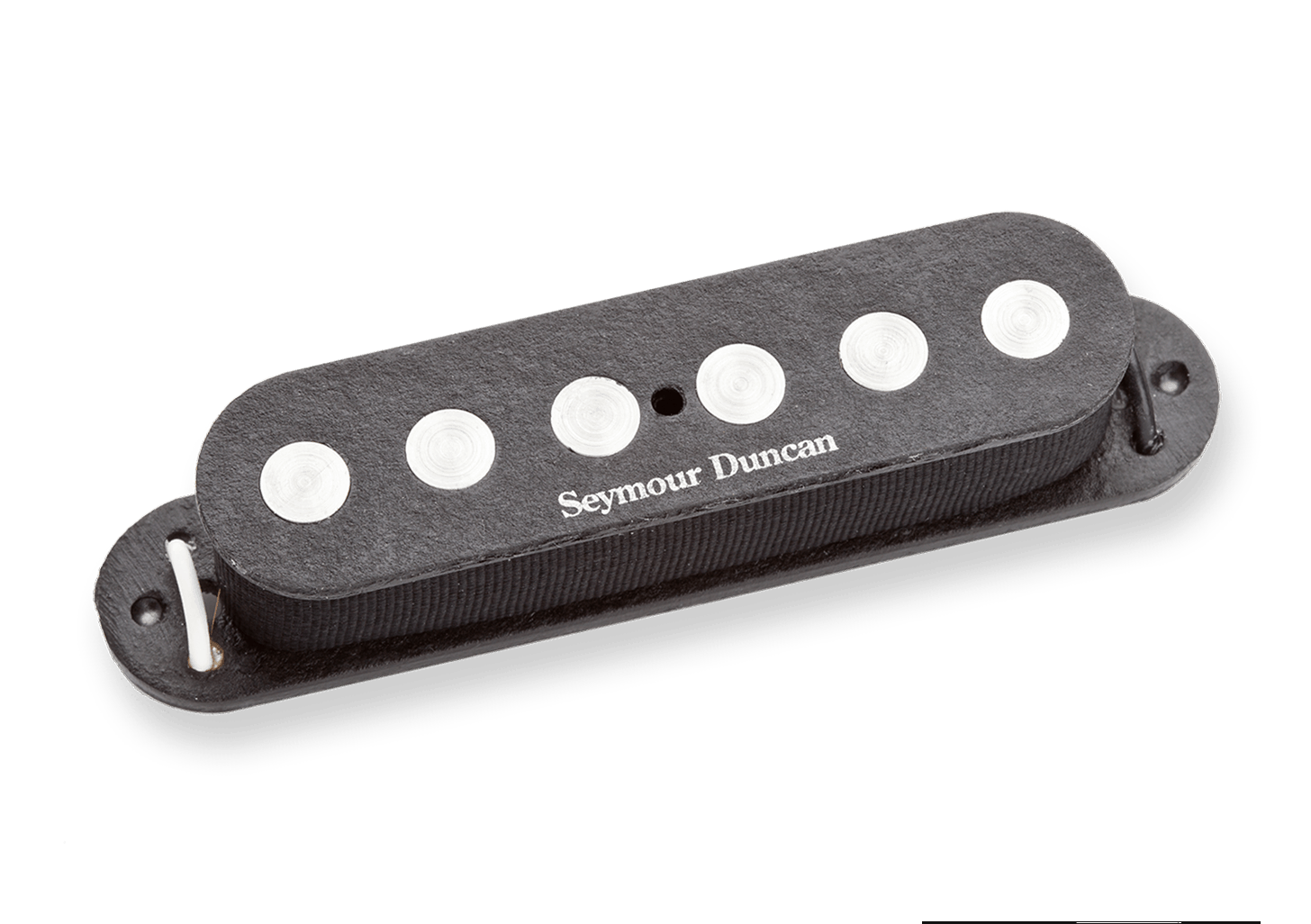 Then, I decided to refinish the body. My original idea was to go for a straight unfinished wood grain guitar with a Union Jack British flag pick guard. After all, so many of my guitars heroes were from the UK. Plus, there was a natural wood-finished Strat I'd often fawned over at the local music store, but there was no way I could afford its $900 price tag.
It was only after I'd sanded the entire body when I learned that Stratocaster pickguards don't fit the smaller Sqiuer bodies. So, after a few weeks playing the wood colored Bullet, I went with the next best thing and painted it electric blue.
I was no expert at this kind of thing, and after spraying the body, with a couple coats of paint, I laid it down on some newspaper when it was still a little bit wet. You can still see the faint imprint of an article about Beirut on the back of the guitar. So, for awhile, I had a plain blue Bullet with one white knob and one black knob.
Custom Paint Job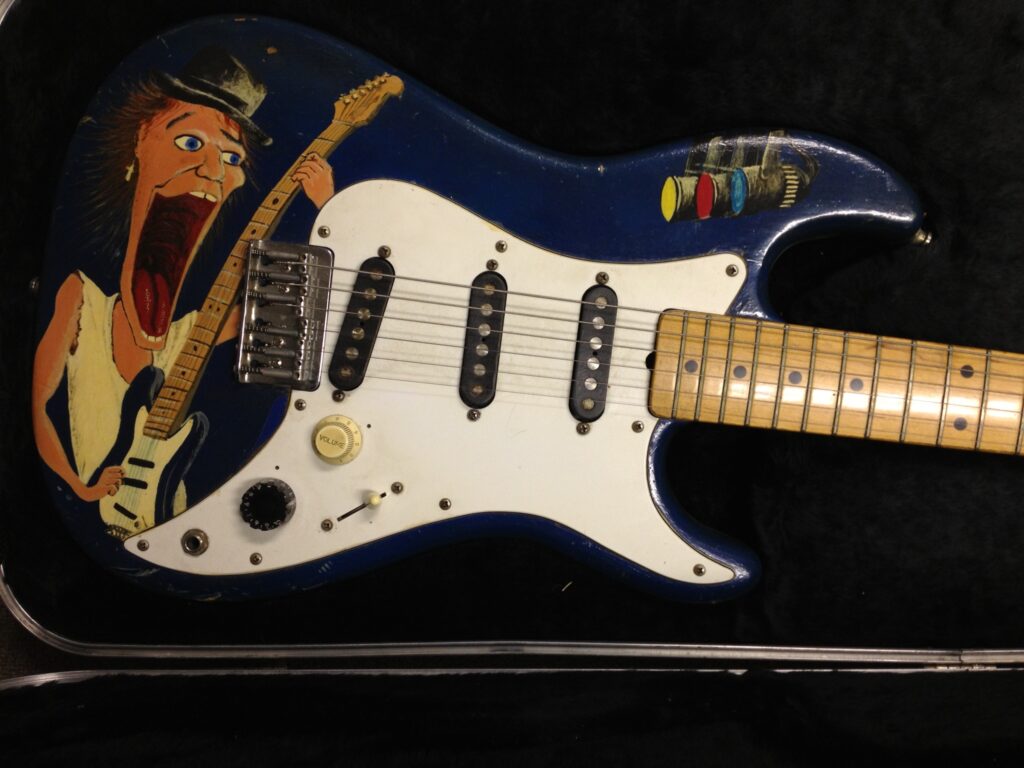 At one point, my artist friend John Sabraw, who when on to do much greater things than painting my cheap guitar, offered to do a custom job. He didn't really tell me what his plan was, but I gave him the body anyway and let him do his thing. This is what it looked like when it came back, and this is how it has remained for over 30 years.
I took my little custom Bullet to Berklee and even used it to play on a fellow student's recording project one night when he couldn't find anyone else to do the part. It was my only electric guitar for years, (by then, I also had a Yamaha acoustic) until I moved to Colorado and finally bought myself a real Stratocaster in 1998.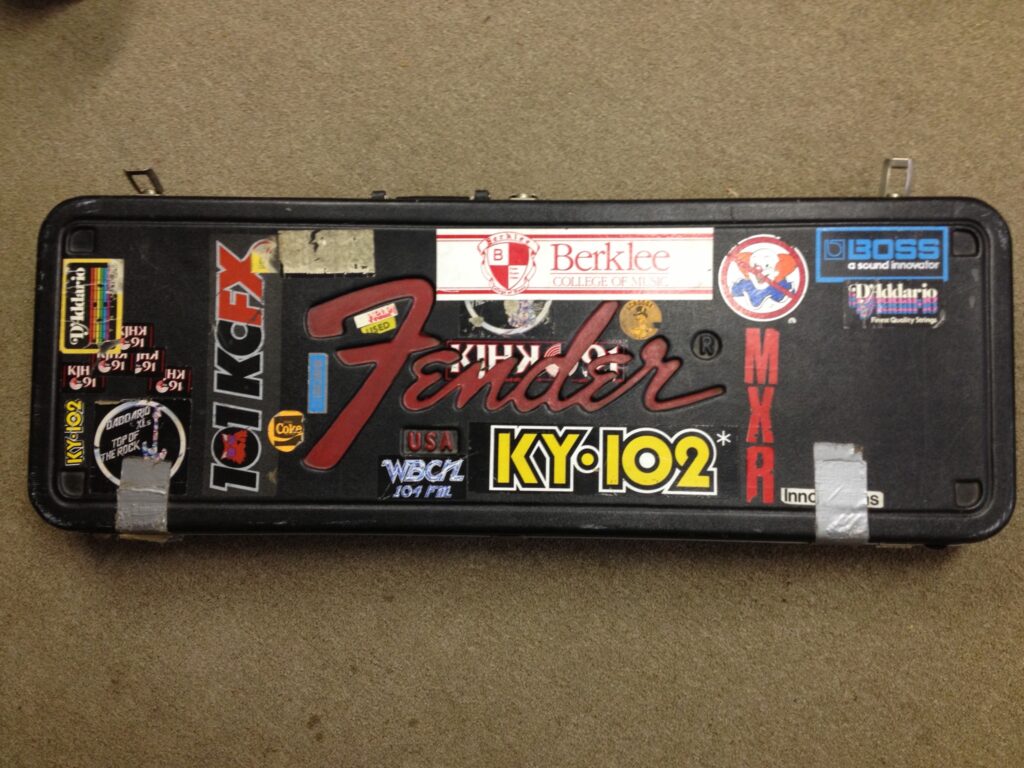 When that happened, I pretty much retired the Bullet. In 2013, after moving to Alaska, I went back down to sell the Colorado house and bring up the rest of my possessions. Although sadly, I had to dispose of the original case, which was falling apart, I did bring back the Bullet, although I had to remove the neck for transport.
After years of abuse, the frets are complete shot and at this point, the guitar is pretty much unplayable, so it lives on in my office as wall art. I don't know if I'll ever play it again. Maybe I'll revive it someday, but for now, I still look at it, marveling at the enduring beauty of its smooth maple neck and savoring all the fond memories and loud music we made together during my youth.
Fender has kept the venerable Squier Bullet in production with numerous changes and factory locations. The current model, offficially called the Bullet Stratocaster, is made in China and retails for $179; only ten dollars more than I paid for mine back in 1984.