For a long time, most serious outdoor and travel photographers only considered two or three tripod brands: Manfrotto, Gitzo and Benro. Most of the other brands out there were either too heavy for travel and backpacking use or else they just didn't offer the kind of quality and stability you need for taking great landscape photos.
Times have changed, and a number of other companies have come out with high quality, affordable tripods. Now, when you run into your fellow shooters out in the world, you're just as likely to see them with a variety of other brands, in addition to Gitzo and Manfrotto.
I've led a number of workshops and photo tours during the past few years, and these are the most common tripods I've seen with my students and fellow photographers. The common design of all these models is that their legs fold back on themselves, so they all pack quite small. If you're looking for an awesome travel tripod for a lightweight camera gear setup, I recommend checking out one of these.
Of course, if you're serious about your photography and you want the best and most stable tripod around, or if you have a heavier setup, the Gitzo GT1545T Series 1 Traveler is still the best quality and most stable travel tripod around. It's not cheap, but you'll never regret buying a Gitzo. Ask anybody who owns one.
In fact, I recently bough my first Gitzo tripod- the ultra compact GT0545T Series 0 Traveler. It's 2 sizes down from the popular 1545, but for mirrorless gear, it's rock solid.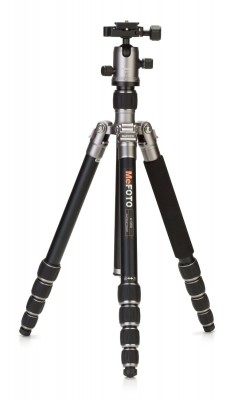 I've probably seen more of these than any other tripod during all the photo torus I've led this summer.
I can totally understand why, made by longtime tripod maker Benro, the MeFOTO Aluminum Roadtrip is a very compact tripod that extends to 61″, folds down to only 15″, weighs 3.6lbs, offers very good stability and costs less than $200, including the attached quick release ball head.
The four twist-lock legs lock in two positions, so you can easily set it up on uneven ground, tight spaces or even low to the ground. And they fold back over the center column, so the whole tripod packs quite small; it even comes with its own nylon carrying case that has a shoulder strap for easy transport and storage. And it comes in tons of cool looking anodized colors.
In addition, the RoadTrip has a couple of really cool features: You can remove one of the legs and attach it to the center column, which converts the tripod into a full-size monopod. This is great when you just want extra support when shooting with longer, heavier zoom lenses, like when photographing wildlife or sports.
With a bubble level, foam grip on the monopod leg, a 360-degree pan ball head, and a center column hook for hanging a heavy bag for increased stability, the MeFOTO RoadTrip is easily one of the best values around. Overall, it's a great little travel tripod for the money, and it's great for DSRLs and mirrorless cameras.
If you want to shave an additional half pound, they make a Carbon Fiber version of the RoadTrip as well.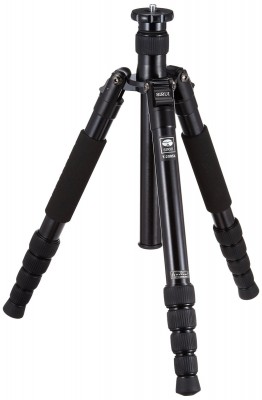 Siuri is another tripod company that has seen huge growth in the past few years. It's easy to see why, they make some pretty decent gear.
While they have a wide variety of tripods and ball heads in their catalog, the Siuri T2005X is probably the best all around lightweight tripod that offers decent stability, especially of the price- only $139 without head.
With five twist-lock leg sections that also fold back on the center column and can be set to 3 different angles, the T2005X extends to 60″, folds down to 14.6″, weighs 3.1 lbs,
With forged aluminum legs, it offers a surprisingly high strength-to-weight ratio, which is what you want in a tripod. It also comes with a carry case.
Overall, I've been impressed with Siuri tripods, and I've seen quite a few of them out there. You'll need to get a head with the T2005X tripod, this is the one I recommend.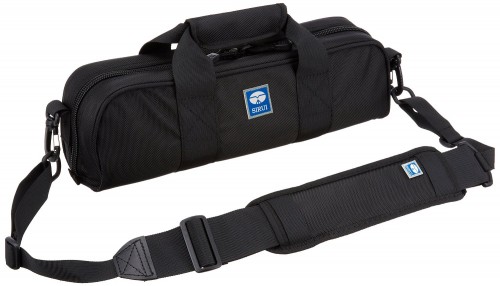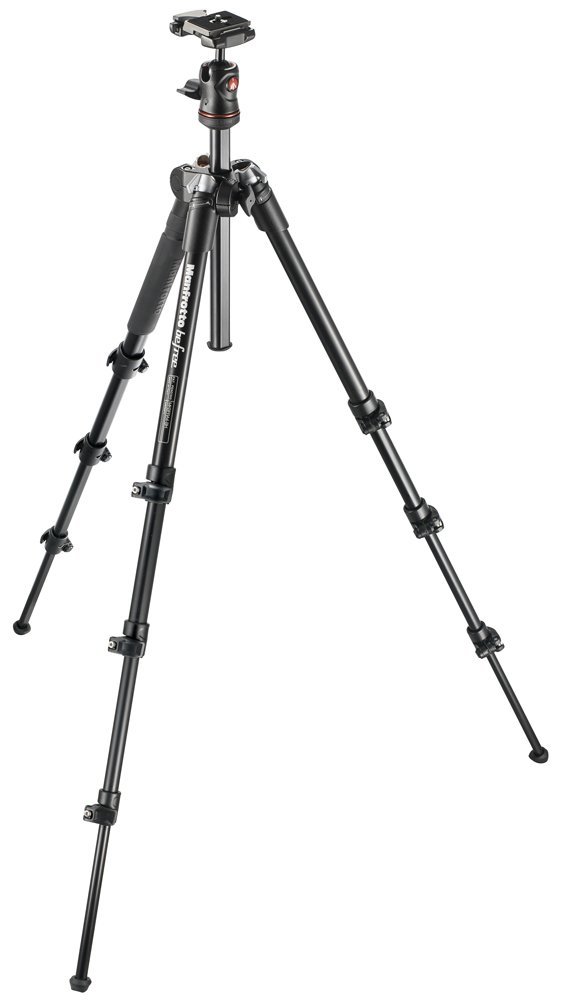 Made in Italy by a longtime and very reputable tripod company, the Manfrotto BeFree aluminum version is a great addition to their line, and it's one of the best travel tripods around.
As with the previous two models above, the BeFree's legs fold back on itself, which makes this tripod only 15.8″ long when packed up. That's short enough to fit in most roller bag suitcases and carry on bags.
The four flip-lock leg sections extend to 48″ tall, and the can be set to two different angles. With the center column up, the BeFree extends to 57″. Load capacity is about 8.8 lbs, which is perfect for mirrorless cameras and just about any lightweight DSLR. Probably not the best model for pro DLSRs and long lenses, though.
The Manfrotto BeFree comes with an Arca style quick release ball head, it has a rubberized grip on one of the legs, which makes it more comfortable to carry, and it comes with a nice carrying bag.
I've owed more Manfrotto tripods than any other brand, and I've always been happy with their quality, features and level of stability. They make great tripods for the money. The Manfrotto BeFree Aluminum only costs $199. They also have a carbon fiber version of the BeFree as well.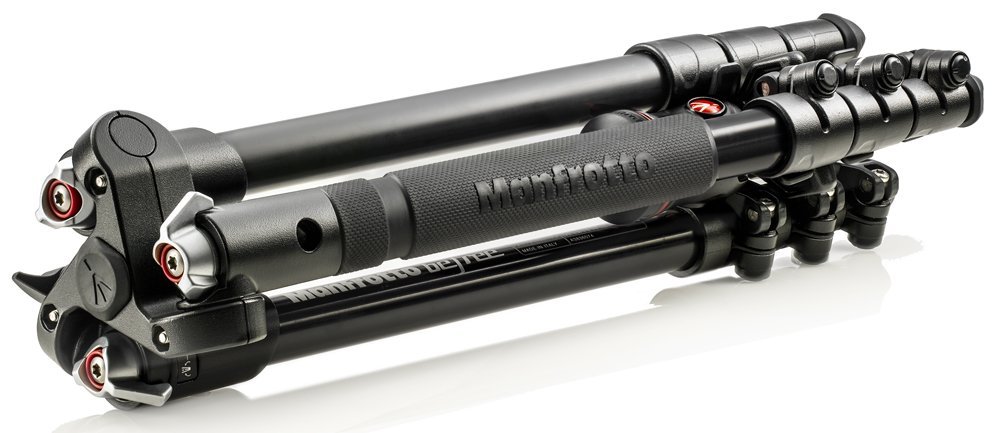 Support this site: If you're thinking about picking up a new tripod, or any new gear for that matter, please consider shopping through these links. It's your way to let me that you find these reviews helpful, and it doesn't cost you anything extra. In other words, it's like a virtual 👍 button. Thanks! – Dan
Follow @Danbaileyphoto