4 High Quality and Affordable Tripods by Siuri
In my fast moving style of outdoor and action photography, I don't always use a tripod. It's not just very practical when I'm on the go.
However, I do need legs for shooting things like landscapes, time lapse, multiple exposure series and some portraits, so I'm always on the lookout for decent tripods that don't cost an arm and a leg.
If you're like me, you want quality but you can't always justify the cost of a really expensive tripod if you're not going to use it all that often.
Siuri makes a decent line of aluminum and carbon fiber tripods and ball heads, which are well made with solid craftsmanship, they're quite affordable, and relatively lightweight and compact for outdoor photography use. Plus, they have some pretty innovative features and are rated pretty highly by users. In my mind, there're probably some of the best quality tripods out there for the price. They definitely offer great value.
Here are four models that I'd recommend looking at if you're in the market for a good, stable tripod that's doesn't take up much very room on the side of your pack, or on your photo budget. I've played around with all of these and they do seem like they're very well designed and built to withstand the typical abuse of most outdoor shooters.
Siriu N-1004X – Aluminum Tripod w/ Detachable Monopod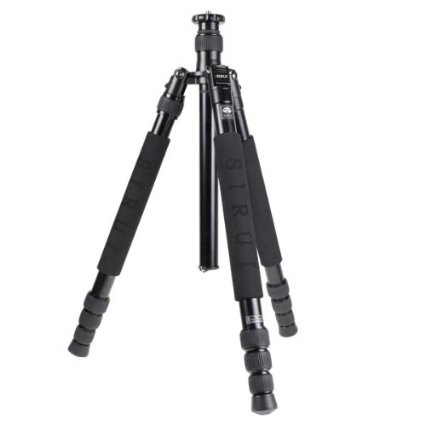 The Siuri N-1004X is a good all around model. It's got 4 leg sections that fold back on themselves, so it packs up pretty small. When retracted, it's only 17.3″, and it extends to a max height of 63″. Without head, it only weights 2.9 lbs and is rated to hold 26 lbs.
The center column can be inverted for low angle shots, or you can splay the legs out for extreme low angle stable shooting. It even comes with a short center column for use in this configuration.
Each leg has an auto-lock mechanism which set the angle and twist locks to set the height.  In addition, you can unscrew one of the legs and convert the tripod to a monopod, which gives you an even lighter weight camera support.
Price on the N-1004X is around $165 w/o head, and it comes with the added short center column, a padded shoulders strap, a really nice carrying case, wrist strip and mounting platform and tools. For an basic tripod at a great price, this looks like the one to have.
Siuri T-1205X 5-Section Carbon Fiber Tripod
The Siuri T-1205X is an extremely lightweight 5-section carbon fiber tripod that only weights 1.8 lbs. It's an ideal tripod for travelers and photographers who like to go light and fast.
As with the N-1004X, the Siuri T-1205X also has legs that fold back to make it even more compact. Folded up, it's only 15.7″ long, and extends to 55.4″ when extended all the way.
The center column can be inverted, and like the above model, it comes with a short center column for low angle shooting. In fact, most of the features are the same as they are on the N-1004X, this one is just lighter and more compact.
Price on the Siuri T-1205X is around $280 w/o head, and it comes with carrying case, padded shoulders strap and tools.
Siuri T-025X Ultra Compact Carbon Fiber Tripod
Looking to go ultralight and super fast? Then the T-025X carbon fiber model is your choice. Weighing in at a mere 1.7 lbs, it folds up to only 13.2″ when you fold back the legs. We're talking super small. Suitcase small. Daypack small.
The T-025X actually comes with a ball head, and the center column can be removed for table top and low angle shooting. The three legs sections can be set independently for use on uneven ground.
Even though it's super light, it's rated to hold 13.2 lbs of gear, which is heavy enough for just about any DLSR and mirrorless camera and lens combo, although I don't know that I'd pile on a huge body and lens with it extended all the way.
Price on the T-025X is around $240 with the head and the included soft case, quick release plate and tools.
Siuri T-1005X 5-Section Aluminum Tripod
Want affordable, compact AND lightweight? This is the one.
The Siuri T-1005X is an aluminum tripod with 5 twist lock leg sections that only weighs 2.2 lbs and packs up to 13.4 inches. It's the most compact aluminum tripod in the line, and it is still rated to support up to 22 lbs of gear.
The T-1005X comes with the added short center column for low angle shooting and like the other models in the line, the legs fold back on themselves for easy packing.
Essentially, the T-1005X is the aluminum version of the T-1205X, so it has all of the same features at a much lower price tag.
Price on this one is only $117, even with the included case, short center column, strap and tools.
Siuri G-10X Ball head with Quick Release Plate
Here's the head that I'd recommend for use with any of these tripods.
The Siuri G-10X Ball Head is a rock solid head with full 360 degree panoramic adjustments, an Arca-style QR plate and two bubble levels.
Three locking knobs let you set any camera angle or position, and from playing around with this, it's seems like it's extremely well made.
Depending on what tripod you use, the G-10X Ball Head is rated to hold up to 44 lbs of gear.
Price is around $99.
Support this site: If you're thinking about picking up a new tripod, or any new gear for that matter, please consider shopping through these links. It helps me keep cranking out articles like this and it tells me that you enjoy reading this stuff. It's like the "like" button, only better. Thanks!
Follow @Danbaileyphoto