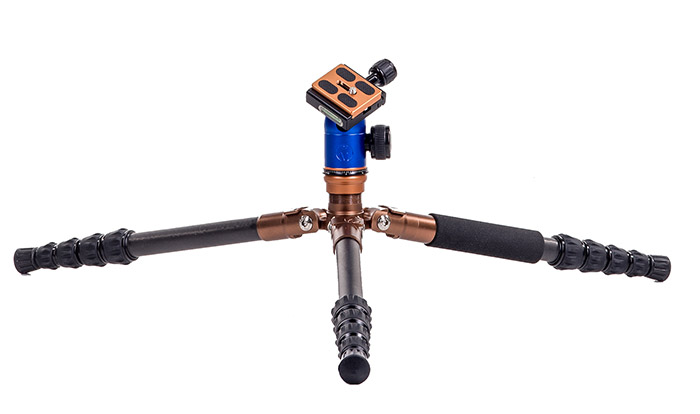 A tripod is a tripod is a tripod, right? After all, how much can you vary the design of a simple 3 legged thing like the tripod. I saw quite a few of them last week at PhotoPlus Expo, but one brand really jumped out at me.
3 Legged Thing is a clever new company out of Stagsden, England who makes some awesome and innovative tripods. Their first offering, Brian, has won over product design award, and since then, they've expanded their line with a variety of sizes and configurations. They're all extremely functional, built with premium quality and very stylish dark gray, blue and copper colored designs, they're relatively lightweight and many of them are compact and highly suitable for travel and outdoor photography.
Most of their products are named after rock and roll legends, with models called Keith, Eric, Eddie and Dave. The tripods that I saw last week were Rick and Vyv, from their new Punks line.
Named after characters in the hilarious British comedy series The Young Ones that used to play late at night on Sundays on MTV in the early 80s, The 3 Legged Thing Punks tripods are designed as lightweight, slightly more affordable models, but they still offer most of the same features as the rest of the line.
Meet Rick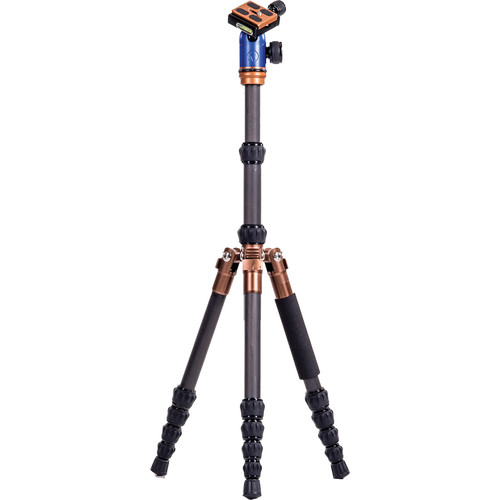 Rick, the pompous would-be anarchist, is a compact carbon fiber tripod built from 75% pure carbon fiber and magnesium alloy. He only weighs 2.7 lbs, including his ARCA compatible ball head. (Rick's legs alone are only 2 lbs.)
Ultra compact with legs that fold back on itself, Rick closes down to only 12.5″, and yet extends to 53″.
HIs 5 leg sections can open up to 3 different angles, and they'll splay out to allow you to shoot from a vantage point from only 4.5″ above the ground.
Also you can remove Rick's center column and bolt the head directly onto his legs, and you can even remove one of his legs to make a fully functional monopod.
Load capacity is 22 lbs, but Rick's head is pretty small, so it seems like you wouldn't want to pile him up with super heavy gear. I fiddled around with Rick for awhile at the 3 Legged Thing booth, (it wasn't nearly as dirty as it sounds) and from my impressions, he looks to be an ideal set of legs for mirrorless gear and lightweight DSLR cameras and lenses.
Rick costs $299, which is a very good value, considering the quality and functionality that he offers. He's an ultra lightweight and compact tripod that's perfect for backpacking and travel, although I can't impinge the original, rather uppity Rick on the series braving the rugged outdoors. Nonetheless, he does comes with his own nylon carrying case.
Meet Vyv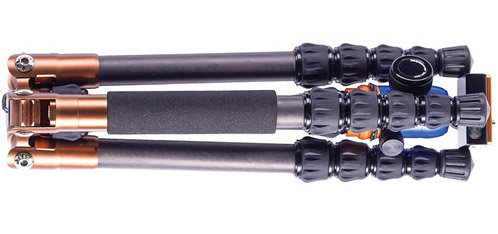 The other Punk I saw was Vyv, (short for Vyvian, the violent, spiky haired punk of the bunch). Vyv is the non carbon copy of Rick. Every design detail is the same, but he's made from aircraft grade magnesium alloy instead of carbon.
Still incredibly light, (2.8 lbs including head) and very compact (12.5″ when closed), Vyv wears second hand clothes and so he costs $100 less than Rick. With a price of only $199, Vyv offers the same all around versatility and functionality for photographers who are on a tighter budget.
I really like the Punks, and not just because I was a HUGE fan of The Young Ones. I'm impressed with their high quality craftsmanship, their clever designs, and of course, their even more clever names. There's high competition in the tripod market, but 3 Legged Thing definitely stands out.
Support this site: If you'd like to meet Rick or Vyv, or any of their friends, please consider shopping through these links. It won't cost you anything extra, you'll still get the lowest prices available and it will help me out. It's your way of saying "thanks" for the time and effort it takes me to compile reviews like this.
[iframe]<iframe width="120″ scrolling="no" height="240″ frameborder="0″ border="0″ src="http://mer54715.datafeedfile.com/widget/aff_widget_prdt_generate-2.0.php?aff_num=6746&aff_net=1&widget_num=5928&sid=" marginheight="0″ marginwidth="0″></iframe><iframe width="120″ scrolling="no" height="240″ frameborder="0″ border="0″ src="http://mer54715.datafeedfile.com/widget/aff_widget_prdt_generate-2.0.php?aff_num=6746&aff_net=1&widget_num=5929&sid=" marginheight="0″ marginwidth="0″></iframe><iframe style="width:120px;height:240px;" marginwidth="0″ marginheight="0″ scrolling="no" frameborder="0″ src="//ws-na.amazon-adsystem.com/widgets/q?ServiceVersion=20070822&OneJS=1&Operation=GetAdHtml&MarketPlace=US&source=ss&ref=ss_til&ad_type=product_link&tracking_id=danhbaisadvph-20&marketplace=amazon&region=US&placement=B00MPXTIAS&asins=B00MPXTIAS&linkId=4RZLS3JSL4MZUR47&show_border=true&link_opens_in_new_window=true">
</iframe><iframe style="width:120px;height:240px;" marginwidth="0″ marginheight="0″ scrolling="no" frameborder="0″ src="//ws-na.amazon-adsystem.com/widgets/q?ServiceVersion=20070822&OneJS=1&Operation=GetAdHtml&MarketPlace=US&source=ss&ref=ss_til&ad_type=product_link&tracking_id=danhbaisadvph-20&marketplace=amazon&region=US&placement=B00MPYDSQ2&asins=B00MPYDSQ2&linkId=T5ECBAEGRHSVRFYJ&show_border=true&link_opens_in_new_window=true">
</iframe>[/iframe]