The latest issue of CLARITY: Photography Beyond The Camera is out on virtual stands and ready for download.
In addition, CLARITY, Vol 6 features an article written by me called The Secret Ingredient Behind Luck, in which I discuss how to apply the concept of anticipation to shooting action and adventure.
In our fast moving world, moments often pass by before you can even register that they actually happened. when the dirt is flying and your adrenaline is spiking, there's barely enough time to raise your camera, let alone, pull off a successful shot.
If there was only a way to improve your luck, or better yet, see into the future…
The eight-page article features a number of photos and tips that will help you increase your percentage for success when shooting things that move quickly. Check it out.
I'm excited to be featured in CLARITY again, I had the cover photo on the last issue, Volume 5. That issue featured an article about cold weather photography so if you missed it, you might want to give that issue a look too, since winter is just around the corner here in the Northern Hemisphere.
If you haven't seen CLARITY before, it's a very well done PDF magazine geared around the lifestyle of photography. Rather than focus on gear, CLARITY features in-depth topics that surround things like light, composition and technique.
With regular contributors like Kevin Kubota, Piet Van den Eynde, Sean McCormack, Chris Corradino and Ian Plant, the journal contains some really articles, fantastic imagery and even video. The current issue features 37-minutes of video content, and 70 beautifully designed eBook spreads.
And, as I've said before what I love most about Clarity: Beyond the Camera, is that it's published by a super nice guy named Dave, who apparently just sent his little girl off to First Grade this fall. Dave pours his heart and soul into CLARITY and shares his passion for photography in such a way to enrich the lives of other shooters. In my book, that kind of thing is worth our support.
I think that Dave does an excellent job with the magazine, so be sure and check out the latest issue– it only costs a few bucks- about the same as a coffee and a pastry. Good inspiration is worth that.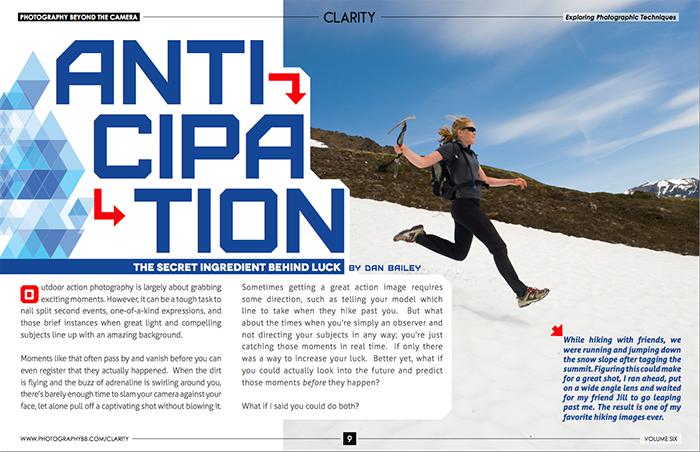 Here's the full list of content that's included in CLARITY, Volume 6:
Mixing Flash With Natural Light Outdoors: Learn from the master of lightweight lighting, as Kevin Kubota demonstrates his setup for mixing flash with natural light outdoors. Video tutorial included!
Digital Darkroom: Learn how and why digital photographers should embrace post-processing tool as being just as much a part of photography as is the development process of film photographs.
The Secret Ingredient Behind Capturing "Lucky" Moments: Action and outdoor photographer, Dan Bailey shares the secret ingredient to capturing the perfect shot right when it happens, so you'll never miss another unique moment again.
Moving (Back) to Film: Whether you are a digital or film photographer, learn how to shoot with both passion and purpose every time you press the shutter button.
Color Theory for Photographers: Color is an entire toolbox for photographers. In this first of a four-part series on color, Cheryl Machat Dorskind breaks down the basics of color as it relates to digital photography and how our cameras record color. Understanding this aspect of your gear will help you to make better decisions when it comes time to frame your next composition.
Why Image File Formats Matter in Photography: The age-old debate between RAW vs. JPEG never burns cold. You'll learn the real pros and cons of each format, but it's not just about RAW and JPEG anymore – there's a new player in town…
A Photographer's Guide to a Happy Life and Prosperous Career: Chris Corradino is a respected photographer with a long list of impressive credentials. In this piece, Chris shares his top 10 tips for staying passionate along with his code of values for building a prosperous and rewarding career.
Creativity Unleashed: In this spotlight feature interview, photographer Ian Plant provides insight into how he creates his striking photographs through his use of color and contrast. Ian shares his process, intention, and techniques for scoping out the right scenes to photograph.
Long Exposure: Long exposure images have a surreal and zen-like quality as we capture motion in a single frame. In this piece, Piet Van den Eynde shares his 7 top tips for making stunning long-exposure photographs.
Photoshopping Tourists (Video Tutorial): We are proud and pleased to welcome expert Photoshop and Lightroom instructor, Serge Ramelli, who will take you through a simple process for removing unwanted distracting elements (like tourists) from a busy street scene using Photoshop.
Lightroom Video Tutorial: Learn when to go black & white, and how to create dramatic black & white photographs using Lightroom with Serge Ramelli.
Lightroom for Photographers: In our continuing series on the Lightroom Develop Module, Sean McCormack reveals how to created black & white and toned black & white images in Lightroom.
Sharing the Craft: Editor-in-chief, Dave Seeram, discusses his thoughts on the future of photography as a result of new education platforms as they replace traditional photography education venues. Free video course included on how to shoot professional looking family portraits (courtesy of our friends at Craftsy).