Rabari- Encounters With The Nomadic Tribe eBook, by Mitchell Kanashkevich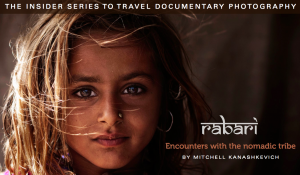 Often when we see a great image, we want to know how it was made. I mean exactly how it was made. Not just the concepts and ideas, but the specific setups, execution and outtakes that led up that one powerful photograph.
Light Stalking, the brilliant and content rich photography website has recently released a remarkable new eBook called Rabari- Encounters With The Nomadic Tribe that does exactly this. It's the first volume in their Insider Series to Travel Documentary Photography.
Written by award winning travel photographer Mitchell Kanashkevich, this practical and informative ebook gets you inside the head of an accomplished shooter who's work has been published on the covers of the world's leading magazines.
Rabari is based around a series of 10 stunning travel images and portraits, every single one of which has either won awards or been published in magazines, and how their were made. Starting with background information for each shot, Mitchell outlines out his specific objectives and goals for how to best capture each subject, he goes on to explain how light, moment and composition came together for each shot.
He also details the challenges that he faced with each subject, and how he dealt with them. Finally, Mitchell goes through the specific post processing steps that he used to bring the final image.
As a teaching tool, I think that Rabari succeeds on a number of levels. First of all, it's based entirely around a body of work from a single trip. This alone gives it a really practical feel. It's not just 10 of his best images chosen from the archive, it's 10 incredibly striking images from just one location. Understanding this gives you the idea that a strong method can really help increase your success rate with imagery, no matter if you're shooting around the world or around your neighborhood.
Also, the extensive amount of information and technical details that Mitchell presents in Rabari gives you practical guidance that you can apply to your own imagery. For example, all of the images were shot with natural light and a single collapsable reflector, and his lighting diagrams show you exactly how and where he placed his subjects and the reflector to create the most dramatic light on each person. Mitchell definitely goes Fast With Light. In fact, the entire series was shot with very minimal gear, all of which he lists in the book.
Perhaps the most helpful aspect of this eBook, is that for each photo, Mitchell presents a series of outtakes, i.e., the "bad ones" that led up to the final shot. This shows you that making a great image is a process. Even the best photographers shoot lots of not-so-great photos before clicking that one winner shot. It's interesting to view this progression and see how he "worked" his scenes on the way towards capturing the defining image for each subject.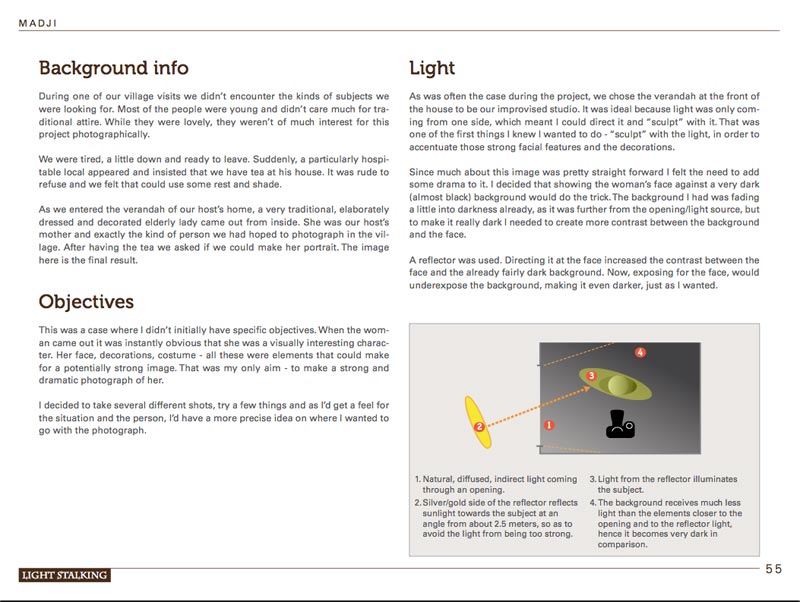 For photographers who are interested in travel and/or portrait photography, Rabari- Encounters With The Nomadic Tribe is an excellent workshop in a book. It's not every day that you get a chance to go behind the scenes with an active working pro photographer, let alone one as accomplished as Mitchel Kanashkevich.
In terms of content, this eBook might seem a little redundant, since the same format is used for each example, but in some ways, that's what makes it such a successful teaching tool. It trades gloss for rock solid, bare bones information that is easily absorbed and that can be applied to your own style.
Also, since it's all based around a single theme, it can help show you how to conceptualize, execute and create a strong body of work, whether you're shooting for your 365 project or creating a professional portfolio.
Rabari- Encounters With The Nomadic Tribe presents a unique take on the process of going from imagined vision to compelling photographs and I applaud the crew at Light Stalking for their effort in creating what promises to be a really great series.
Subscribe:If you liked this review, consider signing up for my newsletter, which is filled with even more tips, reviews and professional insight.