Publication: Alaska Magazine Snow Biking Feature Article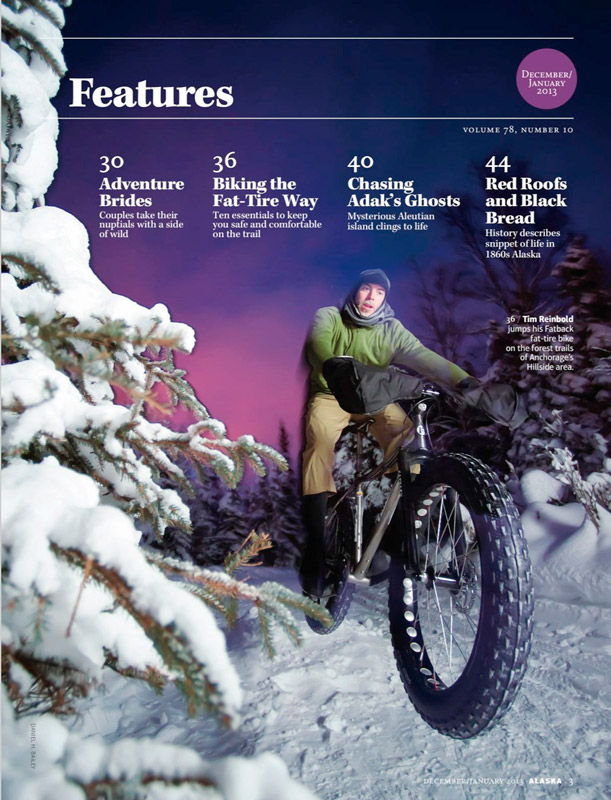 Another recent publication, this full page shot appears in the TOC page of the current Dec/Jan issue of Alaska Magazine. It's the lead off image in the issue, which contains a feature article about the joys and gear of snow biking.
This photo of Tim Reinbold jumping his Fatback along the Hillside trails in Anchorage was one of my favorites from last winter. It was made with the added blast of the Photoflex TritonFlash battery powered strobe and WhiteDome softbox, both of which performed just fine in the sub-zero temperatures.
Here's the behind the scenes post that talks about how I got this photograph, and below are other other photos in the snow biking article. (The night shot and the rider in the red jacket are mine.)
Photoflex has also used photos from this series in ads, trade show banners and in their 2013 product catalog to illustrate the capabilities of the TritonFlash for use in action and extreme shooting conditions. With a very fast recycle time and long battery lift, it's a surprisingly portable and very powerful tool for getting pro quality light in just about any situation.
Follow @Danbaileyphoto