$20 Rice Paper Light Modifier – Great Light, Cheap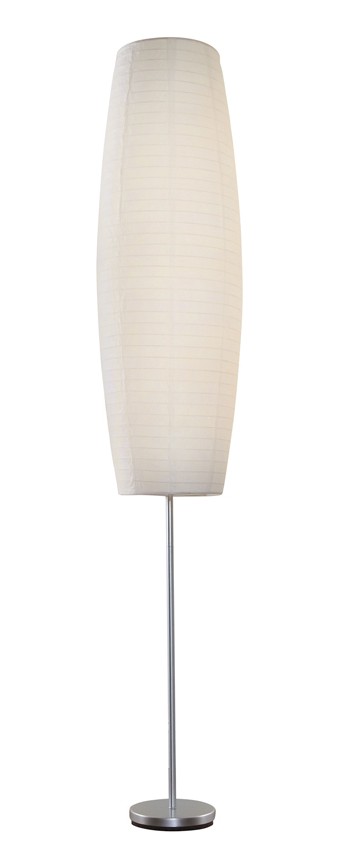 Want good light?
Then pick pick up any one of the large softboxes out there that are made buy Photoflex, Lastolite or Westcott. I'd recommend 24″ or bigger, especially for shooting full length people shots. Expect to spend anywhere from $100-200.
Want really good light?
Then pick up a 7-foot OctoDome. It gives you about the best light that you could ever imagine, and in a pinch, it's big enough to sleep in. In fact, at around $500 with shipping, it costs about the same as a small tent. Probably not as waterproof, though, especially since it has a big hole in the back where the flash goes.
Want good light really cheap?
Then check out the Style Selections 70-inch 2-light Rice Paper Floor Lamp with With White Shade. It costs $19.98 and you can get it at Lowe's.
I spotted this thing a few weeks ago while on a home improvement mission. Realizing its potential as an awesome, inexpensive light modifier, I threw it right into my cart.
I'd been looking for a chinese paper lantern type thing for awhile, but since this one is a long tube thing instead of a round globe thing, I figured that it would work even better for full body portraits and situations where I want a big blast of omnidirectional light.
Of course, I'm talking about just the paper lantern part, not the floor lamp itself. Who cares about another floor lamp? That thing is still sitting in a box at the back of my closet ready to go to the giveaway store.
As a light modifier, this thing is so easy to set up, it's got a little metal loop at the top that fits right over the stud of a small light stand. I simply clip a flash to the middle of the the Nano Stand with a Manfrotto Justin Clamp and drop the paper lantern thing down over the stand. Done. Two minute slater, you're ready to shoot. Now that's going fast with light. Folded down flat, it's only 14″ in diameter.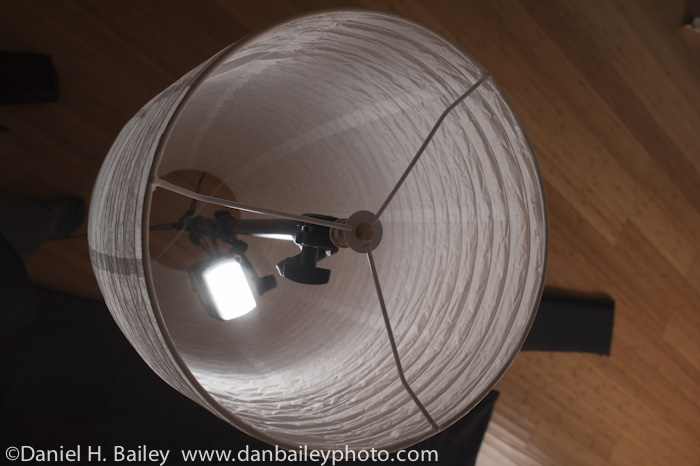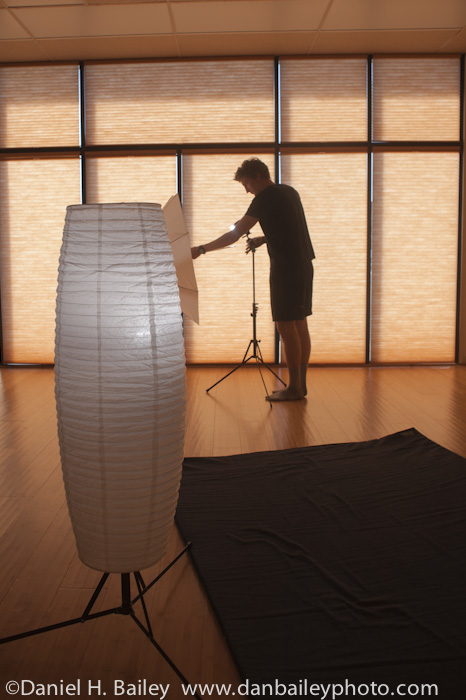 To trigger the flash inside the lantern, I've tried it out using the D700 pop-up flash and Nikon CLS TTL, as well as with the Nikon SU-800 wireless commander and with SU-4 optical slave mode.
As for light quality, it's just as I imagined it would be. Big, soft, even, and it wraps unbelievably well- as good as you would expect from something that puts light out in a 360-degree pattern.
The photo below was taken with the lantern light. Single SB-800 set in TTL mode at camera left, and another SB-800 through an umbrella at camera right.
It's easily as good as an umbrella and many softboxes, and since it's tall, it will throw great light against the side of an entire person. Can't wait to try some full length shots with it. Also, imagine the effect that you could get if you hung it horizontally above your subject?
Last week I reviewed a new ebook called Great Light, Easy Light and pointed out how the fundamentals of great light revolve around factors like direction, angle and distance. Practice your strobist-style techniques with this 20 dollar lantern thing, and you've got great light, easy light AND cheap light.