Going Cold With Light: Using the Photoflex TritonFlash Outside in Winter.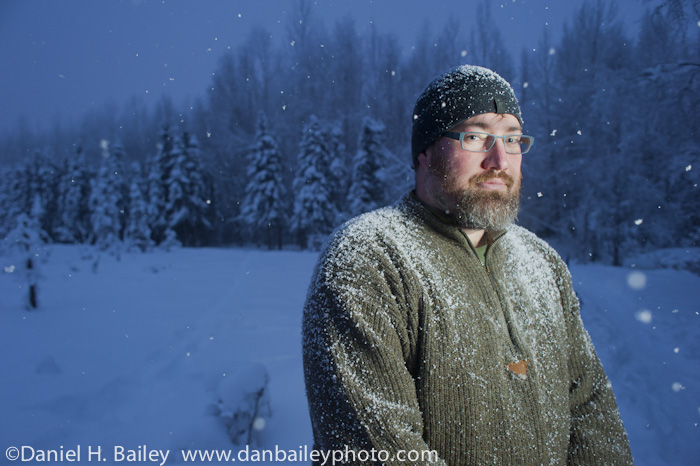 It's no secret, I occasionally go fast with light. Sometimes I even go cold with light. Lately, I've been doing both with the Photoflex TritonFlash. It's a lithium ion batter powered strobe system that packs a great deal of light into a relatively small and very portable package.
How portable is it? The flash head, removable swivel clamp, battery/power pack, and the included Octodome NXT softbox easily fit inside my Lowepro Photo Sport 200 backpack. That's in addition to the D700, three lenses and PocketWizards that I also cram in there. Strap a small light stand to the outside of the pack, and I have a complete outdoor studio right on my back.
The main advantage of using a strobe like the TritonFlash are that it recycles WAY faster than a single speedlight, especially in the cold. Batteries lose charge when temperatures drop, and AA batteries inside a flash like the SB-900 will get pretty sluggish when you get below around 20 degrees. Conversely, if you're shooting a large number of frames in a short amount of time, the TritonFlash won't overheat like regular shoe-mount flashes are prone to do sometimes.
It was about 6 degrees when I shot this portrait of my photographer friend Jim Kohl, and the lithium battery on the TritonFlash kept up with me way through the shoot. I keep it inside a small insulated pouch to keep it as warm as possible, but even in that kind of cold, it didn't even slow down.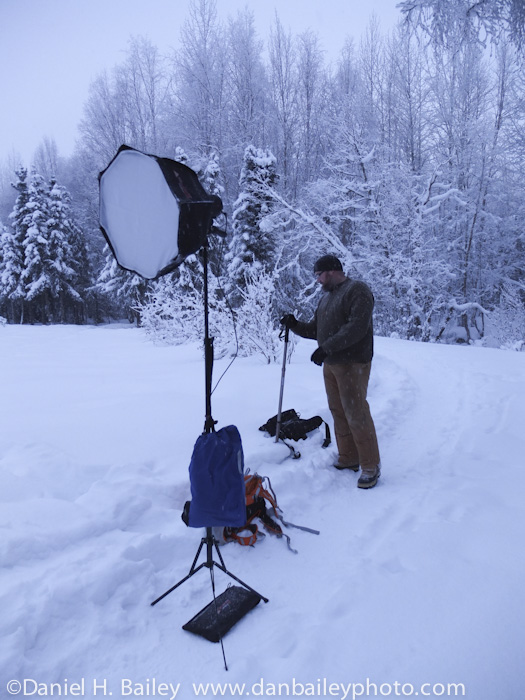 The lighting quality for the shot came from the Octodome NXT softbox, which comes included with the TritonFlash kit. If you're a regular reader, than you know that the Octodome NXT is one of my favorite light shaping tools of late, because it's durable and because for an 18″ softbox, it puts out surprisingly nice light. Also, it packs up pretty small and fits into a most backpacks or camera bags.
The dramatic light color came from underexposing the background by about two stops and bumping up the saturation and vibrancy a bit in Lightroom. There is no filtration, I didn't use any kind of gels and I didn't do anything to the white balance. Shot at 4:21 PM here in Anchorage, the overcast light really is that dark and really that blue.
I used manual exposure, 1/50 sec at f/4.5 with a 24mm lens and set the TritonFlash to give me proper exposure on my subject. Please note that you certainly wouldn't need a big light to make this kind of shot, you could easily create a photo like this using a single flash and just about any small to medium sized light modifier.
The Triton gave me faster recycle times and more shots per charge (it will fire up to 750 shot on a full charge) but ultimately, its still just pushing some light through a softbox. Like any photo, what matters is not so much the gear, but how you use it and how you choose, position, frame and exposure for your subjects.
You can read about more details from this shoot here on the Photoflex LiteBlog. Learn how I dealt with excessive light from the flash bouncing off of snow, and see more photos, including a shot of me on my Alaska snow bike that Jim took after the shoot.
Follow @Danbaileyphoto