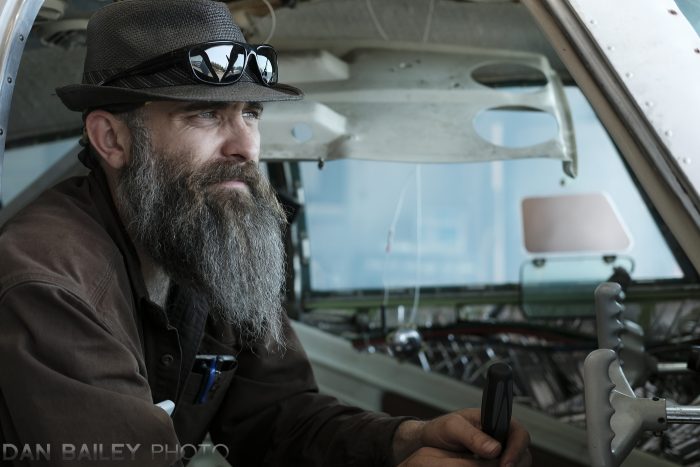 I don't typically refer to myself as a portrait photographer, but I do enjoy shooting portraits on occasion. After all, I'm kind of a people person (at times), and as a photographer, I enjoy the challenge of capturing compelling images of an intriguing character in great light.
Usually they're made during a shared adventure with one of my friends, when I'm drawn to capture a specific moment of determination, struggle or elation, under the peak of some magical display of sunlight. Or, they might be shots of someone I met during my travels to faraway lands.
Some people just have that look. You know what I'm taking about. Some people have a certain quality about them that begs to be photographed, whether it's their magically engaging expression or a certain ruggedness that speaks a thousand stories about who they are and what they've done in life.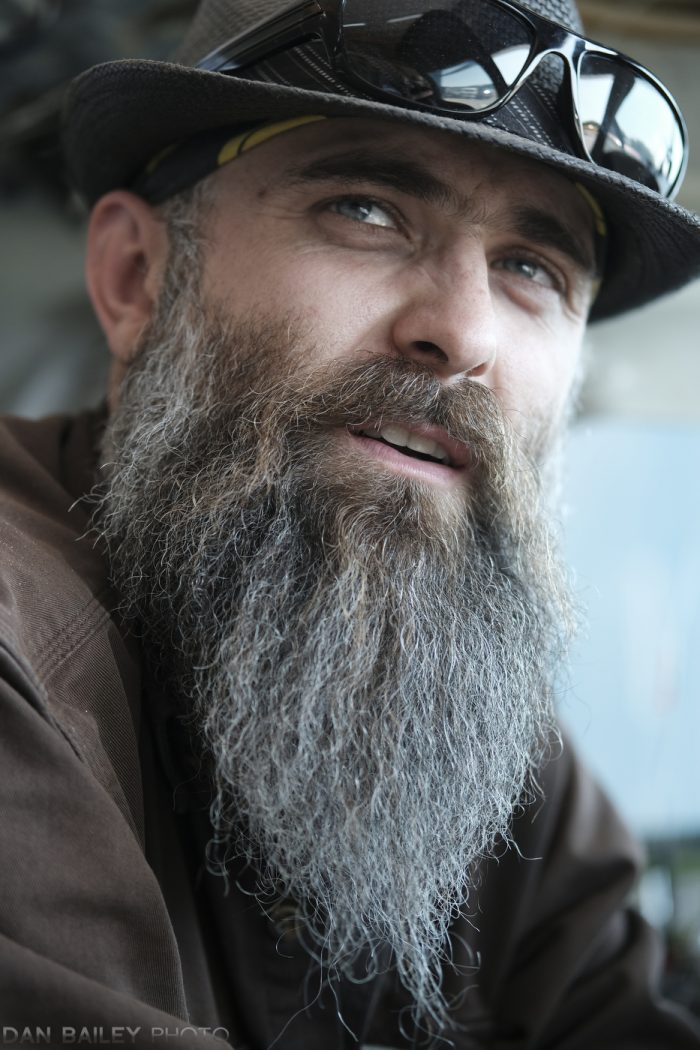 My airplane Mechanic, Mario Maccarone is one of those people. I met him seven years ago when I first bought my little yellow Cessna. He's the one who rebuilt the plane after one of her wings was damaged in a wind storm. He found her sadly tucked away inside a hangar on the other side of his home airport, broken and battered, neglected after the insurance settlement had been paid out.
Mario saw the potential that lay before him and so he purchased the remains of N3102N, hauled her over to his own hangar and brought her back to life. He drove all the way to Whitehorse and back to get a new wing, and he spent many hours rewiring and renovating the interior.
Metal work is Mario's specialty. He loves crafting, welding, cutting, fitting and fabricating not only parts and solutions for aircraft, he makes handmade jewelry as well. He rebuilt the entire interior of my C120 with pieces of specially cut pieces of lightweight sheet metal, which makes the plane considerably lighter than if it still had the stock upholstery interior. He even gave me a pair or skylights in the roof.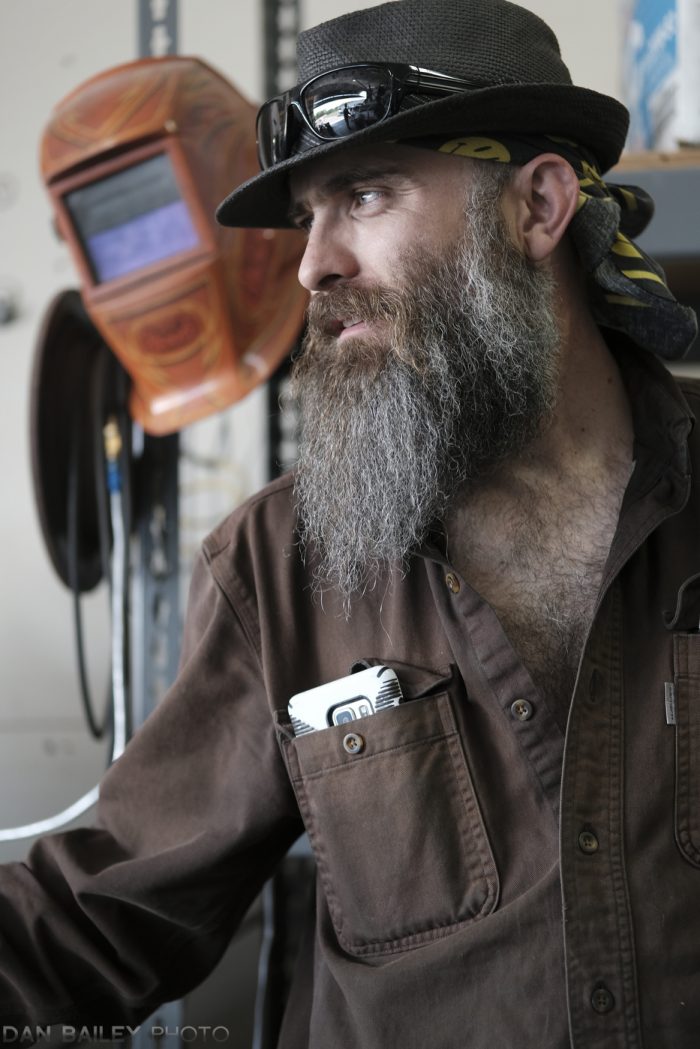 Growing up as a self proclaimed "poor kid in New Mexico," Mario flew all the way up to Alaska and back in a small plane one summer with a friend when he was 15 years old. That trip sealed his fate, and he soon found his way back to Alaska. Eventually, he leaned to fly and work on small planes, and he's now a full time A&P/IA mechanic and runs his own shop at Wolf Lake Airport, 50 miles north of Anchorage.
Those are just a bunch of facts, though. They don't even being to describe the journey and events that have shaped Mario's life, personality and appearance, any more than if I told you that I take pictures and ride bikes. That's the wonder and mystery of humanity. That's the magic we photographers hope to capture when we shoot portraits.
It's amazing to think how my life is now intertwined with Mario. I only see him once or twice a year, but given how much I've done with my little Cessna, the places it's taken me and the photos I've been able to get while flying her high above the mountains of Alaska, I can't even begin to quantify the enormous impact that he's had on my life.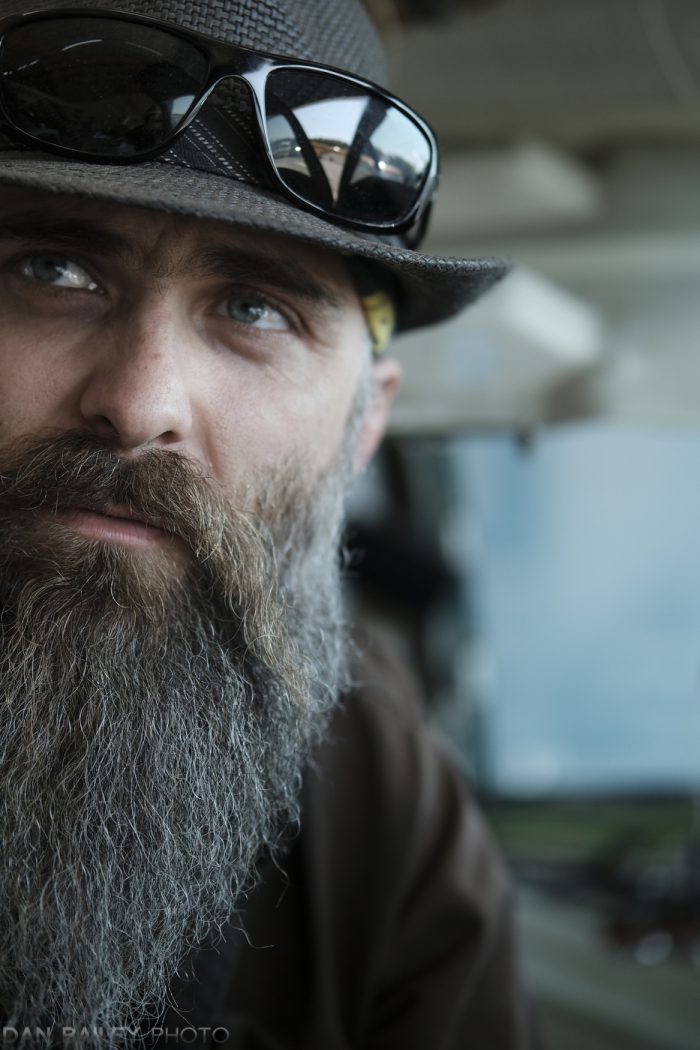 I've wanted to photograph Mario for years, so when I picked up my plane from its annual inspection last week, I took my camera along with me. Since we've known each other for years now, it was a comfortable enough process to capture a few moments with my X-T2 and my Fujifilm XF 50mm f/2 lens while we talked. That tiny little 50 f/2 is such a great lens for portraits. It's such a great lens for just about anything, which is why I pretty much take it everywhere with me.
All of these are straight JPEGs, shot with the CLASSIC CHROME film simulation on the Fuji, under natural light from the open hangar door. I hope you enjoy these photos and I hope they inspire you to go out and capture some portraits of some of the people in your own life.
You can follow Mario on Instagram to see what kind of work he does and see where he likes to fly.