People Pictures: 30 Exercises for Creating Authentic Photographs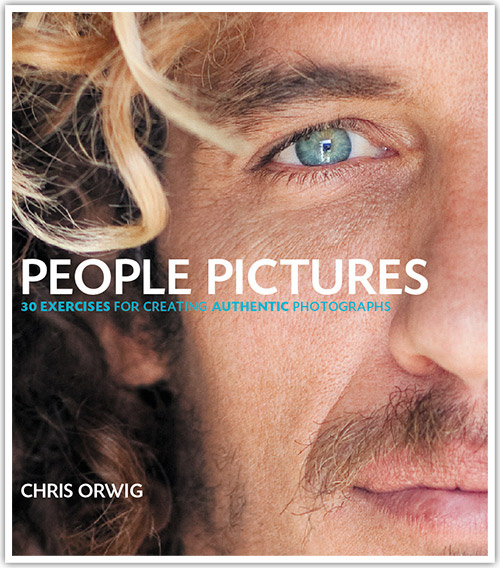 I was at the bookstore the other night, mostly getting some early holiday shopping done. Of course, I managed to find myself in the photography section, and as I was staring at the shelves, this book jumped right out at me:
People Pictures: 30 Exercises for Creating Authentic Photographs by Chris Orwig is a really compelling book, not only because it has a great cover, (look at the catchlight in his eyes!) but because it speaks to an aspect of photography that almost every one of us holds very close.
No matter what we like to photograph, landscapes, nature, travel, sports, it's the people pictures that often hold the most impact. They're the ones that are usually the hardest to shoot well, and long after the fact, they're often the ones that mean the most to us.
Why? Because there is nothing so compelling as capturing expression and personality, and if we do it well, we can create magnificently strong images that communicate depth, style and emotion. However, shooting people can often be very challenging and it's an area of photography where we all strive to improve.
People Pictures: 30 Exercises for Creating Authentic Photographs does an amazing job of guiding you through the process of experimentation and creativity with different techniques towards shooting portraits and photos of people. The author, Chris Orwig, who teaches at Brooks Institute of Photography, offers 30 unique exercises that are designed get you thinking and trying new approaches, in a wide variety of styles.
Done in a very fun way, they push you to come up with new ideas of your own, based on the concepts and examples that Chris illustrates and outlines in each chapter. With headings such as Endurance, Forging Relationships, Turn Your Camera Around, Be Quiet, Point of View, Upbeat and Alive, there are plenty of opportunities to get you thinking outside of your standard box of portrait techniques.
After flipping through this book, I felt compelled to buy it. It's simple to read, it's filled with lots of great and very diverse examples, and again, it fosters experimentation, which is the key to all creativity and great artistry. There's even a Kindle version, which looks awesome on the iPad and even the iPhone. This gives you a really great mobile reference manual that you can take on location for new ideas.
I like People Pictures: 30 Exercises for Creating Authentic Photographs, and I chose to write this review because it offers a fresh and unique perspective on a very timeless aspect of photography that we can all identify with. There's less text that you'd generally find in most photography books, but in that way, it's more of a course than just a book.
It will absolutely help you create stronger, more compelling portraits and images of people, but as with any course or lesson, you have make the effort yourself. If you're willing to step out there and actually work through each exercise and self assignment, then this book will definitely motivate you to branch out with your skills and become a better people photographer.
Chris is also the author of Visual Poetry: A Creative Guide for Making Engaging Digital Photographs
. I haven't checked out this title yet, but from reviews I've read, it's as good, if not better than his People Pictures book.
"People Pictures: 30 Exercises for Creating Authentic Photographs."