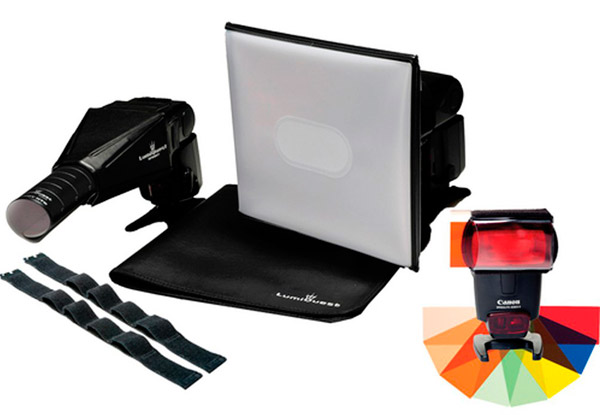 When it comes to gear that lets you go fast with light, you can't beat Lumiquest for super lightweight flash modifiers. Seriously. There's nothing that packs up smaller and gives you more bang for your buck and weight than their Softbox III. No matter where I go, if I leave the house with a flash, then I always take the SB III with me.
At PhotoPlus Expo this year, I got to check out the new Lumiquest Location/Portrait Kit. It's a very simple collection, comprised of their SB III, their Snoot XTR, the FXtra gel kit and two UltraStraps, all packed into a handy carrying case that fits in just about any laptop case, camera bag or backpack.
With this kit, you've got a modifier for your main light, a snoot for narrowly focused accent lighting, and a gel kit that lets you add flavor to your backgrounds or throw a touch of warmth on your subject.
With a little bit of lighting knowhow and some creativity, you can do a lot with these very simple tools, and the two best things about it is that it's affordable, and it all fits in one case. I know, I keep raving about the case, because my snoot and FXtra usually just swim around in the top lid of my pack. Gotta get me one of those cases!
The Lumiquest Location/Portrait Kit is great for beginning flash users as well as for fast moving photographers who want studio quality light without added weight. Plus, Lumiquest is a great company and I like to support them. They're really nice people and they stand behind their products with a full guarantee.