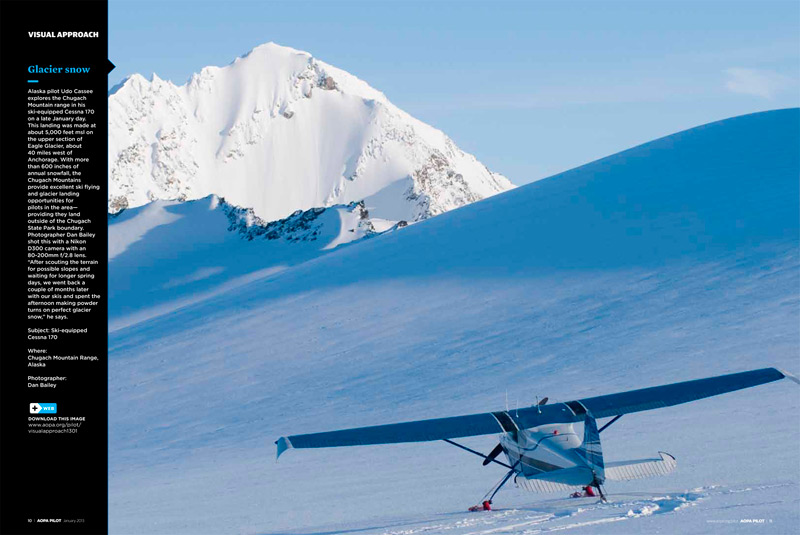 Another recent publication, this image appears as a two-page spread in this month's AOPA Pilot Magazine in a brand new department called "Visual Approach." Being relatively new to the aviation world, this is my first time being published in a national aviation magazine. I'm honored to have my work featured in AOPA, because it's one of, if not the most widely read publication by pilots in the world.
Ok, I'll be honest. I'm just excited because I know with near certainty that fellow AOPA subscriber, Han Solo, who is arguably the best bush pilot in the entire galaxy, will see my photo. Talk about top notch flying skills, Captain Solo landed the Millennium Falcon on the side of an Imperial Star Destroyer and in the stomach of a giant asteroid dwelling monster. I wonder what he likes flying better, the Falcon or his completely restored 1955 Dehavilland Beaver. I wonder if he ever put the Falcon on skis…
I shot this image of my friend Udo Cassee's ski-equipped Cessna 170 on the Eagle Glacier back in 2010 with my Nikon D700 and 80-200m f/2.8 lens. Here are a few more shots from that day. Also, check out one of Udo's own videos that he made while flying over some of the Chugach glaciers. He literally has front door access to glacier flying.
Oh, and Mr. Ford, if you read this, I'd love to go flying with you someday, or at least take a picture of you with your plane.