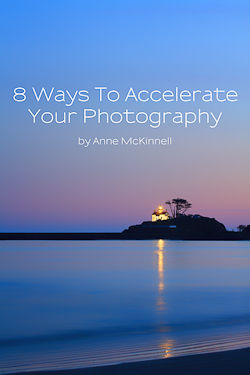 Emerging professional outdoor/travel photographer and writer Anne McKinnell has just released a brand new 88-page double spread eBook called 8 Ways to Accelerate Your Photography. It's a guide to helping you jump start your own road to photography success.
This book explores 8 fundamental areas of knowledge that are essential for today's photographer and shows you the quickest and most effective techniques that will help you speed up your learning curve.
It takes a great deal of time and personal investment in order to become a great photographer. However, not everyone has the time to learn everything and make all the mistakes that eventually lead you towards the right path.
By sharing what she learned from spending an entire year photographing on the road, practicing her technique and marketing herself, Anne saves you valuable time by walking you through those necessary skills that you need to master:
How to understand the most useful camera settings
How to use different light to your advantage
How to achieve proper exposure
How to create more effective compositions
How to maximize the quality of you imagery with post processing
How to find your niche with photography
How to create a killer portfolio
How to get your photography on the web
How to make money
She also does it in a very clear and easy to understand writing style. 8 Ways to Accelerate Your Photography works so well as a learning manual for beginning photographers because Anne herself is a relative newcomer to the field who has achieved great success in a relatively short time. 

I've known Anne via the internet for a couple of years. She's written guest posts here on my blog, and from what I've seen, she's doing everything right. Only 4 years after buying her first DSLR, she's gone from working a regular job to becoming a full time photographer and writer. She's gone from total beginner to having her photos published in books and on magazine covers, writing several eBooks and building a successful blog.
Anne's writing style is so easily approachable and effective, because it's friendly, honest and informative. She writes as someone who didn't just read this stuff from a book, but as someone who has stood with her camera beneath the light, at the water's edge, in the open desert, and at the laptop in her van processing images, learning firsthand the techniques that work best. She's done the trial and error part, and she shares what she's learned with such open enthusiasm in a way that everyone can relate to. She also clearly illustrates each concept with page after page of great photographs.
It's been a joy to follow Anne's nomadic journey, watch her career unfold and see the quality of her imagery improve over the past two years. I'm excited about her latest eBook because I think it does a great job explaining the stuff that beginning photographers need to know, but often struggle to understand it quickly.
In today's world, photographers also need to be lab techs, marketing agents, web designers, and business managers. That's a lot of stuff to absorb, especially if you're not trying to do photography full time.
After reading through the entire book, I highly recommend it, whether you're looking to eventually go pro, or if you just want to get a jump start on your creative and technical skills.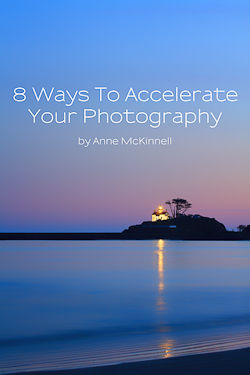 If you're just starting out in photography, or if you feel that you are struggling in any of the areas I outlined above, do yourself a favor and pick up 8 Ways to Accelerate Your Photography. I promise you, you'll benefit from Anne McKinnell's fast track and honest experience as an emerging pro photographer and writer.
Make the investment in your photography and get 8 Ways to Accelerate Your Photography at the special introductory price of $7.99.
Follow @Danbaileyphoto