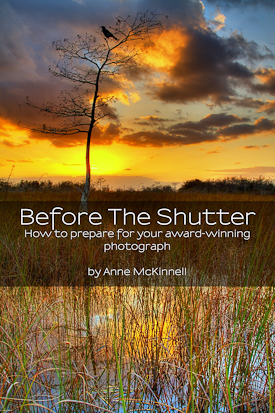 Photographer, writer, traveler, nomad Anne McKinnell released her brand new eBook today, Before The Shutter: How to prepare for your award-winning photograph.
The book features a collection of great travel photos, plus 28 pages and 7600 words of great tips and insight that she's gained during her year long road trip around the USA.
Anne wrote Before The Shutter to help other outdoor, travel and landscape photographers get the most out their next photo excursion by walking through the planning stages and all the necessary steps that happen before you take the shot.
Highlights include researching locations, identifying your own creative vision, trip planning, creating a shot list and more. She expands with solid detail in each chapter and she clearly illustrates each tip and idea with wonderful photos. The book is well laid out, clearly written and a real joy to look through. And having been on the road for many months now, Anne has a wealth of great information to share!
I've known Anne via the internet for a couple of years now, and it's been really enjoyable to watch her progress as both a photographer and a writer. In my mind, she's a great example of someone who's taking life by the reins and writing the story as she wants it to read. We could all learn a little bit from her just on that account. (Read her insightful guest posts that she's written here on my blog.)
I'm excited to keep watching Anne in the coming years and see where she goes with her photography and writing. Download your free copy of Before The Shutter, because great photographs should never be left to chance.
Also, read Anne's excellent and insightful guest posts that she's written here on my blog.