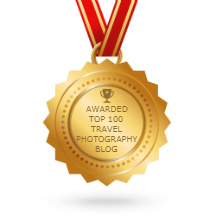 I'm excited to share the fact that my blog was recently selected as one of the Top 100 Travel Photography Blogs on the web.
In a list compiled by Feedspot earlier this week of the "Best Travel Photography Blogs," my blog was ranked at Number 8 among widely read and influential blogs as Brendan's Adventures, Anne McKinnell Photography, Wanders & Wonders, Finding the Universe and Trey Ratcliff's Stuck in Customs website.
Once again, this is a great honor for me, as this is the second time I've been included with a Top 100 ranking. Last year, my blog was selected as one of the Best 100 Photography Blogs on the Planet. It's also timely, as I recently led my first international photo walk in Edinburgh, Scotland back in May of this year.
According to Feedspot's website, these rankings are compiled based on a combination of factors, including Google reputation, social media influence, post quality and consistency and by expert review by their editorial team.
As with my previous ranking, I'm honored to have made this list and have my blog stand alongside such inspirational and educational websites, especially since I don't have near the traffic as some of the sites on this list.
This tells me that my site was chosen and ranked on content more than numbers. This makes me feel awesome, as I work very hard to provide my readers with a mix of photography tips, gear reviews, photo essays and insight about creativity and photography method.
Through the past 10 years of writing this blog, I have developed a true love for sharing my own passion, experience and knowledge of photography with other shooters.
Each time I sit down and write another post, my hope is that the imagery and articles I share help teach and inspire people to get out there and explore the world with their cameras. Having received two of these Top 100 rankings, it seems as if my message is resonating with you guys!
Of course, there would be no Top 100 rankings without you, so I'd like to express my sincere gratitude to everyone who has ever spent time here on my blog. Thanks so much for your support!
-Dan