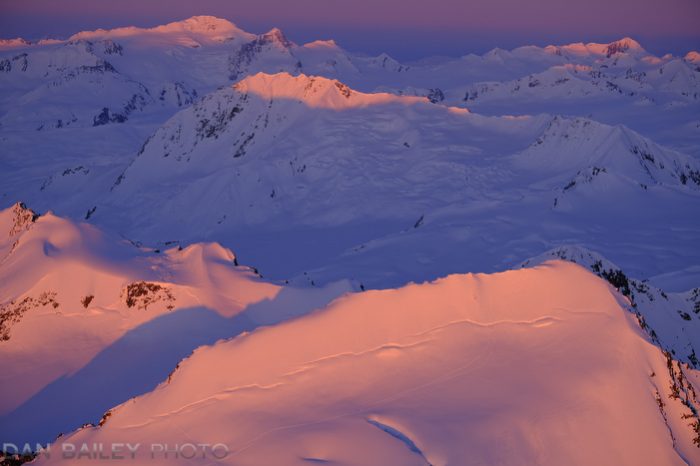 This past Saturday was a total bluebird day. We're talking sunup to sundown, with not a single cloud in the sky. No haze, no moisture, none of those thin, whispy feathers that sometimes creep into the atmosphere  during the afternoon. Nope. Nothing but solid blue across the entire expanse above.
After soaking up a few hours of sunshine on my bike, I came home, grabbed my flying stuff and went up to shoot some evening aerials. With the almost certain promise of incredible light on the mountains, I was quite optimistic that I was going to get at least a few worthy shots.
As it turned out, Saturday night ended up being one of the most magical evenings for aerial photography I've had in months.
I went wheels-up at around 8:45 pm and climbed straight east towards the Chugach Mountains, specifically to the area around Whiteout Glacier. I knew that some friends of mine were skiing the Eklutna Traverse, which crosses this area, so I figured I'd go see if I could find them.
After photographing a few of the taller peaks at the end of Eagle River Valley for about fifteen minutes, turned east and reached the confluence of Eagle and Whiteout Glaciers. It was right around this point when the light started getting really good, splashing bold pink light on the peaks and west facing snow fields.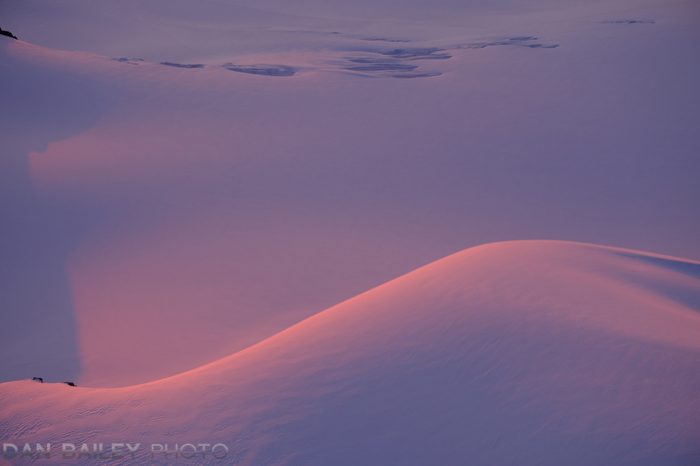 I spotted ski tracks pretty quickly, and eventually saw a tent that was set up in one of the high bowls. I circled around the area for a good half hour, snapping about a hundred frames before the sun finally dropped below the horizon and the pink light faded.
Between the gorgeous contrast of pink against shadowed blue, the pillowy, snow-covered mountain faces and the massive cracks and crevasse fields, I had plenty of compositional options to work with. I shot with my XF50mm f/2 lens on my X-T3 the entire time, cranking out frame after frame of saturated, Veliva goodness, all the while, being amazed by the quality of the light.
The only thing I wished I had was warmer gloves. Although it had been 50 degrees in town, up here at 8,000 feet, the outside air temperature was only 10 degrees F, which seeped pretty quickly into my lightweight, Pearl Izumi cycling gloves, which are my favorite cool weather glove.
They're awesome for 35-45 degrees in the wind. Not so much at 10 degrees. By the end of the evening, my right had was pretty cold and it took awhile for the screaming barfies to finally go away. Oh well. Live and learn. At least I got some pretty pictures.
I hope you had a great weekend as well. What did you shoot?