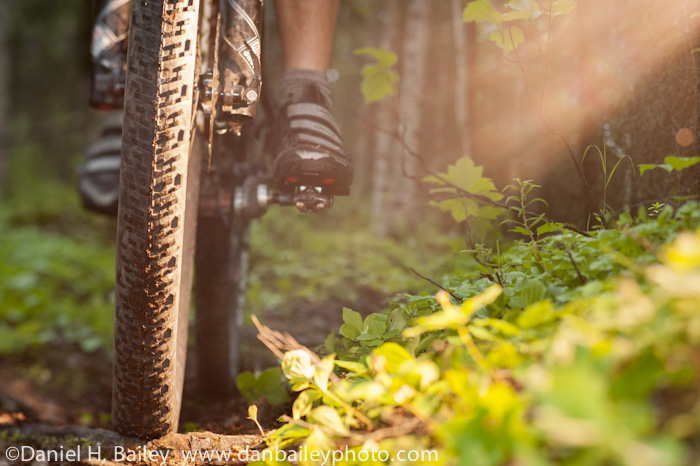 Last week, while hanging around Facebook, I saw this photo by a young Australian photographer who I follow named Tim Arch. I was immediately wowed by the shot and therefore inspired to step away from the computer and go outside to make some photographs of my own. The biking shot above was the result. It's one of my favorite photos of late, and since it garnered a great deal of positive response, so as promised, here's the how-to.
Step 1: Decide What Kind of Photo to Make
Having been motivated by Tim's photo, I decided to make a biking shot of my own, and since it was short notice, I figured I'd just go shoot a self portrait. Since I'm not exactly "model material," I did what I usually do in these situations and shoot close up and focus on the bike.
Grabbing my Nikon D700, a couple of lenses, a Nikon SB-900 Speedlight and a pair of Pocket Wizards, I shoved all the gear into my Lowepro Flipside Sport AW camera pack, strapped my Gorillapod to the outside and jumped on my bike.
Step 2: Finding a Location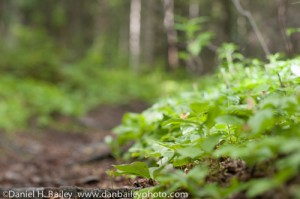 This didn't take long, as there are numerous trails within a couple miles from my house here in Anchorage. I simply pedaled around for a few minutes until I found a suitable looking section that had good greenery, relatively few roots and a gentle curve.
I didn't want too many roots, because since I'd be riding slowly and triggering the camera with a Pocket Wizard in one hand, I needed as few obstacles as possible, lest I wipeout and ruin the photo opportunity, or possibly hurt myself.
Step 3: The Setup
I wanted a shot from the front, so I fixed the camera on the Gorillapod and placed it right on the trail looking towards the curve. For a lens, I chose the Lensbaby Composer Pro with Edge 80 Optic. Once I had the framing set the way I liked it, I cabled up one Pocket Wizard and slid it onto the hot shoe.
For the flash, I set my Lowepro pack on the ground just off trail at camera right and stuck the SB-900 into the Tripod strap. It took quite a bit of fiddling to get the pack/flash combo balanced so that it wouldn't fall over. I also needed to make sure that the optical eye on the flash was in line with the camera, since I'd be using the pop-up flash on the D700 to trigger.
Since the Lensbaby is manual focus, I needed to set an identifiable focus point that I'd be able to hit while I rode towards the camera. I chose the small root that lay across the trail and framed accordingly.
Then I set manual exposure on the camera with a shutter of 1/250 and set the flash to straight TTL mode. Coming in from the side, I was just looking for a mix of fill and key, or accent light. Although you often have one light for each, sometimes you can do both with a single flash.
Step 5: Start Shooting
Pedaling down the rooty trail right towards the camera while trying to steer and hit the button on the Pocket Wizard requires more coordination that I usually have on any given day. I rarely got the timing right, and I almost wiped out more than once. I needed to catch the bike wheel right in line with that root, but it didn't always work out and many of my shots were out of focus. I kept at it for a few minutes, though, hoping that I'd get something good before the mosquitos drove me away. At least I never actually ran into the camera.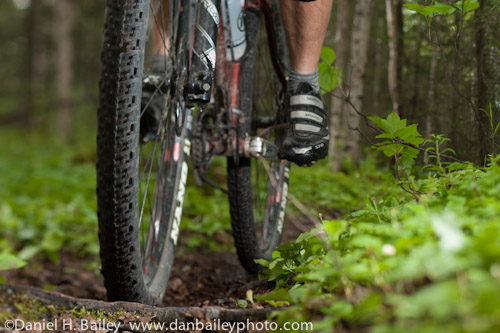 Step 6: Happy Accident. Or Divine Intervention, if you prefer. 
While the light was ok, it wasn't anything to write home about. However, I had a little help. More than once, my Lowepro pack ILS (Improvised Light Stand) fell over and I had to keep setting it back up. It was far from precise, and one time, I inadvertently placed it so that the flash head was angling down and pointing slightly towards the camera. The result was a really cool looking God-beam style flare.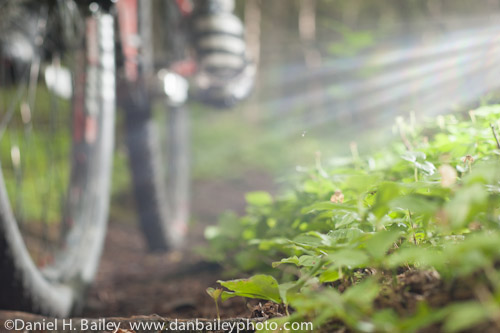 This happy little accident added an unbelievable dimension to the shot, and I instantly knew that I had something special. However, in order to make it really shine, or as Frank Zappa used to say, to "put the eyebrows on it," I slapped the CTO warming gel onto the flash head and went for gold.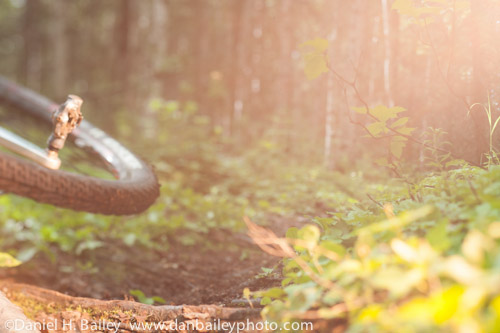 Of course, every time I touched the flash, I moved it slightly and it took a couple of tries to get that cool looking beam back. Eventually, I dialed it all in and managed to nail one pass where the tire was in perfect focus an alignment in the shot.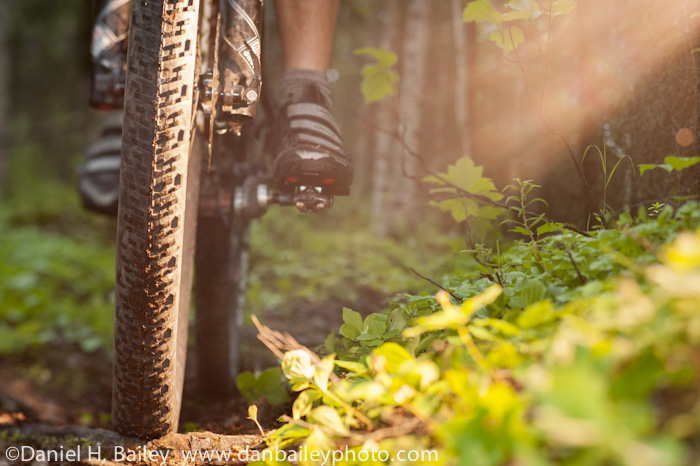 By then, the mosquitos were really bearing down on me, and since I had neglected to douse myself in Deet, I could only take so much before being driven completely mad. As soon as I knew I had the shot, I threw all the gear back into my pack, and pedaled off at full speed so as to outrun the incessant little buggers.
Total elapsed time for this shoot from setup to fleeing from bugs: Under 30 minutes. This is a perfect example of what I call Going Fast With Light, which is the subject of my off camera flash eBook of the same name about using flash in outdoor photography.
Thanks again for the inspiration, Tim!