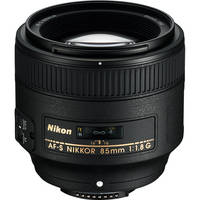 If you're a regular reader, you know that I'm a huge fan of short telephoto lenses, specifically the 85mm f/1.8 lens. I've had my Nikon 85 1.8 for about a decade and it's gone with me on every single photo assignment, vacation and expedition. I've used it with great results on both FX and DX bodies. Most recently, I carried it with me on my midnight sun bike tour through Denali National Park.
I love the this lens because it's light, fast and sharp. (Read my full review of this lens and how I use it.) Because it has a medium working range and a very shallow depth of field, it's an ideal portrait and travel lens. It's also great for nature and landscapes, because it lets you isolate parts of the subject and create images that let your viewer's mind fill in the blanks. The huge front element and 1.8 aperture make it very usable for shooting sports, as long as you're not too far away.
And if bokeh is your thing, you simply can't beat the creaminess and wonderfully soft backgrounds that the 85mm f1.8 lens produces.
For years, I've carried the Nikon 85mm f/1.8D lens, but this year, Nikon released the updated version, the AF-S 85mm f/1.8G lens.
What's the difference? Although the new 1.8G version is a tiny bit bigger and heavier, it's equipped with the Silent Wave, internal motor autofocus system, which provides ultra fast, whisper quiet focus tracking and lock-on. I imagine that over time, Nikon will incorporate AF-S into all of their lenses. If you haven't used an AF-S lens, they're quite impressive.
Also, the new 1.8G lens has Nikon's Super Integrated Coating, which reduces ghosting and lens flare and improves for exceptional light transmission and superior color accuracy. Effectivley this technology and allows for the crispest, sharpest of imagery.
It's a little more expensive than the older 1.8D model, but not by much. It's still under $500, which is an extremely reasonable price for such a usable and verastile lens.
If you already have the older 1.8D lens, I wouldn't necessarily rush out and switch unless you've got money burning a hole in your pocket. I've still got my D version and I probably won't upgrade anytime soon. However, if you're in the market for a short telephoto and are thinking about picking up the 85mm f1.8, then I'd absolutely recommend getting the newer AF-S 85mm f/1.8G version. It's is an outstanding piece of glass that I think you'll get a ton of use out in your outdoor photography over the years. If I had to buy a new 85 from scratch, I'd definitely get the new AF-S model.
Support this site: If you're in the market for new gear, please consider visiting and purchasing gear through these links. This help cover the costs, effort and time that it takes to run this site and produce these reviews and articles. As always, thanks for reading!
[iframe]<iframe width="120″ scrolling="no" height="240″ frameborder="0″ style="border:none;" border="0″ src="http://mer54715.datafeedfile.com/widget/aff_widget_prdt_generate-2.0.php?aff_num=6746&aff_net=1&widget_num=1351″ marginheight="0″ marginwidth="0″></iframe><iframe src="http:///e/cm?lt1=_blank&bc1=000000&IS2=1&bg1=FFFFFF&fc1=000000&lc1=0000FF&t=danhbaisadvph-20&o=1&p=8&l=as4&m=amazon&f=ifr&ref=ss_til&asins=B006TAP096″ style="width:120px;height:240px;" scrolling="no" marginwidth="0″ marginheight="0″ frameborder="0″></iframe>[/iframe]