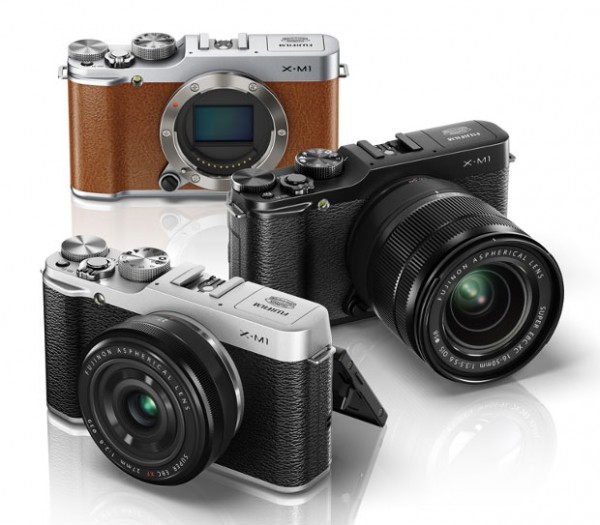 Ok, here's the deal. You've been following all of those photographers who've been shooting the Fujifilm X gear, and frankly, you're a little jealous about how much fun they're having with their stylish little cameras like the X100. And that's not even the half of it. You're super impressed at how damn good their photos look. Even more so, when you find out that they're all just out there shooting JPEGs.
You can imagine how nice it would be to run through the world unencumbered by heavy DSLR gear, especially when you're hanging with the family, shooting around town or in the local park, or traveling abroad. Seriously, who wants to carry big gear when you don't have to?
You also read my posts about what a great little camera the X20 is, but for whatever reason, you want a little bigger sensor or interchangeable lenses. You just don't feel like shelling out the bucks for something like the X100S or the XE-1.
Well, buck up campers, problem solved. Fujifilm just released the brand new XM-1, which is a compact and stylish little mirrorless camera that offers big camera quality in a smaller, more affordable package. Call it the entry level X-Camera. DSLR quality in an incredibly small body.
Inside, it has the  same 16MP APS-C sized X-Trans sensor and EXR II Image Processor that you find in the XPro-1, the XE-1 and the X100S, so essentially, you get the same gorgeous color rendition, stunning high resolution image quality and low light performance that all the X100 users have been raving about, only you don't have to shell out over a thousand bucks to get that X-quality look in your imagery.
The advantage of the X-Trans sensor is that it's built with a random pixel array, which negates moire, and thus eliminates the need for an optical low pass filter. Just as with the Nikon D800E, leaving off an OLPF means that the camera is able to record incredibly sharp, high resolution photos with stunning detail.
Starting at $799, ($699 body only) the XM-1 comes with a 16-50mm f/3.5-5.6 lens (effective 24-76mm view angle) and it has some brand new features, including a tilting LCD screen and built in Wi-Fi for instant sharing to your mobile devices. And it comes in three colors. Silver, black and brown.
The Entry Level X Camera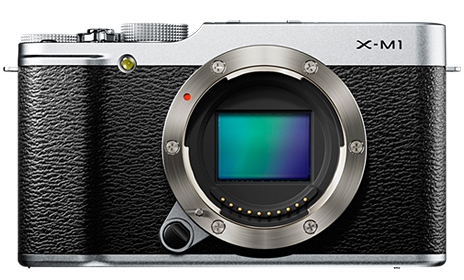 We seem to be entering a new era in digital photography where money doesn't necessarily buy you resolution anymore, it buys you features. I like this era. This is how it should be. That's how it was with 35mm film; no matter what camera you used, everyone had the same "sensor." Money bought you better lenses and cameras that had more features or durability, but it didn't buy you bigger film.
Now, camera manufacturers like Fujifilm are starting to put the exact same sensor in multiple bodies with different price points. With the Fuji XM-1, you don't have to sacrifice image quality just because you're paying less for your camera. You're still able to shoot images that are unbelievably gorgeous, you just have to give up a few things on the body.
In order to make the XM-1 more affordable, they left off a viewfinder. You only get the LCD screen. However, I'm not huge on electronic viewfinders anyway, so I don't see that as much of a deal breaker. The tilting LCD screen is nice because it lets you adjust your view angle for shooting and viewing in different light.
Like most entry level cameras, the XM-1 won't be quite as durable as the higher level X cameras. It's a lighter weight body that has more plastic in its construction. Not a big deal for general use, but if you intend to bang it around and use it in extreme conditions, it probably won't handle the beating.
Also, the the included XC 16-50mm lens is built to be lightweight and affordable, so it's made with more plastic than the XF series lenses that the XPro-1 and XE-1 use. Again, not a big deal unless you abuse your gear.
However, you can just get the body only and use any of the XF lenses on the XM-1, including the pancake style XF 18mm f/2.0 lens, the XF 60mm f/2.4 Macro, ultra wide XF 14mm f/2.8 and the XF 55-200mm telephoto zoom, all of which offer exceptional optics.
Classic Design and Modern Features
Obviously, the huge appeal of the Fuji X cameras is their super cool, classic, vintage style design. They feel awesome to hold, and they're even more fun to use. They've got knobs, dials and full manual control over every aspect of the picture taking process.
The XM-1 offers the same. You still have manual dials, PSAM exposure modes, HD video, 48-point AF, Super Macro, RAW shooting, built-in flash, a 5.6 fps firing rate and a number of advanced modes and the ability to dial in custom settings. In addition, it has film simulation modes and special effect modes that give you plenty of creative options.
The XM-1 also has built-in Wi-Fi connectivity. Simply press the Wi-Fi button on the top of the camera to send photos right to your smart phone or tablet. No waiting to get home to share your work. I expect this to be standard issue on most cameras in the future.
Overall
The Fuji XM-1 is definitely a sweet little camera, and I see it as an awesome choice for beginning and intermediate shooters. If you're just getting into photography and you want a really nice camera that will let you learn and that will take amazing quality photos, then this is the camera for you. And as your skills grow, you can always step up to additional lenses and still keep the same body.
I even see this as viable option for someone who is considering a DSLR, or who just likes the idea of having a lightweight camera system. Why go big and heavy when you can go light and compact and still get beautiful imagery? For general shooting, people, travel, landscapes and outdoor photography, the XM-1 will deliver as well as any camera in this kind of price range.
Support this site: If you're consider picking up an XM-1 or any new gear for that matter, please consider shopping through these links. It helps me keep cranking out articles like this and it tells me that you find my content useful, or at least mildly entertaining. It's like the "like" button, only better.
[iframe]<iframe width="120″ scrolling="no" height="240″ frameborder="0″ style="border:none;" border="0″ src="http://mer54715.datafeedfile.com/widget/aff_widget_prdt_generate-2.0.php?aff_num=6746&aff_net=1&widget_num=4386&sid=" marginheight="0″ marginwidth="0″></iframe><iframe width="120″ scrolling="no" height="240″ frameborder="0″ style="border:none;" border="0″ src="http://mer54715.datafeedfile.com/widget/aff_widget_prdt_generate-2.0.php?aff_num=6746&aff_net=1&widget_num=4387&sid=" marginheight="0″ marginwidth="0″></iframe><iframe src="http://rcm-na.amazon-adsystem.com/e/cm?lt1=_blank&bc1=000000&IS2=1&bg1=FFFFFF&fc1=000000&lc1=0000FF&t=danhbaisadvph-20&o=1&p=8&l=as4&m=amazon&f=ifr&ref=ss_til&asins=B00DCM0DVE" style="width:120px;height:240px;" scrolling="no" marginwidth="0″ marginheight="0″ frameborder="0″></iframe>[/iframe]