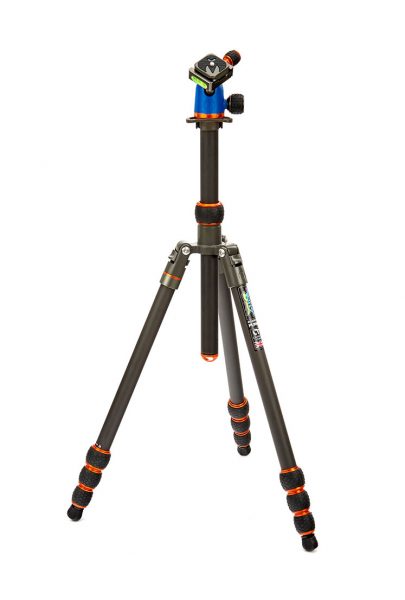 Everyone, meet Billy. On second thought, you probably already know him. After all, who doesn't know Billy?
You know, spiky blonde hair, attitude, MTV star. White Wedding? Yea, that Billy. See I knew you knew him.
Billy is a true rebel. A true English punk, so he fits right into 3 Legged Thing's "Punks" Series of tripods.
Weighing in at only 3 lbs, including head, Billy is also the lightest tripod in their current lineup, and like his namesake, he rocks.
Built from carbon fiber, Billy is light and sturdy. Like any good rocker, he's got quite a few tricks up his sleeve, and he's surprisingly affordable. He's not some stuffy elitist, he's a true working class hero.
With legs that fold back on themselves, Billy packs to only 18″ long, so he's the perfect companion for traveling, whether you're on an extended tour… I mean road trip, or on a flight across the pond.
Billy walks tall, with a max height of 65″, but he can really get down, too. With 3 leg angles, you can fold the legs all the way out and achieve shooting heights of only 4″ above the ground. Or your can stand him up, invert the center column and hang the head upside down. This lets you get your camera into a variety of low and otherwise difficult vantage points.
And as with all the 3 Legged Thing Punks, Billy has a detachable leg that converts into a monopod.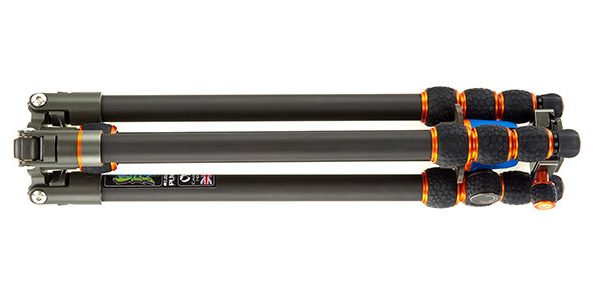 Yea, yea, yea, blah, blah, blah. So it's another tripod. There are tons of them out there. What's so special about these?
I've been a huge fan of 3 Legged Thing tripods every since I first saw the original Punks series. Those were the ones named after The Young Ones TV show that was on MTV in the mid 80s.
It wasn't the features that grabbed me, it was the style and workmanship. The 3 Legged Thing tripods are gorgeous. Unlike some tripods, they're not the least bit clunky, they're sleek and sexy and designed with both function and look in mind. This makes sense, seeing as how they're marketing themselves to visual people like photographers.
I see a ton of tripods when I teach workshops, but it's the 3 Legged Thing tripods that always catch my eye. And, of course this means, whoever, has one inadvertently gets extra attention from me. Is this entirely fair? Who knows. Who cares. All I can say is that if you line up 10 people with tripods and one of them has a 3 Legged Thing, guess which on I'm likely to spot? Can you use this to your advantage? Who's to say?
It's true, shiny looks don't make a great tripod, even though the knobs and twists locks look really sharp, with anodized trim and different colors. However, that's kind of a thing these days with tripods, even though noone quite does it with the same style as 3 Legged Thing.
And it's not just looks, it's attitude. Like the friction knob that says "Rock – Lock" instead of "Loosen – Tighten." And the Union Jack on one of the legs. Nothing says rock and roll like the Union Jack.
Colors aside, what really matters, of course, is that they function beautifully, with exceptionally smooth precision. 3 Legged Thing tripods are very well engineered, and this is easily apparent as soon as you handle one. They have a high level of attention to detail, and they have excellent customer service.
Compare this with a huge company like Manfrotto. I broke one of my Manfrotto family tripods and am still waiting for a replacement. I first contacted them over 14 months ago, and… *crickets*. Still Waiting.
All the new punks features newly designed rubber grips, which twist easily and helps reduce weight. They also come with a dedicated quick release ball head with a rubberized Area-Swiss compatible plate, a little clip-on multi-function tool, 2 bubble levels, rubber feet that that can be swapped out with 3 different kinds of spikes and claws for varying terrain.
With a 40 lbs. load capacity, Billy is sturdy enough to support just about any camera system. He's one of the strongest tripods in his class. As I said above, he's light and small enough for travel and backpacking and more than cool enough for general use. Whatever that means.
Best part about Billy, is that he's very affordable. While most high-end carbon fiber tripods cost anywhere from $300-500 and more, (priced a Gitzo lately?) Billy only costs $279. Like I said, he's a working class hero, but he's not cheap like those budget carbon fiber models that are light, but not all that sturdy. Billy's the real deal.
If you're looking for a very well made carbon fiber tripod for outdoors or travel, and you don't want to break the bank, I highly recommend taking a look at this tripod. There's really nothing about it that you won't like.