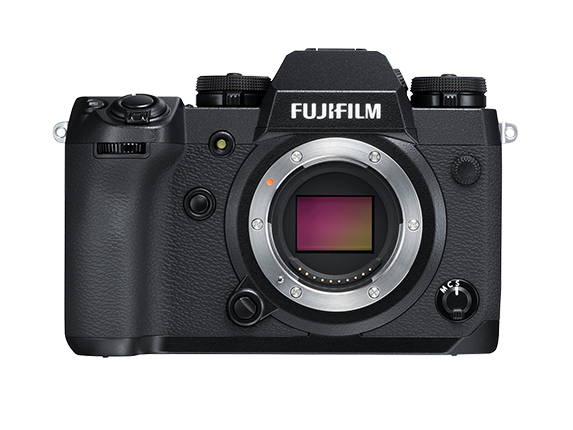 Last Thursday, Fuijfilm announced the new X-H1, which is the first X Series camera to features in-body image stabilization, commonly referred to as IBIS. Using a combination of accelerometers, 3-axis gyro sensors and a special dual-processor, the X-H1 can analyze and correct for camera motion at up to 10,000 calculations per second and add up to 5.5 stops of stabilization.
This can be combined with the OIS stabilization found on some of the Fujifilm lenses for even greater stability when shooting in a wide variety of situations, whether you're shooing hand held, from a moving vehicle (what about a Cessna?) or a tripod.
As recent as one year ago, Fuji reps and spokespeople had been holding to the line that adding IBIS to an X Series camera would necessitate a bigger sensor and larger lens mount. Obviously the Fuji engineers solved this problem without changing either of these things; it still has a 24MP X-Trans APS-C sensor and the regular Fuji X Mount.
High End Video
The other big thing about the X-H1 is that it has greatly enhanced video capabilities. In fact, the X-H1 was specifically designed to function as a high-end video professional camera and compete in that market.
With its larger heat sink, the X-H1 can shoot 4K video at up to 200Mbps (twice as high a bit rate as the X-T2) at a duration of 1.5x longer than the X-T2; 15 minutes per battery. Add the new X-H1 Vertical Booster Grip and you can triple that time.
It also features two new aspect ratios: 3840 x 2160 UHD (Ultra Hi Def) and 4096 x 2160 Cinema 4K (DCI 4K), and supports high speed video recording at 120p. It also featuress a brand new film simulation.
ETERNA was Fujifilm's professional motion picture film stock and it has been reproduced inside the X-H1. With cinematic color rendition, lower saturation and a very high dynamic range, ETERNA is designed to give you that "classic movie look" right out of the box, and it lends itself extremely well to color grading.
It's interesting to note that back in 1934, motion picture film was the first product that Fuji ever created. As with the other film sims, ETERNA carries a rich legacy.
Photographers who go back and forth between shooting stills and motion will like the fact that the X-H1's video menu contains many of the same settings you'll find in the IMAGE QUALITY menu, like HIGHLIGHT  and SHADOW TONE, AF-C Custom Settings, and DYNAMIC RANGE. This allows you to designate separate settings for still shooting and video.
Add the option for F-LOG, uncompressed output, Flicker Control, silent video operation, a variety of slow-motion video speeds and a Fn button option that lets you instantly switch to slow motion, and the two new new super-high end X-Mount Cine lenses they also announced the X-H1 allows for whole new world of video quality and creativity when telling your stories. And it even fits housings and mounts that are specifically designed for the Panasonic G5.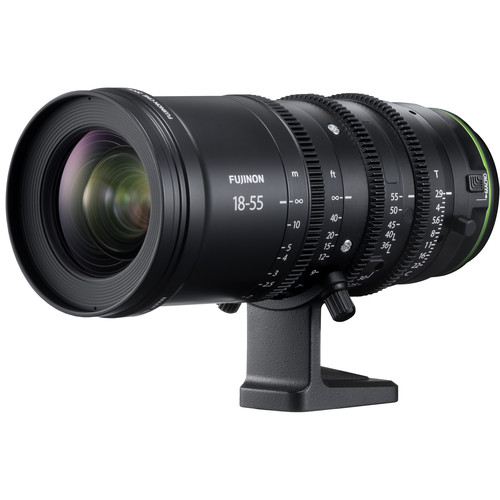 Beefed-up Body Design
The X-H1 is built to be a professional grade camera in every way, and it features a scratch and ding resistant magnesium alloy chassis that's 25% thicker than the body on the X-T2. The lens mount has been redesigned to make it more shock-resistant without adding extra bulk.
This does make the X-H1 a bigger, heavier camera than the X-T2. It also features a larger grip and top-deck LCD panel that's similar to what you see on the GFX.
The body design and layout will surely feel familiar to users who are coming from DSLRs, but it's still an X Series camera at heart; it features the four thumb-pad buttons, the touch screen "swipe gestures" used on the X-E3 and a combination of Fn buttons and swipes that add up to a total of 13 Function controls.
Fuji shooters will instantly notice that the X-H1 is missing the EV+/- dial. It's been replaced by the top-deck LCD. EV control is now performed via a Fn button and the rear command dial. There is a dedicated "+/-" button, but this is just another Fn button and you can assign EV control to any Fn button and you can assign any Fn control to the "+/-" button.
The X-H1 also has a DSLR-style shutter button. It has a larger surface area and an extremely high touch, although it ins't compatible with mechanical cable releases.
Upgraded Performance
The X-H1 has been tweaked for maximum performance. It features a very large 3.69 million pixel EVF that's bigger and brighter than the EVF on the X-T2. It also has highly updated autofocus algorithms which allow it to track fast moving subjects with even more precision an accuracy.
This makes even more capable for shooting extremely fast action like motorsports and extreme athletes, and also difficult or erratically moving subjects like flying birds. Combine this with the rumoured 200mm f/2  lens that's in the pipeline and you've got an extremely capable setup.
Overall Thoughts
The X-H1 is kind of an interesting beast, and while it's sure to elicit criticism from reviewers and forum trolls, it does step things up with features that people have been asking for.
In fact, that's exactly how I see this camera. For years now, there have been a lot of photographers who are attracted to the Fuji system and the X Series, but for whatever reason, they just can't pull the trigger because the system has been lacking a few things that companies like Sony and Canon have on their cameras.
With the X-H1, the X Series now has in-body stabilization, a beefier DSRL-style chassis, even faster autofocus and even more high-end video capabilities, and yet it still has the X Series mojo and all the regular X Series features.
So, Fuji has effectively checked off a few more boxes and given those people who are on the edge even more reasons to consider switching to the Fuji system. And while it's kind of sad that Fuji has to continually chase companies like Sony, that's the reality of the modern technology world.
Yes, the X-H1 is bigger, heavier and at $1,899, it's more expensive than something like the X-T2, but it's a pretty bad ass camera. Although technically an X Series camera, in terms of design, it's actually quite similar to the GFX, although not quite as big. In a way, the X-H1 sort of straddles the two systems.
That said, it has the exact same sensor and image processor as the X-T2, X-Pro2, X-E3, X-T20 and X100F, so in terms of color and image quality, it should give the same level of performance as all the otters recent X Series cameras. Don't rush out and order one if all you're craving is better image quality, unless it results from a requirement of additional stabilization.
The X-H1 is not for everyone, and Fujifilm knows this. They don't expect everyone to buy one. I don't see a ton of X Series users trading up. However, for pro Fuji users who are serious about shooting video or who demand the highest level of performance and rugged durability from their cameras, and DSLR shooters who are on the cusp of moving to the X Series, the X-H1 looks pretty darn appealing.
For X Series users who do trade up, it will be a seamless transition. The X-H1 is still an X Series camera through and through, so it has all the settings, functions and creative tools you've grown to love, just in a more high performance model.
By the way, that's exactly what the "H" stands for: High Performance.
And of course, all the features I talk about in my comprehensive X SERIES UNLIMITED eBook will apply to the new X-H1, so if you're new to the system, I highly recommend checking out the guide.
The X-H1 is slated to hit stores on March 1. You can preorder one here. You can also check out the dedicated X-H1 special site and see all the features here. You can watch and see how the image stabilization works in this sample video.