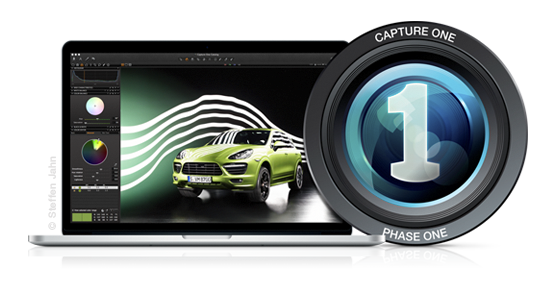 Despite the constant improvements and updates to Photoshop CC and the fact that Adobe just made their $9.99/mo LR + PS Photography Program permanent, the whole Creative Cloud plan still leaves a bad tastes in some people's mouths, including me. While I'm a longtime Adobe user, I'm not overly excited about their new business model. The software is good, but I think they should offer a few more pricing options, as not everyone has the same needs or budget.
The new plan looks like it's here to stay, though. If you just can't stomach yet another monthly fee in your life and aren't gushing with excitement about Adobe Creative Cloud, rest assured; you do have a few options for your photo editing. Here are some viable alternatives to Photoshop and Lightroom.
1. Capture One Pro 7
Capture One Pro 7 by Phase One is a professional grade solution for all your photo editing and archiving needs. An alternative to Lightroom, and to some extent, Photoshop, Capture One is the choice of a large number of pro photographers around the world and it offers complete organizing/catalog features, exceptional image quality and RAW conversions, powerful adjustment tools and a full array of export and printing options.
Capture One Pro 7 lets you shoot tethered, it has a customizable interface and mobile solutions with its companion app Capture Pilot, which works with both iPhone and iPad. In addition to previewing and starring images, you can even control your camera wirelessly through your iPad.
I've been very tempted to try Capture One and I've heard nothing but great reviews from people who use it. Honestly, the only reason I don't is that I'm afraid I'll like it. I'm just not ready to leave Adobe yet, but if they start going a direction I don't like, I'd jump ship and go the Capture One Pro route in a heartbeat.
Right now, until the end of June, Capture One Pro 7 is half price, only $149. They also have an Express version that does most things the pro version does, minus tethered capture, Focus Mask, Skin Tone Enhancer and a few other things. You can demo either version for 30 days.
2. Standalone Lightroom/Aperture
At this point, you can still buy Adobe Lightroom and Apple Aperture as standalone versions. For many people these programs offers everything you need in your photography workflow, all the way from import to export. I use Lightroom every single day, but I don't use Photoshop every single day. For most things, LR does the job. So would Aperture.
If you go with he Lightroom/Aperture standalone route but need a little more power in your (occasional) photo editing outside of Lightroom, you could try using one of these options programs below. They're not quite as powerful as Photoshop, but then again, most photographer's don't even scratch the surface when it comes to the depths of power that Adobe packs into the full version of Photoshop CC.
3. Pixelmator
Pixelmator is a beautifully designed full-feature image editing program for the Mac. It has a gorgeous, straightforward user interface, great performance, especially with the newer Macs, and has a full selection of editing options, including layers, blending modes, text tools, layer masks, cool vintage effects, repair, move/selection tools, 16-bit processing, clone stamp, red eye removal, and color adjustments that give you three levels of control.
Started by two brothers, Pixelmator won an Apple Design Award for it's strikingly simple, yet powerful user experience and innovative features. If you're a Mac person, you might really like working with this app. Best part, it's only $29. You can also demo it for 30 days and see if you like it.
Note that Pixelmator has a few limitations that make it not quite ideal for all out professional use. For example, it only works in sRGB mode, so you can't open or export images with AdobeRGB or CMYK profiles. However, for general photo editing on images that you'll post to the web or print at home, Pixelmator is an affordable, simple solution that will get the job done in a fun way.
4. Gimp
Gimp (GNU Image Manipulation Program) is a powerful and free program that does a variety of photo retouching tasks. It works on Mac, Windows and Linux. I've never used Gimp, but from the documentation, it look pretty powerful, as it lets you work with curves, channels, layers, multiple undo/redo, text layers, transform and more. It's also compatible with just about every single file format.
Gimp is not nearly as pretty and fun to use as Pixelmator, but my impression is that it's more souped up under the hood with regards to the tasks that professionals need. In addition, Gimp has its own registry of downloadable plug-ins that increase its capabilities. If you're more of a Linux and Windows user, or just aren't into the whole Mac thing, you might find Gimp a little more appealing. Plus it's free.
5. Iridient Developer
Iridient Developer is an RAW conversion program for Mac OS X written by a guy named Brian. That's right. One guy. However, his program is very much worth looking at, especially if you use any of the Fuji X cameras like the X-T1 or X-E2. Whereas Lightroom does an amazing job with traditional Bayer-patter sensors, it still has slight trouble with the non-Bayer design of the Fuji X-Trans sensor.
Iridient Developer supports a wide variety of cameras and RAW file formats although it lacks the exciting user interface of LR and Pixlemator, it does have a full array of powerful tools, and it does a fantastic job converting and exporting RAW images.
I've tried the program out very briefly, and with my limited experience, ID does seem to produce slightly sharper conversions with my Fuji X-T1 RAW files. Keep in mind that both LR and ID have a number of sharpening options, and I haven't spent too much time with ID, I can't really offer an expert opinion on this matter. However, on first impressions, Fuji photos converted with ID definitely seem to hold more detail.
Try it out for yourself and see what you think. The demo version is fully functional, it just imparts a watermark on exported images. The full version is only $75 and from what I hear, Brian offers excellent customer support.
6. Photoshop Elements
Photoshop Elements 12 is the stripped down version of Photoshop CC that does most things that the average user needs with their photography software. It has three modes, depending on how fast you want to be or how comfortable you are with the adjustments: Quick, Guided and Expert.
Quick is single click mode with simple options that gives you immediate results. Guided mode walks you through the steps needed to make most major adjustments. Expert mode lets you take control and fine tune your adjustments if you know what you're doing.
PS Elements also has file management and organizational tools that are very similar to the way iPhoto works. If you already use LR, you obviously don't need this feature, you could just use Elements as a standalone editor. That said, it's my guess that the processing tools in Lightroom are as powerful (if not more) as anything you're going to find in Elements. Think of Elements not as a companion to LR, but as an alternative to LR for beginners who haven't yet moved up to LR.
My advice, though, is that if you're serious about photography and you're thinking that Elements might be an option, you might as well get the standalone version of Lightroom. It's more powerful, it costs the same as Elements and it will give you much better catalog and archive options for your image library.