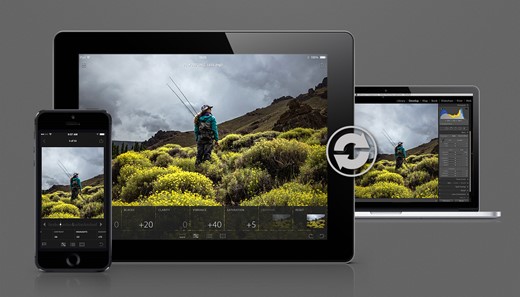 Last week Adobe rolled out a big new update to their Creative Cloud service and announced a few new features and improvements for photographers.
The first is the fact that after dangling the carrot in front of us for months, they finally made permanent the CC Photography Plan, which gets you Photoshop CC and Lightroom for $9.99/mo. While this plan still isn't the perfect solution for some photographers, it appears here to stay, so if you want PS and LR, this is your only option. At least now, you don't have to rush and make a decision if you're on the fence.
The second big announcement is that Adobe has now released Lightroom Mobile for the iPhone. It's identical in functionality to the iPad version, which was introduced back in April, and both apps now include star ratings and custom view and sort options. (If you've been using the LR Mobile on the iPad, you'll want to upgrade to v. 1.1.)
This lets you take your photography workflow just about anywhere, at least anywhere you have a wi-fi connection. I see this as a useful solution, because although we may not carry our iPads everywhere, we almost always have our iPhones with us.
If you're like me, you're in a constant state of editing from all the recent shoots that continue to pile up on the desktop. If you can knock out a few folders of images when you've got some free time on the go, that's a good thing. Even just X-ing a few rejects will make a difference when you get back to the regular computer.
With Adobe's Smart Preview feature that's built into LR Mobile, RAW files only take up about 1-2MB each, but since they have to be sent up into the cloud from your desktop and then back down to your iPad, that still takes time and bandwidth if you've got a huge folder of images. In those cases, it might be a good idea to break them up into smaller collections so that you're not overloading things.
LR Mobile still doesn't do keywording, but it seems like Adobe is on the right track and listening to their customers. I'm confident that we'll see that feature added in a future version of the software. Also, note that LR Mobile only works with iOS 7.
You can read about all the new photography updates to Adobe Creative cloud here, including Photoshop improvements and the new Photoshop Mix iOS app.
However, if you're not super excited about the Adobe Creative Cloud plan, here are 6 alternative photo editing software choices.