The Apple iPhone is without a doubt the coolest innovation we've seen in a long time. It's gorgeous 3.5-inch, wi-fi and fast network capabilities and its revolutionary touch technology makes surfing web sites and blogs a joy. Images and text are rendered beautifully in 480 x 320 pixel resolution. 
However, it does have it's limitations when viewing blogs.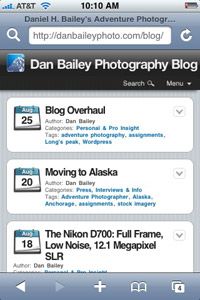 Since blogs are essentially made up of chronological entries that follow each other on the page, and since they often contain so much information, it can take alot of scrolling with your finger to navigate down the page.
To make your experience here a bit easier on those of you who own these ultra cool gadgets, I've added the WPTouch WordPress plugin  to my own blog. This useful plugin automatically reformats the blog for optimum viewing on an iPhone or iPod Touch, even when you're on Edge or 3G network.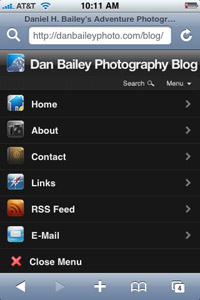 Content is quickly loaded onto the screen as an indexed list of entries that can either be read as short excerpts or expanded into full size. All of the content in the original post, including images and iPhone compatible media is preserved.
The utility also adds a search bar and an easy to read menu that lists all of the pages and links on the blog, as well as the RSS Feed and an email button. It also gives you the option to read the blog in it's regular web-style format. So, if you have an iPhone or an iPod Touch, surf on by the next time you're out and about.
I promise you, it will be loads of fun!
Follow @Danbaileyphoto