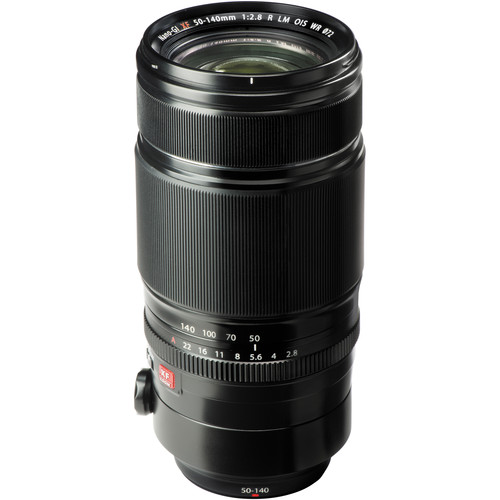 Fujifilm has been steadily building a high quality lens system for the X camera system during the past few years.
However, so far, what's been missing from the lineup has been a fast tele zoom. You know, something along the lines of a 70-200 f/2.8, which is an indispensable tool for sports, action, adventure and assignment photographers.
The wait is over. In the middle of last year, Fuji announced their new XF 50-140 f/2.8 OIS Weather Sealed lens, and it's now shipping.
This is the lens I've been waiting for. Since the moment I got the X-T1 in my hands, I knew that this would be the final nail in the coffin for me to go entirely mirrorless. (It has a view that's equivalent to a 76-213mm when compared to full frame.)
I actually got a chance to try this lens out back in October while I was at PhotoPlus Expo, and I can report that it's quite an impressive piece of glass. Sure, it's bigger and heavier than something like the XF 18-135, which has become a favorite of mine, but it's a /2.8, so you want the speed, you've got to take that tradeoff. Also, it's got considerably more metal in the consrtuction than the 18-135.
That said, it's not exceptionally bigger, it's a similar size and weight to the  Nikon AF-S 70-200mm f/4G ED VR, which became my go-to backcountry Nikon zoom lens during the past few years. ( like to refer to that one as the "Adventure Photographer's Dream Lens.") So, we're talking the feel of an f/4 lens, but it's f/2.8.
The optics of the XF 50-140 are nothing short of astounding. I was able to shoot a few frames with it in the trade show hall and was blown away by the quality and sharpness this lens is able to produce. In addition the Triple Linear Motor offers incredibly quick and responsive autofocus on the X-T1.
It also has a removable tripod collar, which is something my last two Nikon tele zooms didn't have, and it's weather sealed.
Like I said, this is the lens I've been waiting for. It's the lens a lot of X shooter shave been waiting for. It's the perfect companion lens that will let you take full advantage of the X-T1's predictive autofocus capabilities when shooting fast action, and it's built to be pretty rugged as well. I'd venture to say that this will quickly become my new dream lens. Of course, X-Pro1 portrait and wedding shooters are sure to love the sharpness of the XF 50-140, if they don't mind a little extra weight.
I'll post photos and a more in-depth review after I get this lens in my hands, but I already know that I'm going to love it. I've already made a place for it in my bag.
The XF 50-140 f/2.8 OIS WR lens is on shelves at B&H Photo, and it's also available at Amazon.
[iframe]<iframe width="120″ scrolling="no" height="240″ frameborder="0″ border="0″ src="http://mer54715.datafeedfile.com/widget/aff_widget_prdt_generate-2.0.php?aff_num=6746&aff_net=1&widget_num=6170&sid=" marginheight="0″ marginwidth="0″></iframe><iframe style="width:120px;height:240px;" marginwidth="0″ marginheight="0″ scrolling="no" frameborder="0″ src="//ws-na.amazon-adsystem.com/widgets/q?ServiceVersion=20070822&OneJS=1&Operation=GetAdHtml&MarketPlace=US&source=ss&ref=ss_til&ad_type=product_link&tracking_id=danhbaisadvph-20&marketplace=amazon&region=US&placement=B00NF6Z8IK&asins=B00NF6Z8IK&linkId=CJ6TVYAJQZW7FRKS&show_border=true&link_opens_in_new_window=true">
</iframe>[/iframe]
Related articles across the web