Get All 3 of My Photography eBooks for only $17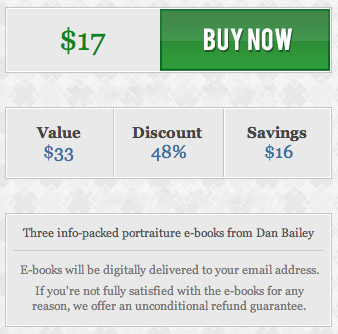 How's this for a deal?
Right now you can get ALL 3 of my photography eBooks for only $17.
I'm offering this limited time deal through PhotoWhoa.com, who has bundled together all three of my books at a 48% discount off of the regular price.
This offer is only good through February 7, and it will likely happen again, at least not any time soon.
How to Become a Pro Photographer
You want to take the next step from amateur to pro, but you have no idea how you can start earning a living from photography. This e-book answers many of your questions about the industry and the business-side of photography.
With this e-book, you will learn the ins and outs of the photography business. This book isn't about how to take better photos, it's about taking your hobby into a full-time career. This is the book to read if you need to know about the business and logistics side of a photography career.
Making the Image
Making the Image is a conceptual guide to have you thinking outside of the box so you can start creating beautiful images. With this guide, you'll be able to learn how you can take beautiful photos in order to create true emotional impact with your audience.
Bailey utilizes beautiful imagery from his own portfolio so you can easily grasp the concepts that he's teaching. For your convenience, the book is horizontally formatted, making it easily readable on computers and iPads.
Going Fast with Light
Going Fast with Light teaches you the nitty-gritty technical details so you can properly use your tools to take better photos. Specifically, you'll learn about using off-camera flash in outdoor settings, where even the best photographers have trouble against the elements of nature.
With the techniques used by Dan Bailey, you'll be able to efficiently take control of lighting situations even when you face great challenges such as the sun, and you'll be able to do it without having to lug cumbersome, heavy lighting equipment.
Again, this offer ends on February 7. Consider signing up for my Adventure Photography Blog Newsletter to stay informed about future deals and get exclusive content delivered right your inbox.