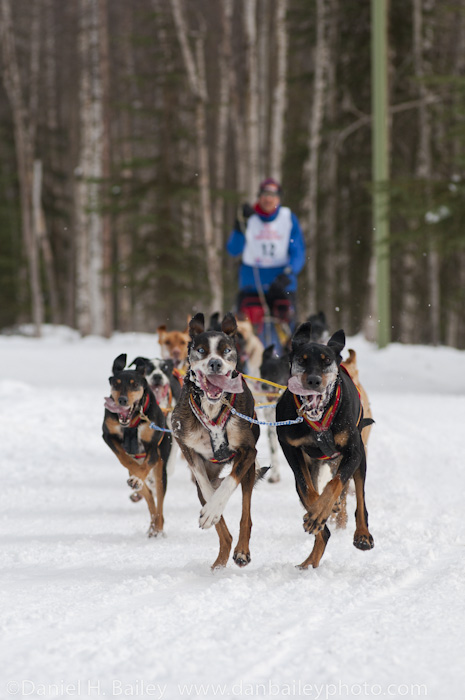 Here's a photo I shot last weekend during the 2011 Fur Rondy Sprint Sled Dog races here in Anchorage. Fortunately, the races go down the trail right by my house, so finding a good vantage point is as easy as hopping on my bike and pedaling for about five minutes.
I really like the image for a number of reasons. The near-perfect synchronicity of the two lead dogs is something you can only hope to capture by firing off a burst of images as the team rockets on by. It's the kind of shot that happens so fast in a flurry of snow and motion that you don't know if you actually got it until you look at the preview.
It's the kind of shot that, when I look at it later gets me thinking about what it takes to make a great image. Then I ran across a great post by Utah photographer Bret Edge this morning that pretty much says it all. It doesn't correlate perfectly to this kind of action shot, since Bret is primarily a landscape photographer, but it's pretty universal advice with some, well thought out points. It can certainly put you on a path to making better images and improving your photography.
Read Bret's post The Best Photography Advice I've Ever Received, and then if you have some time, be sure and poke around this site for some of my own creative tips.
Happy shooting!