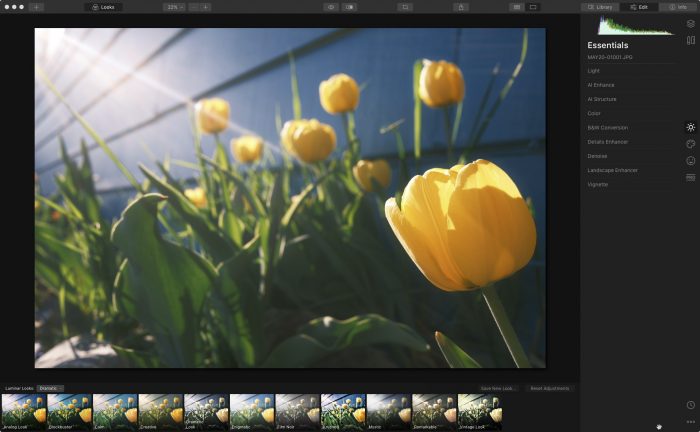 Skylum has released the version 4.3 update to Luminar 4, and with it comes a bread new Search Tool. In addition, they've added a number of performance upgrades, a better visual experience when using Looks, and support for some of the latest model cameras, including the Fujifilm X-T4 and X100V.
The new Search Tool is a long awaited feature that adds a totally new functionality to the program, and helps speed up your workflow by streamlining the way that you find your images in the Library.
Located in the Gallery View window, Luminar's new Search Tool allows you to find images by name, folder, date or extension. (You can watch a quick demo of the search function here). This allows you to quickly locate single images, or batches of images.
You can't search by caption or keyword yet, but I would imaging that's coming. As with everything else, the Skylum engineers are moving in steps as they build out the program.
Instead of trying to add everything at once, which make potential problems much more difficult to diagnose, they add one or two new features at a time and improve functionality on a continuous basis. This keeps things much more simple and streamlined in the design process.
That said, even though Luminar's new Search Tool isn't quite as powerful as what we're used to in many programs, it's a good start, and something they can now build on.
Other Visual & Performance Improvements in v.4.3
In addition to the Search Tool, Luminar 4.3 opens RAW files even faster than before, and overall, the program has been optimized to use considerably less memory, so tools will be more responsive and operate more smoothly. This is especially true with the Crop tool, which has been tweaked for even better performance.
The Looks panel has been improved to give a much better viewing experience. Now, when you hover over a specific Look down in the Looks bar, instead of seeing the preview of that look on the tiny thumbnail, you'll see the effect previewed on your main image. This will give you a much better idea of how each Look will affect your pictures. (See an example here.)
Luminar has also added support for the latest cameras, including the Fujifilm X-T4, X100V, XT-200, Nikon D780, Z50, Canon EOS-1D X Mark III, Sony A9 II and others from Olympus and Panasonic.
Click here to see all of the new performance enhancements and upgrades in Luminar v.4.3. It's a free update if you're already a Luminar 4 user.
If you're not a Luminar 4 user, you can check out the program here, and if you decide to purchase it, use coupon code DANBAILEY to save $10.