I'm excited to announce my upcoming Matanuska Glacier Photography Workshop, which will take place during the weekend of April 1-3, 2016.
During this two-night weekend workshop, you'll have the opportunity to explore one of the most amazing and rugged locations that Southcentral Alaska has to offer, the massive Matanuska Glacier, in the heart of the Chugach Mountains.
You'll spend a full day exploring the glacier up close, with time to intimately photograph this otherworldly landscapes of snow and ice. This is really an amazing location, full of ice caves, massive walls of blue ice, impressive crevasses, and stunning ice formations that jut up into the sky. It's a photographer's playground!
Of course, I'll be right there with you to provide personal instruction and assistance so you can get the best shots possible. I want you to walk away with photographs you're really excited about, so my focus will be on teaching and giving you compositional tips and technical guidance, as well as general tips for shooting in these kinds of environments, and if you wish, you'll have the chance to try out some of my Fujifilm X Series mirrorless cameras and lenses like the X-T1 and X-T10.
Weather permitting, you'll hopefully be able to catch the late afternoon spring Alaska light on the surrounding landscapes of the Matanuska Valley, and do some "night sky photography". Early April is a great time to explore the Matanuska Glacier. It's still winter out there, but the coldest part of the season has past, so it's pretty comfortable to be outside all day. Also, the light is coming back fast during that time of year. The days are getting longer, and sunset that week is around 8:45 PM, and there's still enough darkness to see amazing aurora displays if the Northern Lights are out.
Accommodations are based at Sheep Mountain Lodge, where you'll stay in one of the rustic, yet comfortable cabins and enjoy a beautiful wilderness setting with classic meals done Alaska style.
This promises to be an awesome weekend for outdoor photography, with so many possibilities for great subject matter, instruction, getting to know other photographers, and spending an experiencing a beautiful part of Alaska. I hope you can join me!
Please visit the workshop page at Alaska Photo Treks to see more info and reserve your spot on this trip.
Itinerary
Day 1, Friday afternoon
Arrive on your own to Anchorage, AK. Transfer by van for the one-hour drive to the Sheep Mountain Lodge, about a 2-hour drive.  Check-in to your cabin. Pre-workshop orientation, dinner and an instructional presentation on winter landscape photography at the lodge. Evening and night sky photography, if the conditions are clear.
Day 2, Saturday
Breakfast at lodge. Informal, yet important and safety briefing before heading out to the glacier. Then we'll drive out to the Matanuska Glacier and explore the area for a full day of photography, with opportunities for personal, firsthand instruction and guidance by me. If the weather is clear, we should see various spectacular views of the higher peaks of the Chugach Mountains. Evening is spent with another home-cooked meal and sunset/night sky photography if conditions are clear. 
  
Day 3, Sunday
After breakfast at the lodge, you'll have the chance to explore the area around the lodge and practice some outdoor photography on your own and learn some new techniques or try out some new gear. You'll also have time to edit your photos from the day before for our final classroom presentation slide show and critique, where you can share you best work. In the late afternoon, we'll all ride the van back to Anchorage, arriving around 6:00 PM.
Accommodations
Operating for nearly 70 years, the Sheep Mountain Lodge offers a unique balance between rustic and comfort. Set alongside the edge of an immense wilderness that straddles the Chugach Mountain Range and the Talkeetna Mountains, the lodge offers handcrafted cabins with comfortable amenities, tasteful styling and friendly hospitality.
Each cabin offers a view of some truly amazing Alaska mountain scenery outside and if you keep your eyes open, there's a good chance that you'll see some Alaska wildlife wander by right outside your window, such as moose, lynx or snowshoe hare. The dining room features fresh Alaska seafood, steaks, homemade desserts, soup and baked goods, including fresh-baked cinnamon rolls, cookies, strawberry-rhubarb pie and sourdough bread, as well as a selection of beer and wine. With reasonably close access to Anchorage, a stay at Sheep Mountain Lodge is a truly memorable and unique experience. The lodge has received the Trip Advisor Award of Excellence.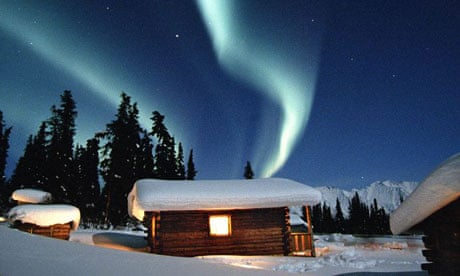 Trip Cost
Classic Cabin:  $895 per person. Includes 2 nights' accommodations and meals from arrival day dinner to last day breakfast and round-trip transportation from Anchorage. The beautifully handcrafted Classic Cabins offer a rustic experience with one queen bed and one twin bed, table and chairs and kitchenette, and a shared bath and the use of the showerhouse building. (Classic cabins do not have running water in the winter season.)
Premier Cabin:  $995 per person. Includes 2 nights' accommodations and meals from arrival day dinner to last day breakfast and round-trip transportation from Anchorage. Premier Cabins are fully furnished with two queen beds, pull-out sleeper sofa, table and chairs and kitchenette, running water, private bath with shower. Note, there are only four Premier Cabins available.
Reserve Your Spot Now! – Visit Alaska Photo Treks to secure a spot on this workshop.
As always, if you have any questions about this workshop, don't hesitate to contact me and ask!