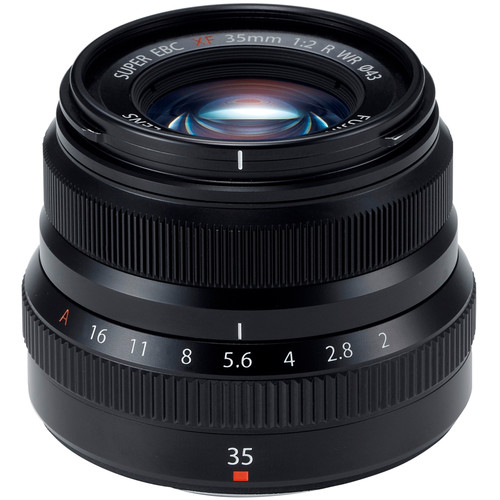 I have this vision of the Fuji engineers in Japan all sitting around a giant blackboard, gulping espresso and Red Bull while they crank out endless equations and design new lenses.
In effect, that's what lenses are, they're just math. At least on the inside. In fact, one of the first lens designers was Joseph Petzval, a math professor from what is now modern day Slovakia, who came up with the design for a portrait lens fast enough for daguerreotype cameras in 1840.
Of course, the math has to fit inside a package that appeals to us image conscious photographers, and therein lies the challenge. Building lenses that combine the perfect blend of quality and ergonomics is not easy, but it seems like the Fuji engineers are on a roll.
Last month, Fuji released their brand new 35mm f/2 WR lens, and it's a hot little number. I first saw it at PhotoPlus, and was seduced by its sheer sexiness. With its compact build and tapered front end, it has a certain "Summicron" look about it. Slap it on the front of an X-T1 or X-Pro 1, and it suddenly give your camera that "gentleman's" look, or "gentle ladies'" look, if you prefer.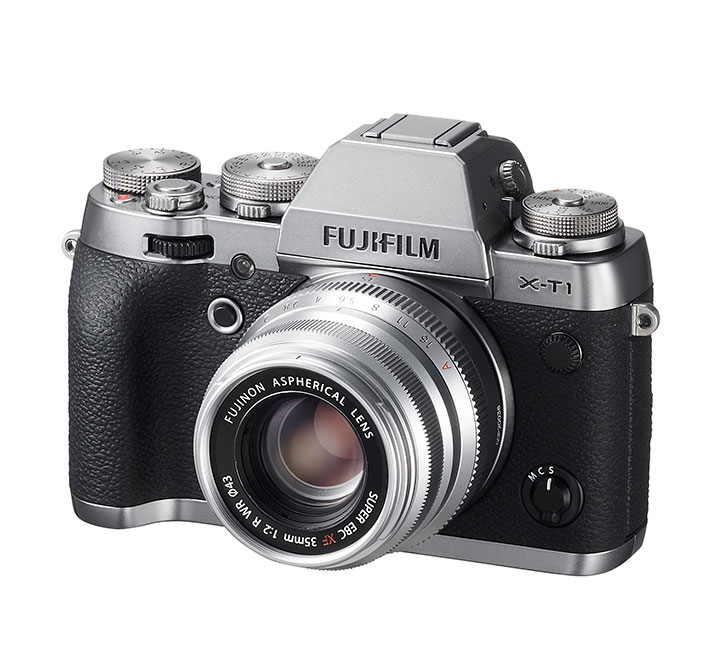 If that's not enough, then get the silver version for your graphite silver X-T1 or chrome body X-T10. Now we're talking- this thing is simply gorgeous, and it brings you back to that kinder, simpler time in photography.
Needless to say, I was pretty taken aback by this thing, but then I remembered, looks only count for so much with me. Although I'm nice guy, I'm much more dirtbag than gentleman. Looks only go so far with me. For the kind of photography I do, it's what's under the hood that counts.
After trying it out, I realized that the new XF 35mm f/2 is no slouch. It's not just a pretty thing that needs a pedestal, this is something you can pull down into the trenches and get dirty. It's the real deal.
Design and Build
First of all, like most of the new Fuji lenses, the new 35mm f/2 is weather sealed. It has eight seals inside the barrel that protect against moisture and dust. Again, perfect companion for the X-T1.
Inside are 9 elements in 6 groups, including 2 aspherical elements that help minimize chromatic aberrations and distortion, and 9 aperture blade for nice, round bokeh. In addition, Fuji used their Nano GI coating, which helps control ghosting and flare.
In hand, the 35 is tiny, but substantial, with a nice tight aperture ring. It feels solid, like a lens should feel, but since it's so small, it hardly adds any weight or bulk to the camera. It gives your camera that unobtrusive, nondescript "tourist look" that makes your X-T1 blend into the crowd. As if it didn't already do so. But again, the 35 is no tourist lens. This thing is for real.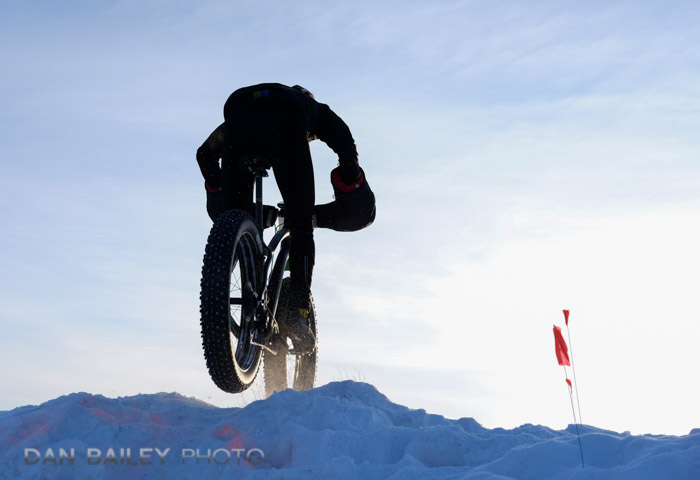 Fast Autofocus
As soon as my 35mm f/2 arrived, I took it outside for an entire day of shooting on Global Fat Bike day and threw it right into service shooting a fat bike race here in Anchorage. In fact, that's the only lens I brought with me, so it had a tall order in front of it, but as you can see, the new 35 passed the test with flying colors.
The classic 50mm, which is basically what a 35mm lens is on an APS-C sensor camera, is not exactly considered to be the ideal "sports lens." You often have to get pretty close in order to make things exciting, and of course, the closer you are to the action, the more critical AF performance is, since the relative motion so much greater.
However, VERY MUCH UNLIKE the original Fuji 35mm f/1.4, which focuses extremely slow, the new 35mm f/2 WR lens is a very fast performer in the autofocus department. It's quick, silent, and in continuous high mode on the the X-T1, it does a fine job tracking moving subjects. I was actually quite impressed with how well it performed.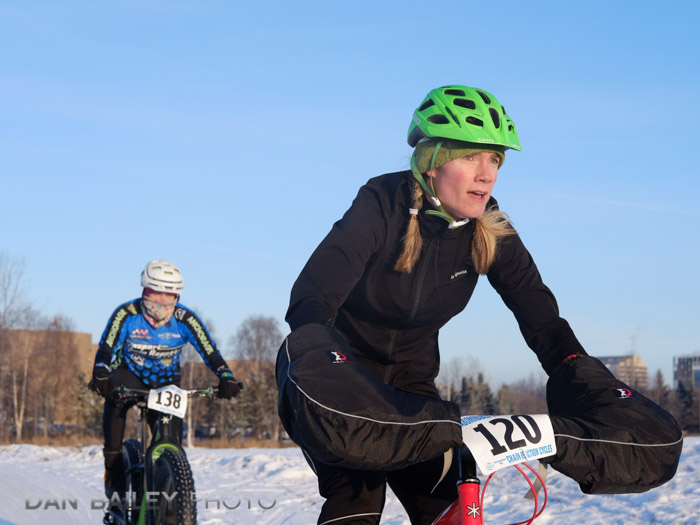 Fast Aperture 
While it's not quite as fast as the 35 f/1.4, the maximum aperture of f/2 on the new 35 is still pretty wide, especially considering how small and compact this lens is.
Really, anything under f/2.8 is considered to be pretty fast, so again, this is no slouch. It does a fine job giving nice soft backgrounds and yummy bokeh behind your subject. The 9 aperture blades help this even more.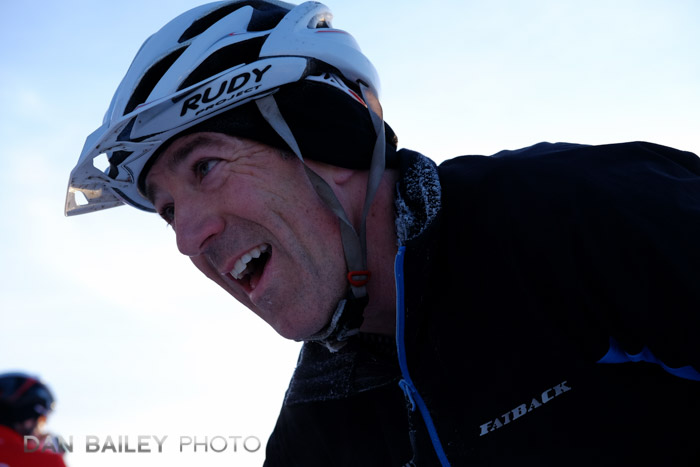 Classic Viewpoint
With its Nifty-Fifty style viewpoint, the Fuji 35mm f/2 gives a very familiar look. It's the same one you see with your eyes. Look at something, then put this lens up to your eye and you'll see the exact same perspective.
There's a reason that the classic 50mm lens has been so popular throughout the decades. What you see is what you get. And with it's shallow depth of field up close, this range is ideal for portraits. All those awesome Steve McCurry portraits from places like India and Afghanistan were shot with a 50.
In addition, when you're learning a new skill like photography, it's enough to deal with having to think about exposure and apertures and stuff, and adding in different lens looks can be a little much. Starting with a familiar viewpoint can help ease you into the process, and when you get more comfortable with it all, you always have something to came back to when you want to show the world just like you see it.
Close Focusing Ability
With a minimum working distance of only 13″, the Fuji XF 35mm f/2 WR lens lets you get pretty close your subjects. This makes it even more versatile. Taking it out on the frozen beach, I had fun capturing some intimate views of the pebbles and little ice chunks. Below is a quick handheld snap; with a tripod, I could have gotten even better results.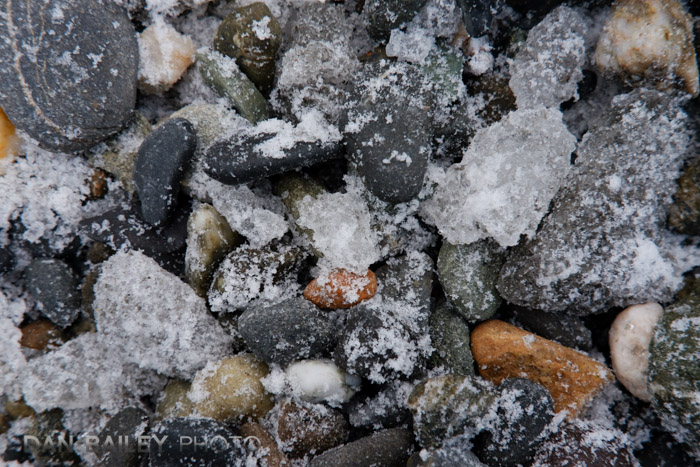 Overall
I got the new XF 35mm f/2 because it looked like a sexy little lens that I figured would be a nice, light useful lens for travel and as a compact "walk around lens." In just a couple of days of use, though, I've found it to be so much more. I wish I would have had this lens for my Romania trip, it would have been perfect. Small, lightweight and fast. Perfect for bike touring.
It's also the least expensive XF lens in the entire Fuji range. It costs the same as the entry level XC 16-50 f/3.5-5.6, but it's a WAY better lens in every way, hands down. Very sharp glass, fast aperture, fast AF, most solidly built and weather sealed.
Downsides? It's not as fast as the old 35mm f/1.4, so if you want REALLY fast, there are faster Fuji lenses out there. I can't really think of any more. It doesn't have image stabilization, but none of the Fuji primes do.
Overall, it's just a sweet little lens that's ideal for just about every subject you can think of- portraits, travel, nature, sort-of-closeup, still life, and in a pinch, even action. It's the street photographer's dream. If you're an X Series shooter, this one is worth a look.
[iframe]<iframe width="120″ scrolling="no" height="240″ frameborder="0″ style="border:none;" border="0″ src="http://mer54715.datafeedfile.com/widget/aff_widget_prdt_generate-2.0.php?aff_num=6746&aff_net=1&widget_num=6949&sid=" marginheight="0″ marginwidth="0″></iframe><iframe style="width:120px;height:240px;" marginwidth="0″ marginheight="0″ scrolling="no" frameborder="0″ src="//ws-na.amazon-adsystem.com/widgets/q?ServiceVersion=20070822&OneJS=1&Operation=GetAdHtml&MarketPlace=US&source=ss&ref=ss_til&ad_type=product_link&tracking_id=danhbaisadvph-20&marketplace=amazon&region=US&placement=B016S28I4S&asins=B016S28I4S&linkId=AMVBUCWOXZ5BCM2B&show_border=true&link_opens_in_new_window=true">
</iframe>[/iframe]