With all the new photography eBooks that keep coming out, including my own release, Creative Photography Techniques – 20 Simple Tips for Stronger Images, it's easy to miss some. I often try to review my favorites and the ones that I think will make a difference in your photographic process, but the truth is that I just don't have the time to read and review every book that gets written.
So, here are the most recent titles by some of my favorite publishers. If any of them look promising, check them out for yourself and see what you think.
Finding Focus – This 37 page book by Nicole S. Young is all about helping you develop your visual storytelling through more understanding and advanced use of your lenses. Chapters include Aperture, Depth of Field, Lens Compression, Macro Photography and  Focus Stacking, Nicole walks you through a wide variety of technical and creative methods that will help you use your camera and lenses more effectively.
I actually did read this one, and I think it's pretty good. It's a bit shorter than some of the other Craft and Vision books, but it's filled with lots of technical information.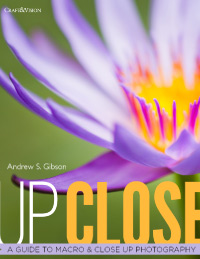 Up Close – At 88 pages, Andrew Gibson has written a definitive guide for photographers who like to shoot close up. Covering tools, techniques, lighting, lenses, focal length, image stabilization, workarounds that allow you to get the shot without sacrificing quality and more, this book has been rated as an excellent resource on macro photography.
I haven't had the chance to read this one yet, but judging by the sample pages, this one looks like a real winner!
55 Smart Web Ideas for Photographers – This authoritative guide by photography marketing guru Zach Prez is filled with ideas that will help you improve your visibility on the web and through social media. With 12 Facebook Ideas, 13 blog tips, 11 Google Strategies, 9 email marketing ideas and more, this easy-to-digest reference will show you lots of quick and effective ways to capture traffic and sales.
I've read Zach's other books and can attest that he knows what he's talking about. These ideas work. Although it's been out for awhile now, this one is worth a look.