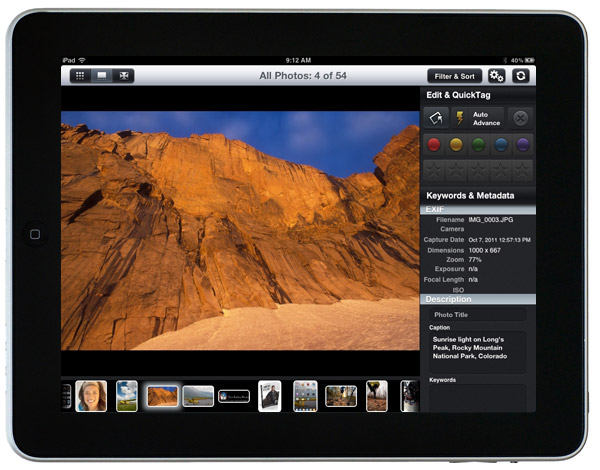 Most photographers were pretty darn excited when Apple first introduced the iPad two years ago. After all, images look utterly fantastic on it's gorgeous, high resolution screen.
Also, the iPad is highly portable; it makes even a Mac Book Pro look bulky. Add to that, the growing number of awesome apps that keep coming out, (Adobe Photoshop Touch for iPad hit the iTunes store today), photographers are finding more ways to incorporate this cool, futuristic touch screen device into their daily workflow, besides just showing off their portfolios. Some photographers are even leaving their laptops at home and just taking along iPad on trips and photo assignments.
Here are just three main apps that I use on the iPad in my photography life, not counting all the eBook reading, Flipboard-ing and social media stuff that I do on it. There are, of course, many more; leave a comment and list the useful iPad apps that you use as a photographer.
1. Easy Release- For Obtaining Model Releases

I've been using Easy Release app on my iPhone ever since it came out. It's the best model release app that I've found, and as good as it works on the iPhone, it's even better on the iPad. The larger touch screen makes it so much easier for the model to read and sign the release. Plus, it just looks, well… more professional.
It works really well if you have an assistant on the photo shoot; you just give them the iPad and have them walk around and get releases while you do your camera thing. Again, very professional. Easy Release. Get it.
 2. Photosmith- For Editing, Captioning and Keywording
I've had my eye on Photosmith app, the mobile companion for Adobe Lightroom for awhile now and I finally got a chance to download and try it out. I have to say, I'm pretty impressed.
Photosmith allows you use your iPad to caption, keyword, tag, rate and apply other metadata to new photos, assign them to collections, and then import the tagged images into Lightroom on your main computer. You can also share selected images right from the app to Facebook, Flickr, Dropbox or via email.
By using the Camera Connection Kit, you can upload photos directly from your camera or memory card to the iPad, do your edit and assign relevant metadata with Photosmith, and then sync to Lightroom. I've tried it with both RAW and JPEG images from the Nikon D700 the Fuji X10 and it works flawlessly with both cameras.
Obviously, there are limitations here. If you're uploading multiple cards of RAW images, you may run out of room on your iPad. At this time, there's no way to transfer images from the iPad to an external hard drive, so for extended trips and big photo shoots, this may not be practical.
However, you could always process images, upload the them to Dropbox and then delete them from the iPad. Then, when you get home from your trip or photo shoot, you can bring the shots back into Lightroom right from Dropbox. If you're shooting JPEGs only, say on vacation, or at a family function, this may not even be an issue.
I see this as a great way to preview images with a client or with your model right after the shoot.  You can sit down together at the coffee shop or on location, preview the shots and choose your selects on the iPad before uploading to Lightroom or to Dropbox. At any rate, Photosmith certainly allows for expanded freedom and flexibility for iPad toting photographers.
3. Blogsy- For Blogging on the iPad
As you know, I tend to blog. On the road, I blog from my laptop, or from my laptop. Last fall, when I went to the PDN PhotoPlus Expo, I want sans laptop and did all my blogging, professional correspondence and social media work right from the iPad. Worked out just fine.
Lately, I've been blogging with Blogsy app, and let me say this- Blogsy rocks. If you have an iPad and you blog, you should absolutely get this app.
Blogsy is an incredibly well designed app that lets you write, access and upload blog posts to your server right from the iPad. Sure, WordPress for iPad lets you do this too, but Blogsy is SO much better.
The visually appealing interface is incredibly easy to use, it's much less buggy and it allows you to import content right from your iPad Photo Library, your Flickr, Picasa and You Tube accounts, as well as from the web. You can even assign tags, categories, create posts and pages – pretty much do everything you need to update your blog right from the iPad. Plus, you can send the HTML formatted content as an email message right from the iPad.
If you're a blogging photographer, then definitely check out Blogsy.