Earlier this week, Adobe came out with a big announced and essentially broke Lightroom into two camps: Desktop (Lightroom Classic CC) and Cloud-Based (the all-new Lightroom CC.)
They're also killing perpetual license versions, which makes the standalone version of Lightroom 6 a dead-end with no future upgrades. From now on, if you want Adobe, it's subscription only.
This move has confused many photographers and left them wondering how to proceed. Some people just don't like the subscription model, and others are just wary/tired of Adobe. After all, Adobe has been the target of a number of data breaches in recent years. I for one am not excited about the prospect of having them safeguard my life's work in their servers.
Although Lightroom is a very powerful program that offers a comprehensive workflow for many shooters, the truth is that Adobe is no longer the only player in town. A few years ago, Adobe was king, but there are a lot of other software solutions out there for photographers that offer people viable workflow solutions.
If you're considering leaving Adobe, here are four viable alternatives to Lightroom that can offer you a professional quality workflow, high quality creative tools and asset management for your image catalog.
1. Capture One Pro & Media Pro
Capture One Pro is one of the most full featured alternatives to Lightroom and Photoshop. With extremely powerful processing tools, it handles RAW files from just about any camera system, with improved support for Fuji X Trans files, and it offers a totally customizable workflow.
Capture One also includes the longstanding Media Pro asset management system for archiving, sorting and searching your photo library. With C1, you can choose to run a master catalog, or you can break down each job, assignment or shoot into "sessions," and create a separate catalog for that particular job. You can also buy Media Pro as a standalone application if you don't need the full Capture One Processing tools.
The main downside to Capture One is that it can have a steep learning curve, but they have tons of great tutorials and do a great job teaching you how to use the program.
If I were starting from scratch as a serious pro photographer today, I'd definitely consider Capture One. I've used it in the past and it's a great program. If you just need a management/catalog system, then definitely try out Media Pro.
2. Luminar
Luminar is a relatively new image editing program that offers a wide range of features, tools, and really fun presets. I've never been preset guy before, but I really like the ease and look of the Luminar presets, and I love how the program functions.
You can use Luminar as a standalone app, or you can use it as a Lightroom Plugin. You can use it in "super easy mode" by simply choosing and dialing down the presets, you can make use of the huge array of tools palettes, or you can combine presets with specific tools to easily and quickly fine tune your images.
Luminar is a powerful program, it plays nice with all camera formats, even the Fuji X Trans RAW files, and they're constantly upgrading the program with new features and performance tweaks.
And, (drumroll…) Luminar will be including a brand new, full service asset management system into the program in 2018. This is a huge deal, and with their Adobe announcements this week, the Luminar folks are well aware that people are looking at alternatives. They're working hard to get this rolling and have posted a few screenshots and a short teaser video to show you what it looks like.
I've been using Luminar for almost a year now and I love it. I'm not the only one – it's won numerous Apple awards for design and great functionality. If their catalog function is as good as their image editing functions, this could have real promise. I plan on taking a serious look at the demos when I go to Photo Plus Expo next week. I'll let you know what I find out.
The Windows version of Luminar is coming very soon.
EDIT: October 31 – At PhotoPlus last week, I met with the CEO and two of the head product developers from Luminar and they assured me that they're committed to offering full X-Trans RAW support for Fujifilm users. In fact, one of them is even a Fuji X-T2 user!
Check out the Luminar Mac demo here and see what you think. 
3. Photo Mechanic
I'm in love with Photo Mechanic and have been from the day I went digital on April 12, 2006. Designed as a wicked fast solution for culling through large batches of photos and adding metadata, Photo Mechanic browses through a giant folder of images faster than anything else out there.
Have a thousand photos to go through? No problem. Photo Mechanic will let you edit, delete, tag, rate, caption, keyword, export, save, email & share like a champ. It's been a vital part of my workflow for many years and I can't see every giving it up.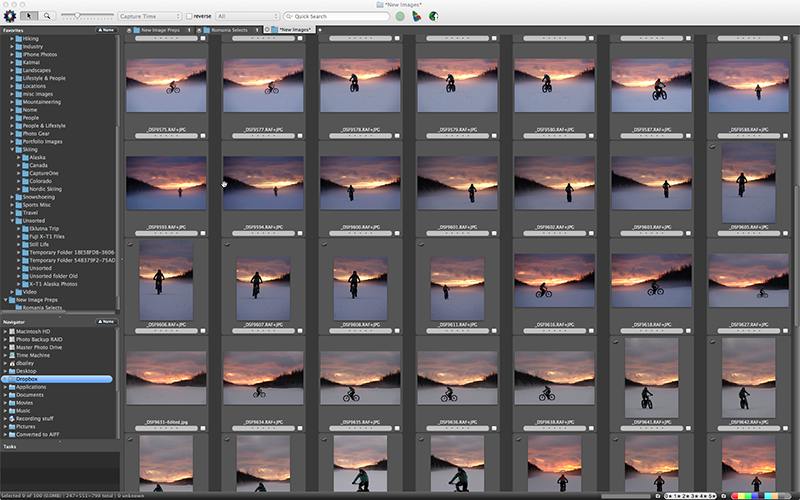 Photo Mechanic does't have any image processing capabilities, but you can the program with other apps in order to complete your workflow. I use it in conjunction with both Lightroom and Luminar and I've used it with Capture One as well. Photo Mechanic and Luminar or Affinity would give you a full workflow solution.
Technically, it's not really a catalog program either, but as long as you store your images in an efficient, easily browsable folder hierarchy, you can use Photo Mechanic to quickly browse through your folders and use the array of search and sort tools to locate specific photos on your computer.
4. Affinity Photo
Five years in the making, Affinity Photo is a program for Mac and Windows created by Serif. It was built from the ground up to be a professional alternative to Photoshop, and based on the many 5-star ratings and the fact that it was chosen as the Best Mac App of 2015, it seems that Serif has done an excellent job reaching that goal.
Not only does Affinity have a full set of powerful processing tools, it has a very intuitive and customizable interface, very stable and streamlined design, cross-platform compatibility and the ability to work in any color space.
With hundreds of features, including layers, effects, live blend modes, sophisticated selection tools, and extensive retouching tools, Affinity Photo offers everything you need for full-service image editing and processing for only $49.
And if that's not enough, Serif also has an iPad version of Affinity that provides image editing, functionality and performance like you've never seen before on a mobile device.
I've never seen anything like this. It looks incredible. The iPad version is so powerful, you should just read here and see everything it does.
Final Thoughts
So, as I'm sitting here writing this, I'm working through my own workflow decisions. My idea is that I'll still use Photo Mechanic for browsing and Luminar for quick and fun image processing, and possibly use Affinity for more complex stuff, and for mobile editing.
First step is to try out Affinity and see how it works. If I like what I see, I can start to learn that program so I can transition away from Photoshop.
Right now, I've migrating my Lightroom catalog to Capture One to see how it works. Having used the program before, it's a familiar look and the catalog browser has a pretty intuitive interface. That said, I'm really excited to see Luminar's new catalog system. If it's as good as I'm hoping it is, that could be the one to replace Lightroom for me.
Then, with PM for initial culling and browsing, Capture One or Luminar for the catalog and/or processing, and possibly Affinity for the Photoshop type work, I'd be able to cut my Adobe subscription and say goodbye to Lightroom and Photoshop.
I know I'd miss Photoshop. I've been using it for over 20 years, but the world marches on, right? Things change. I have to go with what works best for me and my own style and workflow, and sometimes that means shaking things up.
What should you do?
Same thing I am. Download the demo versions of Capture One or Media Pro, Luminar, Photo Mechanic and Affinity and see which program you like best and that fits your style.
Hopefully this post has given you some ideas as well and will help you start working through your own process. I'll keep writing more about this topic in the coming weeks, so stay tuned.
Click here to subscribe to this blog and get even more free insight like this.
EDIT: October 30 – Here's a 5th Option
ON1 PHOTO RAW 2018 is currently in Beta, and it offers a brand new catalog browser feature as well. ON1 is incorporating a full RAW Processor, editor and effects app into the program. See more info about the program here.