In a recent post, I enthusiastically extolled the creative and practical benefits of using short telephoto lenses. Basically, they're light, fast, compact, sharp and great for shooting a variety of outdoor photography related subject matter from people, sports, adventure, nature and travel.
Today, I present four more reasons why I love my short telephoto, in the past the Nikon 85mm f/1.8D lens, and these days, the Fujifilm XF56mm f/1.2 and the compact, weather sealed Fujifilm XF50mm f/2. I had intended on doing the nice, clean "3 more…" type post, but since I love this lens so much, I felt compelled to throw in a fourth shot.
For you Canon users, their equivalent lens that's roughly the same price, size, weight and speed is the Canon Telephoto EF 100mm f/2.0 USM Autofocus lens. Also a great and very versatile piece of glass.
1. Late Summer Mountain Biking, Alaksa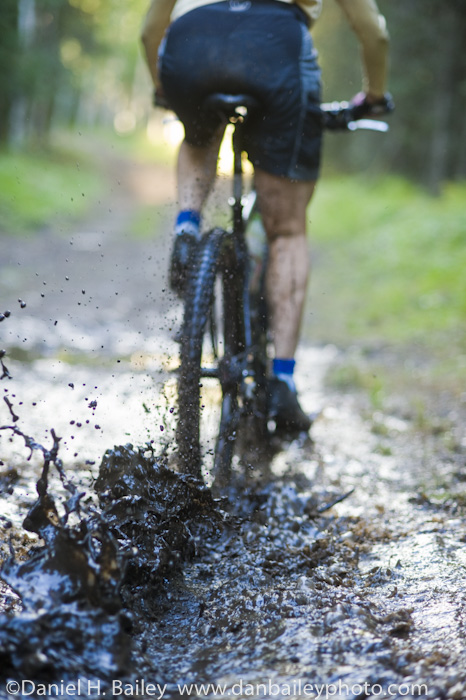 With the extended daylight in the late summer and early fall in Alaska, there are still hours of riding time to be had on the trails, even after your biking partners get off work.
This photo was shot on a September evening after a particularly rainy summer. The trails were far from bone dry and so we often ended each ride caked with mud and dirt.
Often times when I head out on the bike, it's more about riding than shooting. However, I still always carry my camera in the event that I see something that sparks my interest.
Throwing my short telephoto in the pack allows me to cover my creative bases with minimal weight, and it allows me to quickly shoot longer shots even when it gets darker.
This muddy biking image was shot in the shade near the end of the day- conditions which would end up being quite challenging for most long lenses. And with that setup, I can shove the camera back into my Camelbak without even removing the lens, which gets me back in the saddle that much more quickly.
Here, I cranked the Nikon D700's ISO up to 800 and shot 1/250 at f2.2, which gave me the sharpness that I needed without pushing the ISO too much.
2. Flamenco Dancer, Andalucia, Spain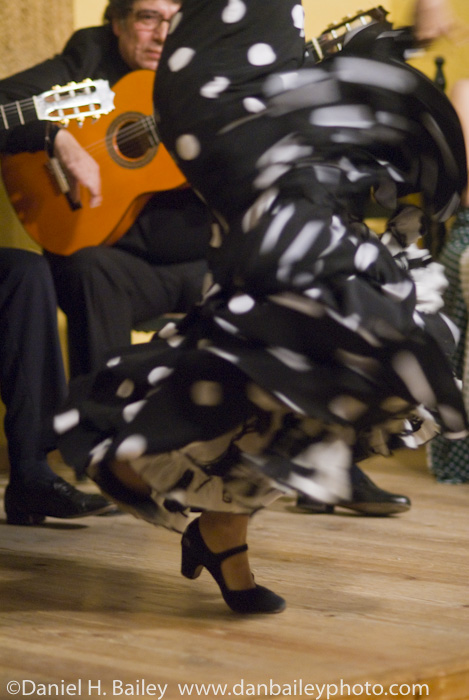 Travel photography always involves challenging lighting conditions and varied subject matter.
It also means going light and fast without looking too conspicuous with your gear.
The 85mm f/1.8 is a great travel lens, because not only is it WAY smaller than something like a 70-200mm f/2.8G ED VR II, it's even faster, which makes a big difference when shooting inside.
For this flamenco performance, which was shot inside a VERY dark venue deep, in the heart of Jerez de la Frontera, Spain, I needed to milk every single ounce of speed from my lens.
I was using my Nikon D300, so I didn't have the luxury of high ISO performance. Going any higher than around ISO 500 was really not an option, so the f/1.8 on the lens was an absolute necessity if I was going to get any kind of sharpness from this scene.
Of course, I could have used my Nikon 50mm f1.8D lens, but that angle of view would have been too wide to isolate the performers on the stage. With the 85mm f/1.8, I was able to shoot wide open at 1/60 which barely eeked out enough sharpness to make this image work.
Knowing that I'd never be able to freeze the dancer's flowing arms and dress, I focused on the foot and shot tons of frames, hoping that I'd get one where here foot was planted and still for just a fraction of a second.
3. Backcountry Snowboarding, Talkeetna Mountains, Alaska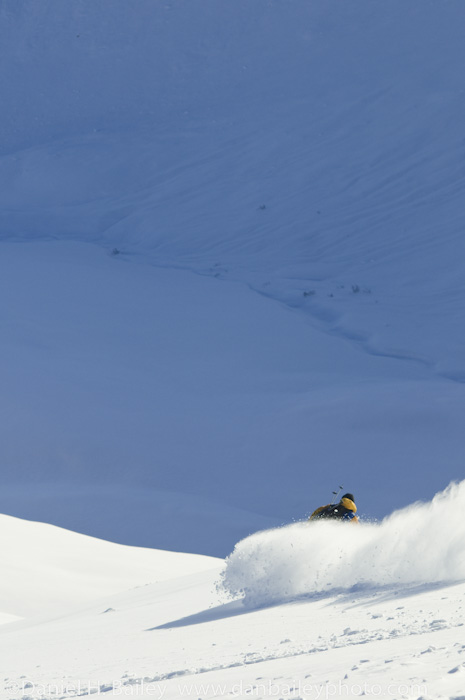 This one is all about going light and fast.
When the snow is good, you want to pack in as much vertical as you can during the course of a day, especially up here when the winter days are not especially long.
And also especially when your ski buddies have no interest in waiting for you just because you're carrying The Big Lens today.
I do occasionally ski with my Nikon 80-200mm f2.8ED lens, but it's rather heavy and it takes time to unsling my pack, pull the lens out, stick it on the camera, shoot and then pack the camera away, sling my pack back on and continue skiing down the hill.
An entire day spent doing this won't get me very far. By contrast, the 85mm f/1.8 will fit on the camera right there in my chestpouch. I can pull it out, shoot, and tuck it back away in mere seconds.
Again, it gives me creative telephoto options without the weight, especially when I use it on a crop sensor body. On an APS-C camera, 85mm effectively becomes 127mm. It's a small change, but it can be a very useful difference.
4. Winter Trees, Anchorage, Alaska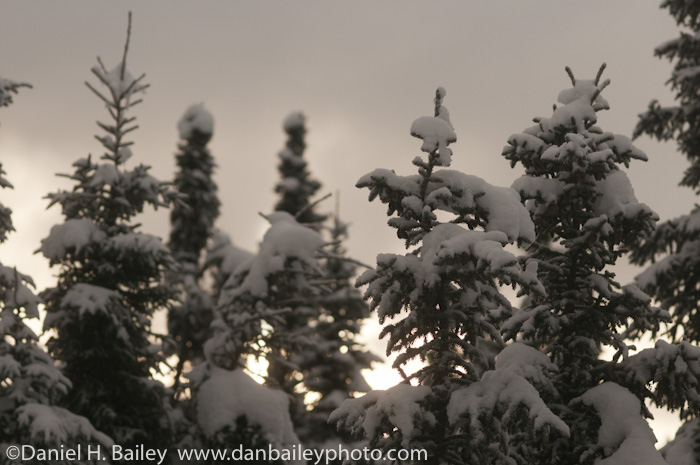 And here's your bonus example for today.
Much like the mountain biking example above, sometimes I like to head out with my camera, no particular agenda and just see what sparks my creative interest. In this case, I took off for a 45 minute skate ski on the trails near my house.
Strapping on my LowePro Inverse 100 AW belt back camera bag, which comfortably fits a body and pair of small to mid size lenses, I threw in my Nikon D300 with the 85mm f/1.8 lens and enjoyed a pleasant midday break from the office.
At my turnaround point, I stopped to snap a few photos and exercise my creative muscles. I like the shot above because it crops in nicely on the subject and really accentuates the low winter light that was streaming through the trees.
[iframe]<iframe width="120″ scrolling="no" height="240″ frameborder="0″ border="0″ src="http://mer54715.datafeedfile.com/widget/aff_widget_prdt_generate-2.0.php?aff_num=6746&aff_net=1&widget_num=6748&sid=" marginheight="0″ marginwidth="0″></iframe><iframe style="width:120px;height:240px;" marginwidth="0″ marginheight="0″ scrolling="no" frameborder="0″ src="//ws-na.amazon-adsystem.com/widgets/q?ServiceVersion=20070822&OneJS=1&Operation=GetAdHtml&MarketPlace=US&source=ss&ref=ss_til&ad_type=product_link&tracking_id=danhbaisadvph-20&marketplace=amazon&region=US&placement=B006TAP096&asins=B006TAP096&linkId=GVT3VSJFRIGL3JFO&show_border=true&link_opens_in_new_window=true">
</iframe>[/iframe]