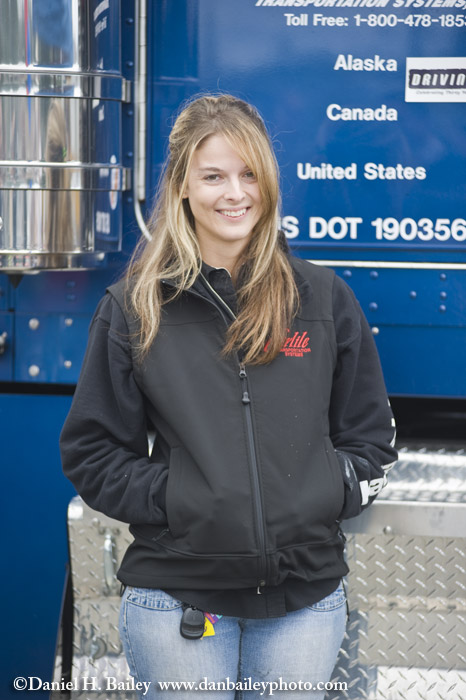 The other day, I shot an assignment for Alaska based Carlile Transport Services. They've been moving goods and heavy equipment all over Alaska for 30 years, but lately, they're well known to many as the trucking company that's featured on the History Channel show Ice Road Truckers. As part of the job, I got to meet Alaska superstar and well known Ice Road Trucker Lisa Kelly, since she drives for Carlile.
In most places, superstars are people like athletes and pop singers. Here in Alaska our stars are dog mushers and people who haul heavy loads across the frozen wilderness when it's fifty below. It's no wonder that Lisa Kelly has such a following, she's a very attractive and sexy young woman, and she's obviously tough as nails to be able to handle the big rigs in extreme environments. I guess you'd call her the ultimate Alaska pinup girl.
As a client, the people at Carlile were great to work with and I hope to do business with them again in the future. In the meantime, I guess I need to get on the History Channel and watch some episodes of the show!
If you're interested in learning about the rigors of driving on the ice roads and like white knuckle adventure stories, you should definitely check out the book King of the Road: True Tales of a Legendary Ice Road Trucker, by Alex Debogorski, who is one of the truckers on the show.
[iframe]<iframe style="width:120px;height:240px;" marginwidth="0″ marginheight="0″ scrolling="no" frameborder="0″ src="//ws-na.amazon-adsystem.com/widgets/q?ServiceVersion=20070822&OneJS=1&Operation=GetAdHtml&MarketPlace=US&source=ss&ref=as_ss_li_til&ad_type=product_link&tracking_id=danhbaisadvph-20&marketplace=amazon&region=US&placement=B000UP8822&asins=B000UP8822&linkId=158b64d6264529c2d4029c5c0cd32d19&show_border=true&link_opens_in_new_window=true"></iframe><iframe style="width:120px;height:240px;" marginwidth="0″ marginheight="0″ scrolling="no" frameborder="0″ src="//ws-na.amazon-adsystem.com/widgets/q?ServiceVersion=20070822&OneJS=1&Operation=GetAdHtml&MarketPlace=US&source=ss&ref=as_ss_li_til&ad_type=product_link&tracking_id=danhbaisadvph-20&marketplace=amazon&region=US&placement=B001CQS7KG&asins=B001CQS7KG&linkId=f119336ed9881b40642ab3d378b6ee23&show_border=true&link_opens_in_new_window=true"></iframe><iframe style="width:120px;height:240px;" marginwidth="0″ marginheight="0″ scrolling="no" frameborder="0″ src="//ws-na.amazon-adsystem.com/widgets/q?ServiceVersion=20070822&OneJS=1&Operation=GetAdHtml&MarketPlace=US&source=ss&ref=as_ss_li_til&ad_type=product_link&tracking_id=danhbaisadvph-20&marketplace=amazon&region=US&placement=B0026RLMC0&asins=B0026RLMC0&linkId=cf4f03c4b267fce3ff82312e06b762b6&show_border=true&link_opens_in_new_window=true"></iframe><iframe style="width:120px;height:240px;" marginwidth="0″ marginheight="0″ scrolling="no" frameborder="0″ src="//ws-na.amazon-adsystem.com/widgets/q?ServiceVersion=20070822&OneJS=1&Operation=GetAdHtml&MarketPlace=US&source=ss&ref=as_ss_li_til&ad_type=product_link&tracking_id=danhbaisadvph-20&marketplace=amazon&region=US&placement=B003QP4DPY&asins=B003QP4DPY&linkId=656deade67d8f8d0b3325c59870e841b&show_border=true&link_opens_in_new_window=true"></iframe><iframe style="width:120px;height:240px;" marginwidth="0″ marginheight="0″ scrolling="no" frameborder="0″ src="//ws-na.amazon-adsystem.com/widgets/q?ServiceVersion=20070822&OneJS=1&Operation=GetAdHtml&MarketPlace=US&source=ss&ref=as_ss_li_til&ad_type=product_link&tracking_id=danhbaisadvph-20&marketplace=amazon&region=US&placement=B00TPN7DZI&asins=B00TPN7DZI&linkId=beaf44b592b9f52806e1a4a01302b5c7&show_border=true&link_opens_in_new_window=true"></iframe><iframe style="width:120px;height:240px;" marginwidth="0″ marginheight="0″ scrolling="no" frameborder="0″ src="//ws-na.amazon-adsystem.com/widgets/q?ServiceVersion=20070822&OneJS=1&Operation=GetAdHtml&MarketPlace=US&source=ss&ref=as_ss_li_til&ad_type=product_link&tracking_id=danhbaisadvph-20&marketplace=amazon&region=US&placement=B00DNF1QCK&asins=B00DNF1QCK&linkId=bb8ee4117de9d424385096dadf10b778&show_border=true&link_opens_in_new_window=true"></iframe><iframe style="width:120px;height:240px;" marginwidth="0″ marginheight="0″ scrolling="no" frameborder="0″ src="//ws-na.amazon-adsystem.com/widgets/q?ServiceVersion=20070822&OneJS=1&Operation=GetAdHtml&MarketPlace=US&source=ss&ref=as_ss_li_til&ad_type=product_link&tracking_id=danhbaisadvph-20&marketplace=amazon&region=US&placement=1118148282&asins=1118148282&linkId=a6d68d579c06abb421065294baf709d3&show_border=true&link_opens_in_new_window=true"></iframe>[/iframe]