There were times when I couldn't see more than 50 feet in front of me. It was like walking a trail to nowhere that kept refreshing itself every few paces. Since I'd never been up this trail before, every step was an adventure that I willingly took on, since I knew I'd be ascending into the clouds at about 2,000 feet.
Pioneer Peak stands like a guardian at the north end of the Chugach Mountains. A blocky pyramid that towers over 6,000 feet above the braided gravel bars of the Knik River, it's a worthy objective. While not an extremely difficult mountain to climb, it's a classic Chugach scramble, which means that it's high, steep, involved and slightly circuitous as you make your way from trailhead to summit.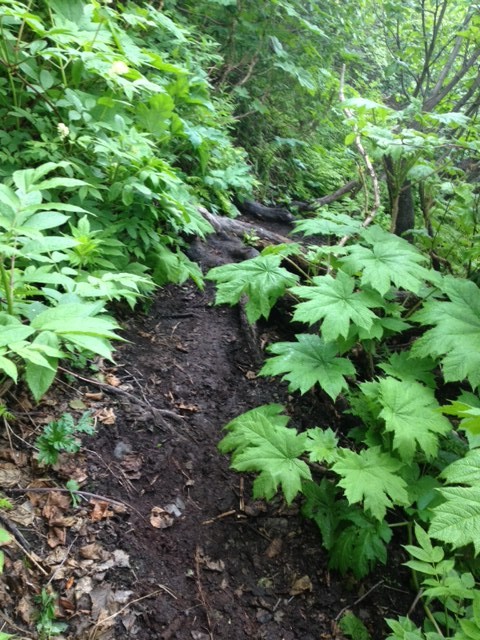 On a sunny day, the Pioneer Ridge route offers incredible views of the entire Knik Glacier and Matanuska valley, but with the low clouds that hung over the entire range, more than anything, I was out for exercise, not scenery. I could barely see the trail when I popped out of the forest.
Just about every decent hike in Alaska requires the obligatory steep ascent through thick stands of willows, ferns, cow parsnip and devil's club. In other words, the place where the bears like to hang out.
With my bear bell clipped to the back of my pack and a can of pepper spray shoved into in the side pouch, jangled my way up the steep muddy trail and climbed right into the clouds, which, when you're inside them, just look an awful lot like fog.
Fortunately, I didn't encounter any big furry four-legged creatures on my way up the trail and eventually I hit what I like to call The Payoff. That's the high alpine tundra where you find what you came for: high rocky peaks, two thousand foot scree and talus slopes and long ridges that connect different sections of the range.
After 3,000 more feet of leaning on my trekking poles and hiking up the well marked trail, I reached the 5,000′ mark at the top of Pioneer Ridge. From there, I had two options: either turn right and climb South Pioneer Peak or turn left and walk the few-mile ridge out towards Yudikench Peak.
However, the fog was so thick that I couldn't see anything. No peak. No ridge. Not even the hint of a massive peak that stood a half mile away. I could barely pick out a large patch of snow that blended in with the fog at the top of the ridge. Nonetheless, I celebrated my excitement to be up here in this magical place all by myself by sitting down in the tundra and eating my sandwich. Cheddar, gouda and lots of fresh arugula and other greens from my garden.
With little desire to walk a ridge or climb a mountain that I couldn't see, I packed up and started down, happy that I finally got out and hiked Pioneer Ridge. As much as I wanted to get up the summit, I had no idea what to expect. I knew that there was lots of 3rd and 4th class scrambling on loose rock, but with absolutely no visibility, I figured I'd be better off coming back another day.
That's when the sky opened up and revealed most of the south ridge.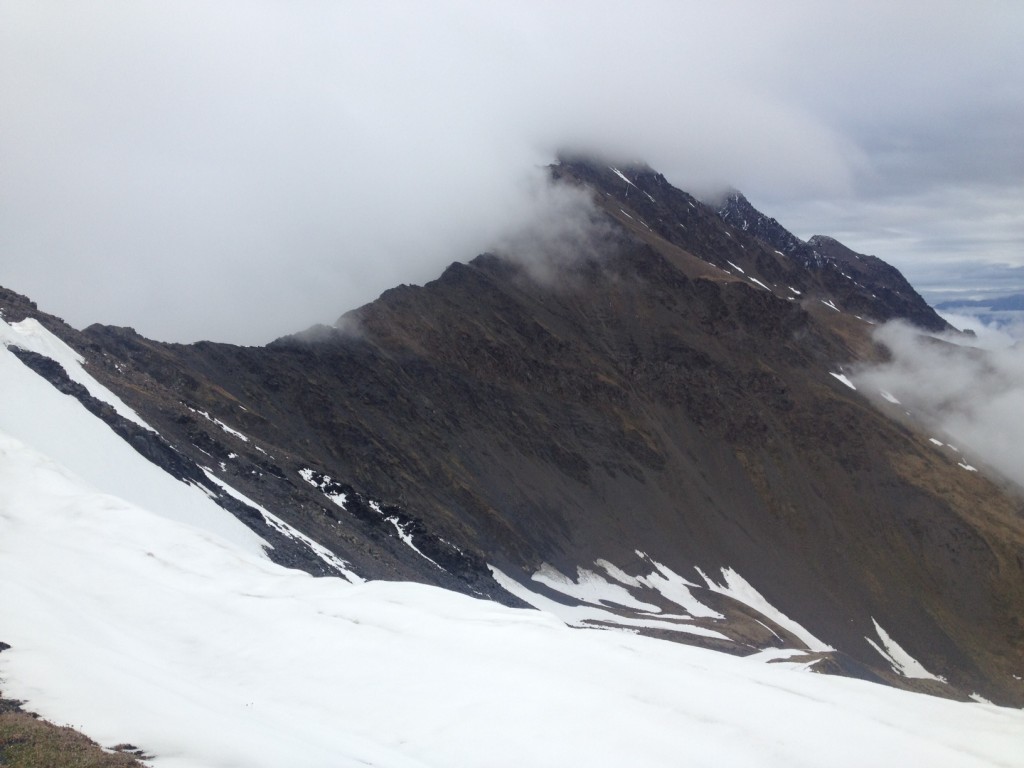 Let me revise that last statement. It's not like the weather actually cleared; it was really just a big sucker hole in the clouds that boosted my sense of motivation. In other words, it was just a brief opening that lured me right in.
When I say "brief," I mean "brief." Not 15 minutes after I'd turned around and started up the ridge, the fog blew back in and took away every bit of my view. I kept going, though, figuring that if if things got dicey, I could always turn back. I'm good on that scambling stuff, though, and I was moving quickly, so I was pretty sure I could make it.
The trail was easy to follow at the base up the ridge, but as I got higher, that's where it got a little more circuitous. Since I couldn't see top of the peak, there were times when I could only look at an abbreviation of the upper terrain as it faded into the fog and make an educated guess about where the route went.
For the most part, the route and my alpine navigation skills kept me out of anything too hairy, but I had to backtrack a few short sections and work my way up and around some steep blocks that fell away towards nothingness. Although I'd say that I was slightly concerned at times, for the most part, it was just a matter of motivating my self to keep going up hill. That's pretty much what climbing is, whether you're on highly technical terrain or broad, safe ridge: going uphill when you get a little scared or tired.
The most frustrating part of the climb was being fooled by all the false summits that looked like the real summit. With visibility so limited in the fog, every big pointy section looked like the top.
Each time, I'd get excited and scramble a little faster until I got what I thought was the top, only to have yet another big pointy half-hidden block reveal itself even higher up.
I'd sigh, resign myself to more climbing and push on, knowing that I'd be probably be fooled again a few hundred feet up.
At one point, another brief hold in the clouds showed me a series of scree slopes and a grassy ridge down below and to the right that I could use for the descent. That would save me time from having to skirt back down the entire 3rd and 4th class ridge.
Finally, after a bit of scrambling up a final chute, I turned a corner and saw that I'd reached the summit. If there was no fog, I could have seen the bigger north summit of Pioneer Peak, which is only about 500 feet away.
I didn't linger. I quickly retraced my steps down to the scree slopes, bombed down the loose rock sections and worked my way right, over rock, moss, snow and tundra, to an easy ridge that took me back to the beginning of the route.
Somehow the lack of rocks and scree did little to alleviate the fact that it was still hiking a few hundred feet uphill, even if it was easy ground. I leaned on my trekking poles a lot during this section.
Finally, I reached the top of Pioneer Ridge, which signified the beginning of a 5,000+ foot descent back to the car.
I shoveled a few cookies in my mouth and ran all the way back down, jangling loudly down the trail over tundra, and finishing the last 2,000 feet in the thick greenery.
Before I hit the trees, I dropped through the bottom of the clouds and finally got a view of the braided Knik river 3,000 feet below me. Total stats for the him: 15.29 miles and 8,535 feet of elevation gain.
Oh, and I shot all these photos with my iPhone.