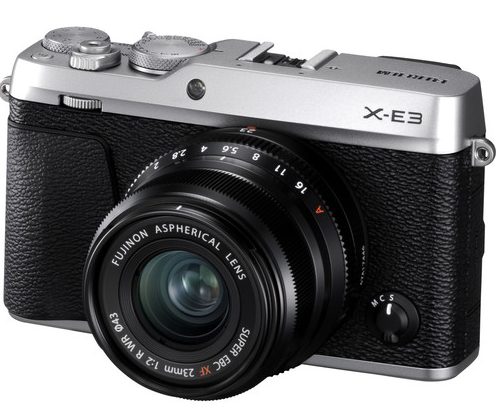 Last week, while at the PhotoPlus trade show, I finally got a chance to take a close look at the long-awaited successor to the X-E2 and X-E2S, the brand new Fujifilm X-E3.
Positioned as the little brother/sister to the X-Pro2, the X-E3 is a compact rangefinder that updates the X-E series with the gorgeous new 24MP X-Trans III sensor, the much faster X-Processor Pro image processing engine, the revamped "My Menu" menu system and the new 325 point autofocus system, including the AF-ALL mode, which was previously only found on the X-T2.
It also has all 15 of the Fuji film simulations modes, including ACROS, as well as AF-C Custom Settings, Manual Shutter down to 15 minutes, Electronic Shutter up to 1/32,000 sec, Interval Timer, 8 frames per second shooting (up to 14fps with the Electronic Shutter) and 14-Bit RAW image capture with Lossless Compression.
Essentially, it's the sibling to the highly popular X-T20, which was released earlier this year, so it has the most of the same specs with regards to features and performance, including 8 customizable function buttons and 4K video. However, the X-E3 does body does have a couple of noticeable difference.
Unlike the X-T20, the X-E3 has the AF Joystick that's found on the X-T2 and X-Pro2. Also, to make it even more compact, Fuji has done away with the four Thumb-Pad buttons on the back of the camera.
They did this to make for a more simple design and offers a nice grip, and, more importantly, to ensure that you don't accidentally press the Thumb-Pad buttons with the heel of your hand and change settings while you're holding it. This sometimes happens to me when I shoot with my X-E1 and my X-T20, maybe you've had this problem too.
At first, this seems like a strange move, because those four Thumb-Pad buttons have a lot of functionality. However, to make up for the loss, Fuji has introduced new firmware inside the X-E3 which gives new operational control with the Touchscreen LCD.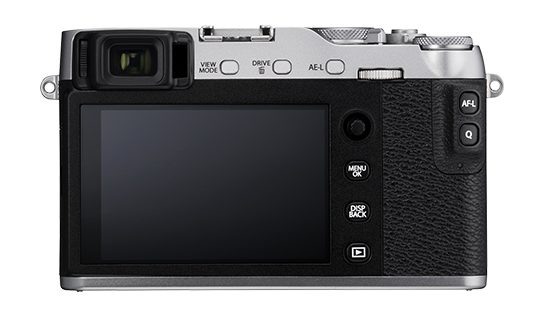 New Touchscreen Controls
The LCD Touchscreen on the X-E3 has been programmed to recognize a number of commands, including tap, double tap, pinch in and out, drag and flick. When performing these gestures, you can quickly control a number of camera functions. Here's what they do:
Shooting Mode and Playback Mode
1 – Flicking up, down, left and right acts as Fn button controls, just as if you were pressing the four Thumb-Pad buttons. Like all the other X Series cameras, you can program any number of settings to the Fn buttons and control them with just a simple swipe of your finger on the screen.
2 – Double Tap instantly zooms your image in and out to 100% during payback and performs focus check while shooting.
3 – Tap and/or Drag controls AF Area Selection. Although the X-E3 has the AF Joystick, it's even faster to select and move your selected AF point around the screen using the touchscreen. This is a very cool feature. Even though I'm quite proficient with my X-T2 joystick, I was highly impressed with how well this works. The points will pretty much move as fast as you can tap or drag your finger around the screen.
4 – Pinch in/out operates Playback zoom. Whereas Double Tap does instant 100% zoom, pinching lets you zoom in and out to view the image at different magnifications levels and sizes on the screen.
5 – Swipe left and right gives you your next picture in Playback mode.
6 –  Q Menu: After brining up the Q Menu, you can quickly select and change your settings by tapping the screen.
Touch Panel Operation While Using the EVF
I know what you're thinking. While these functions work extremely well if you're shooting via the LCD screen, it could be tough to navigate the screen if you've got your eye up to the electronic viewfinder, right?
Well, Fuji apparently though of that, because the X-E3 gives you the option to set the touch range of the panel to either Full Screen, Right Half Only, Left Half Only or Off.
Touch Shooting
In addition to these new touchscreen gestures, you can also use the optional "Touch Shooting" features, which include Tap to shoot, Tap to Focus and Tap to Zoom. Or, you can turn the Touch Controls off.
Bluethooth Connectivity
The X-E3 is the first X Series camera to feature Bluetooth functionality. In addition to Wi-Fi image transfer and wireless shooting, the camera feature Bluetooth pairing, which allows a simple and very fast method for downloading photos to your mobile device.
This is actually a great addition. Sometimes, when there are lot of Wi-Fi signals bouncing around your location, the camera can have a hard time connecting with the app. The Bluetooth transfer feature ensures that you can get your images sent over pronto, and without a hitch.
Overall – One Tiny Awesome Little Camera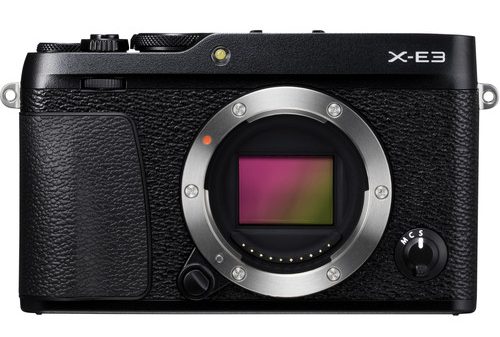 With all the features, performance and image quality it packs, Fuijfilm X-E3 is one cool little camera. Weighing in at less than 12 ounces, (337 grams with batter and card), it's also the smallest and lightest interchangeable full-featured X Series camera in their lineup.
This makes it an absolutely ideal travel camera, and also as a totally viable backup or second body for your X-Pro2 or X-T2.
It's also a highly capable camera. Since it has the same sensor and image processor, you'll get the exact same image quality as the X-T2, X-Pro2, X-T20 and X100F, and you'll have the capability to shoot 4K video with the X-E3. Again, this makes it a pretty appealing camera to use for backup, or even an alternative camera when you want to go even lighter.
And let's face it, with its small size, traditional look and no D-Pad buttons on the back, it has an extremely minimal and classic look. You'll probably get even more people thinking that you're shooting with an old film camera!
Some photographers might even prefer this over the X-T20, simply because it has the AF Joystick. In fact, I've resisted getting the X-T20, simply because I've become so accustomed to using the joystick on my X-T2.
Final Thoughts
I'll be honest, when the X-E3 was first announced, I figured it would probably not be something I'd use. I was wrong. Now having seen and tried the X-E3 in person, I'm seriously considering getting one to use as my own second body and for video when I'm doing tips, tutorials and gear reviews in the field. I'm quite impressed with the camera and it's definitely earned my recommendation.
Limitations?
The X-E3 has the same limitations as you'll find on the X-T20. It's not weather sealed and not as durable as the X-T2 or X-Pro2, the 4K video has slightly reduced functionality when compared to the X-T2 and it has less internal memory and thus a smaller buffer than the higher end models. It also doesn't use the faster UHS-II memory cards.
So, if you're shooing in Continuous High mode, you won't get nearly as many shots as you will with the X-T2 before the camera slows down, especially if you're shooting RAW. However, in practical terms for most shooters, this really isn't a concern. It will still do action at 8 fps, but you might get 25 shots in RAW, and then you'll have to wait about 15 seconds before the buffer clears. This is still WAY better than you could get with the X-T10 and X-E2S.
Shipping Now
Priced at $899, the X-E3 has the same price tag as the X-T20 (both cameras are shipping now), although the X-T20 currently has a $100 instant rebate going on. 
Fuji is also pairing the X-E3 with either the XF 18-55 kit lens, or the awesome little XF 23mm f/2. I think this is a great move; the f/2 primes are such good lenses and they give your camera kit an even more classic look and style.
It's got some great new features, enough high performance capabilities to get you through just about any kind of situation, even for demanding subjects like fast action and astrophotography. Plus it has all of the standard X Series creative modes and wonderful color reproduction that we Fuji shooters have grown to love.
Anyway, if you're looking for a super high quality, ultra compact, ultra lightweight mirrorless camera for your main body or as a backup, the X-E3 is certainly worth a look.
Support this site: If you decide to purchase any of these lenses, click through the links to B&H or Amazon. It won't cost you anything on your end, and I'll get a small commission for the referral. Consider it your way of giving me a virtual thumbs up.
[iframe]<iframe width="120″ scrolling="no" height="240″ frameborder="0″ style="border:none;" border="0″ src="https://mer54715.datafeedfile.com/widget/aff_widget_prdt_generate-2.0.php?aff_num=6746&aff_net=1&widget_num=7977&sid=" marginheight="0″ marginwidth="0″></iframe><iframe width="120″ scrolling="no" height="240″ frameborder="0″ style="border:none;" border="0″ src="https://mer54715.datafeedfile.com/widget/aff_widget_prdt_generate-2.0.php?aff_num=6746&aff_net=1&widget_num=7978&sid=" marginheight="0″ marginwidth="0″></iframe><iframe width="120″ scrolling="no" height="240″ frameborder="0″ style="border:none;" border="0″ src="https://mer54715.datafeedfile.com/widget/aff_widget_prdt_generate-2.0.php?aff_num=6746&aff_net=1&widget_num=7979&sid=" marginheight="0″ marginwidth="0″></iframe>[/iframe]
[iframe]<iframe style="width:120px;height:240px;" marginwidth="0″ marginheight="0″ scrolling="no" frameborder="0″ src="//ws-na.amazon-adsystem.com/widgets/q?ServiceVersion=20070822&OneJS=1&Operation=GetAdHtml&MarketPlace=US&source=ss&ref=as_ss_li_til&ad_type=product_link&tracking_id=danhbaisadvph-20&marketplace=amazon&region=US&placement=B0759GZFMG&asins=B0759GZFMG&linkId=5b1d90ad663d07f1e7498eaf6913b282&show_border=true&link_opens_in_new_window=true"></iframe><iframe style="width:120px;height:240px;" marginwidth="0″ marginheight="0″ scrolling="no" frameborder="0″ src="//ws-na.amazon-adsystem.com/widgets/q?ServiceVersion=20070822&OneJS=1&Operation=GetAdHtml&MarketPlace=US&source=ss&ref=as_ss_li_til&ad_type=product_link&tracking_id=danhbaisadvph-20&marketplace=amazon&region=US&placement=B0759HGV78&asins=B0759HGV78&linkId=971a6fc3ba444ba5113c9c91e61ae737&show_border=true&link_opens_in_new_window=true"></iframe><iframe style="width:120px;height:240px;" marginwidth="0″ marginheight="0″ scrolling="no" frameborder="0″ src="//ws-na.amazon-adsystem.com/widgets/q?ServiceVersion=20070822&OneJS=1&Operation=GetAdHtml&MarketPlace=US&source=ss&ref=as_ss_li_til&ad_type=product_link&tracking_id=danhbaisadvph-20&marketplace=amazon&region=US&placement=B0759HDW97&asins=B0759HDW97&linkId=04ce6c8d8a6416dd97df4e53e6095dc2&show_border=true&link_opens_in_new_window=true"></iframe>[/iframe]