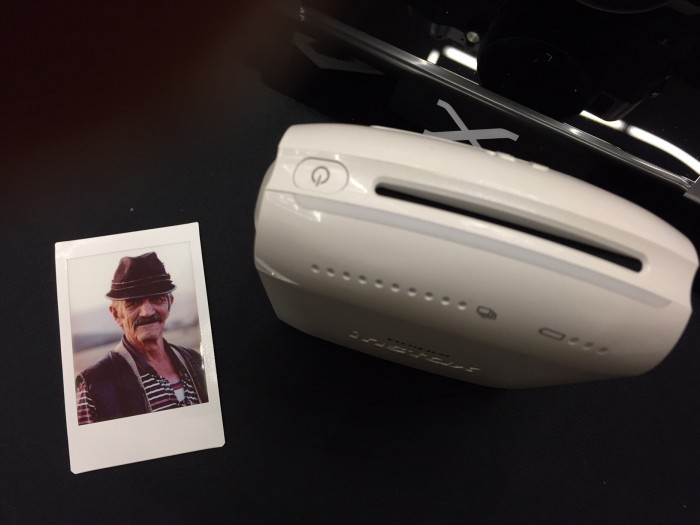 I've known all about the little Fuji Instax Printer for awhile, but up until now, I'd never actually tried it out. I finally checked it out this weekend, and now I'm hooked. If you haven't seen the Instax, you should check it out- it's pretty much a modern day, wireless version of the Polaroid, and it's WAY COOL.
In short, the Instax SP-1 is a Wi-Fi printer that lets you print playing-card size instant photos from your smartphone or tablet, or direct from any of the Wi-Fi enabled Fujifilm X Series cameras, including the X-T1, X-T10, X100T and X30. It uses the Instax 10-pack instant film cartridges, which you can pretty much get anywhere these days, since the Instax cameras and pritners are so popular.
To operate, you simply turn on the printer, connect to its dedicated Wi-Fi signal, either using the app on your mobile device, or by connecting directly with your Fuji camera menu, hit "print" and a few seconds later, it spits out a piece of instant film. Then, you watch your image slowly come to life, again, just like an old Polaroid print. How ingenious.
I tried it with one of my Romania pictures I had stored on my iPhone, and as soon as it emerged from the printer, I was transfixed. Seriously, I was so excited about my little Romanian shepherd print, I was wishing that I had taken one of these on my trip. As it stands, I have a handful of names and addresses where I promised to send prints of some of the photos I shot when I was over there last month. It would have been so much cooler to have given people pictures on themselves right there on the spot.
This has always been one crux of travel photography, and a device like not only solves that problem, it actually helps you increase your level of human connection with your subjects. Imagine the experience of giving someone a real copy of the picture you just shot of them, and then sharing firsthand in their reaction. As excited as I am about this portrait I printed, how excited do you think this shepherd might have been?
And it's not just for travel photographers, imagine the other creative possibilities you could explore with one of these. Imagine the fun.
In my mind, the Instax SP-1 printer was a brilliant move by Fuji, I just wish I would have paid attention a little bit sooner.  As I said, it doesn't matter what brand of camera you use, as long as you can get a picture onto your phone or tablet, you can make an Instax print.
Oh, and apparently, it's one of Oprah's favorite things for 2015.
[iframe]<iframe style="width:120px;height:240px;" marginwidth="0″ marginheight="0″ scrolling="no" frameborder="0″ src="//ws-na.amazon-adsystem.com/widgets/q?ServiceVersion=20070822&OneJS=1&Operation=GetAdHtml&MarketPlace=US&source=ss&ref=ss_til&ad_type=product_link&tracking_id=danhbaisadvph-20&marketplace=amazon&region=US&placement=B00HYAL84Q&asins=B00HYAL84Q&linkId=IZCQAQCHAEZIY3ZL&show_border=true&link_opens_in_new_window=true">
</iframe><iframe style="width:120px;height:240px;" marginwidth="0″ marginheight="0″ scrolling="no" frameborder="0″ src="//ws-na.amazon-adsystem.com/widgets/q?ServiceVersion=20070822&OneJS=1&Operation=GetAdHtml&MarketPlace=US&source=ss&ref=ss_til&ad_type=product_link&tracking_id=danhbaisadvph-20&marketplace=amazon&region=US&placement=B00EB4ADQW&asins=B00EB4ADQW&linkId=RHK2YS3HVA3U4FI4&show_border=true&link_opens_in_new_window=true">
</iframe>[/iframe]